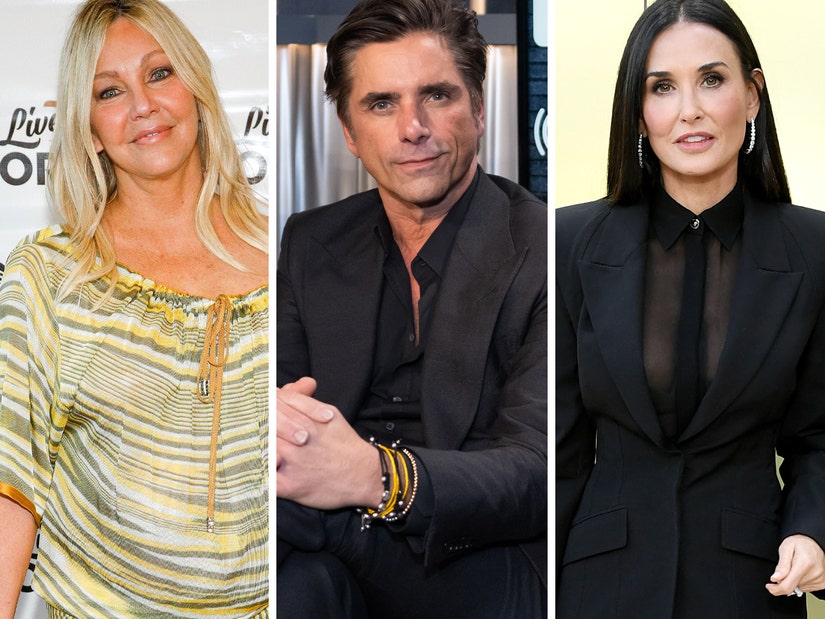 Getty
John Stamos dives into his storied love life in his new memoir, 'If You Would Have Told Me,' sharing stories of his near hookup with Heather Locklear and romance with former co-star, Demi Moore.
John Stamos is looking back at some of his romances with Hollywood's biggest leading ladies in his new memoir, If You Would Have Told Me.
In the early years of his career following his first taste of General Hospital success, Stamos recalled running into Heather Locklear at a car show.
"Sometimes they'll send along twelve Playboy Playmates with me, and other times it might be the hot ingenue du jour. And on that jour, in Allentown, PA, at Agricultural Hall for the twenty-fifth Custom Car Show, November 5 and 6, 1983, it happens to be Heather Locklear. I have such a crush on her, 'America's Sweetheart,' with natural beauty and talent," Stamos wrote of the meet-cute.
He continued, "I think I'm in love. She stars as Sammy Jo on Dynasty, and I'm just a peon on daytime. She probably has no clue who I am. So, for now, I content myself with stealing glances at her from across the auditorium amid the muscle cars, admiring her Farrah Fawcett hairstyle framing a flawless face."
Whether or not she knew of Stamos, the young actor quickly caught her eye, with Locklear sending a note his way to meet her at the bar of the hotel they were staying at.
"At one point our eyes meet as she looks up from signing autographs, and she flashes me a radiant smile that embodies the innocence and optimism of the eighties -- I melt. A few minutes later, I receive a note from her that reads, 'Hi cutie, meet me at the bar in our hotel after the show, xo Heather.' If you would have told me... I arrive at the bar early and slam a bunch of drinks to calm my nerves," Stamos shared.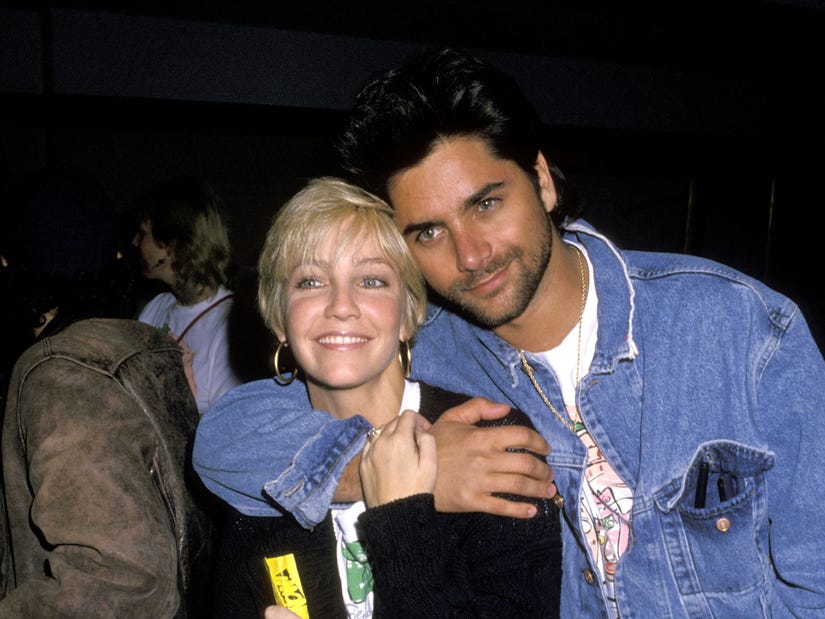 Getty
"She shows up in a short white sundress and says, 'Let's play quarters.' Before I can say I need a break from drinking, she blurts out, 'With tequila shots!' She turns out to be an ace at the game, making me drink even more."
Stamos, drunk and nervous, fumbles, nearly ruining their date.
"When it's my turn, I not only miss the glass with the quarter, I miss the entire table. I'm hammered. She's done with games and whispers in my ear, 'Meet me up in my room in twenty minutes. And don't be late," He wrote.
But the dream hookup would never come to fruition for Stamos, with the actor and musician drunkenly falling asleep in his hotel room before ever making it to Locklear.
"My heart is racing and my mind goes into overdrive as I sprint to my room to freshen up. When I get there, the room starts spinning, round and round and round. The next thing I hear is POUND, POUND, POUND. It's Pauley, banging on my door, telling me I'm going to be late for the show. Show? But … Quarters? Heather? Quarters. I struggle to form a coherent sentence," Stamos remembered. "It turns out that it's the next day and I've apparently passed out on the floor, but not before barfing all over the bed first. Never made it to Heather's room."
Stamos would not see Locklear until the pair reunited to cohost Dick Clark's New Year's Rockin' Eve special in 1987, where they again, played quarters.
"She starts out understandably cold because she thinks I stiffed her, that I stood her up," Stamos wrote. "We laugh and end up playing quarters again after the show. I've brushed up on my game over the years."
The Fuller House actor also had a dalliance with his former General Hospital co-star, Demi Moore, which the pair looked back on last year, while celebrating Jamie Lee Curtis' Academy Award nomination for her work in Everything Everywhere All at Once.
Waiting for your permission to load the Instagram Media.
"Recently, I run into Demi at a party celebrating Jamie Lee Curtis's Oscar nom, and as we're catching up, a writer friend of ours, Ali Adler, completely fangirls out on us," Stamos recalled.
"'Oh my god, Blackie and Jackie! 'Did you two ever f--k?'' she says, referring to the pair's beloved GH characters.
"We both look at each other, wondering what the other will say. Demi pauses to think about it. 'I don't know if we slept together. I think we fooled around though," Stamos continued. "I just smile. Then ask if she remembers back in the day when we all went to see Rick Springfield at the Universal Amphitheater."
TooFab has reached out to both Locklear and Moore's reps for comment.
For more bombshell revelations from Stamos' tell-all, check out the gallery below.