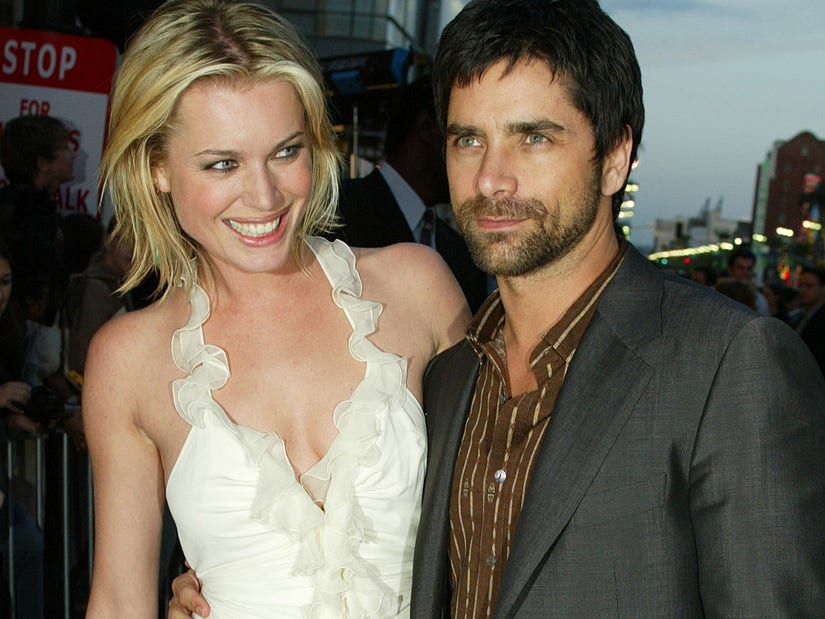 Getty
Stamos recalls "losing himself" in their marriage, feeling emasculated and suspicious before learning a "uniquely horrible" truth ... and shouting "Negotiate my balls!" during a heated mediation meeting.
John Stamos opens up about his marriage and subsequent divorce from Rebecca Romijn in his new book, If You Would Have Told Me, out now.
The two met a Victoria's Secret fashion show after-party in 1994, which he attended with Full House costar Lori Loughlin. While the actor notes that he and Lori were single and he was considering taking things to the next level at the time, he changed course upon meeting the model-turned-actress and began to pursue Romijn instead.
Their relationship quickly progressed, with Stamos calling Romijn his "best friend" and "someone I genuinely care for" before he proposed -- naked -- on Christmas Eve in 1997. They tied the knot the following September, with Romijn's career really starting to take off during those first years of marriage.
"I tell myself that I've had a good run; now it's her turn. I try to stay out of her light, and her career takes off," he wrote, adding that he was "proud" of her success, especially following the X-Men films.
Cracks started to show when Stamos turned down a starring role on Nip/Tuck, after Romijn allegedly said she felt the script was "demeaning to women."
"Little by little, I start to second-guess my instincts, short sell my abilities, take fewer risks, and get lost in my marriage," wrote Stamos. "I do, however, put some energy into the parties we're hosting on most weekends. She bounces back faster than I do."
Stamos said he felt "down on myself" seeing her continue to land acting roles -- like the movie Femme Fatale with Antonio Banderas -- while he couldn't "even get a pilot made." At the time, he said things were "starting to fray a little" -- writing, "I'm not putting enough energy into my own relationship. I slowly start to give up on Rebecca."
After he landed a role in Nine on Broadway, Stamos said they drifted apart even more, writing that he began spending too much time with his cast members and forgetting to check in with his wife. The actor said that, at the same time, she began making new "toxic friends" who "throw shade, name-drop, and try to outdo one another with obscure references." Stamos also claimed Romijn made "it clear that I'm the TV guy and she's the newly minted film star" -- saying, "She implies, sometimes subtly and sometimes openly, that I'm not smart enough for her and her entourage of ass-kissers."
"Somewhere deep inside, I start to believe it," he continued.
In the book, Stamos said that as the years went on there was "zero talk" about having kids, something he claimed was "always our plan." He felt it also became "harder to make time for each other," while he struggled to voice his "feelings of emasculation." Still, however, he kept telling himself it was just a "phase" and they'd get "back on track." That, he said, never happened.
"Something cruel and calculating creeps into the pleasant patter of the day. She smiles at me a little less, doesn't look me in the eyes over dinner, takes phone calls in the other room. Whispers behind doors. She makes a trip to the store seem clandestine," he wrote. "Betrayal starts as a sinking feeling in your stomach, grows into a suspicion that clouds your every thought, and by the time you find out the truth, it's uniquely horrible at first but also expected, like you've been waiting for something bad to happen."
He said he felt like she was "phasing me out for good," before they decided to separate in secret in March 2003. When he asked whether that meant they could see other people, he claimed she responded by saying, "It means whatever you think it means" -- leading to "pure hell" for Stamos.
According to Stamos, they did reconcile after that, but he said it didn't take long for them to realize it just wasn't going to work out. In April 2004, they announced their separation, before going into mediation together. "I never knew I could be so angry and hate-filled toward another human being, much less one I had been dedicated to for a decade," he said of that time, before detailing one of their mediation meetings.
Writing that he was "hurting pretty bad" and had "downed about a half dozen beers," they came to a disagreement over what Romijn allegedly owed Stamos for paying out their joint taxes. When told by their business manager that they were in a negotiation, the actor said he shouted, "Negotiate my balls!" With that, she allegedly said, "Give him everything I owe him" -- before agreeing to let him to be the one to file for divorce first.
"I don't really feel she owes me anything more than an apology. I guess I owe her one, too. But we don't say a word," he wrote of that last meeting. "I walk over and give her a hug. We spill tears. We had promised each other that we would spend some time together after today, but we don't. This will be the last time I ever see her. We will not cross paths again, we will not run into each other at events. This is the end."
Speaking with Howard Stern this week, Stamos said that while he was "angry at her for so long," that's no longer the case. "I'm just so happy to not be angry, I'm happy for her," he said -- acknowledging his own role in the end of their marriage. "You start thinking, it's like, 'Oh, she wasn't the Devil. Maybe I was as much to blame as her,'" he also told PEOPLE. "It was very public, and that was very painful. I didn't write much about that, but it's hard."
So far, Romijn has not commented on her ex's book. Her current husband, Jerry O'Connell, appeared on Access Hollywood this week and said they didn't get a heads up about the claims made in the memoir. He did not, however, react to any of them -- saying it was Rebecca's story to tell, should she want to. TooFab has reached out to her rep for comment.
During an appearance on The Talk alongside Romijn last year, Jerry noted, "When I'm with you personally, and I hear you talk about your ex-husband ... it sounds like it was fun. You always have really fun memories."
The "Star Trek: Discovery" actress agreed, saying that she has "a lot of very fond memories" of Stamos and also "a lot of things about him that I miss." She added, "It's tricky. It's a very hard decision to come to when you decide to end a marriage. It was heartbreaking."
Romijn and O'Connell have been married since 2007 and have two daughters together. Stamos, meanwhile, married Caitlin McHugh in 2018; they share one son.