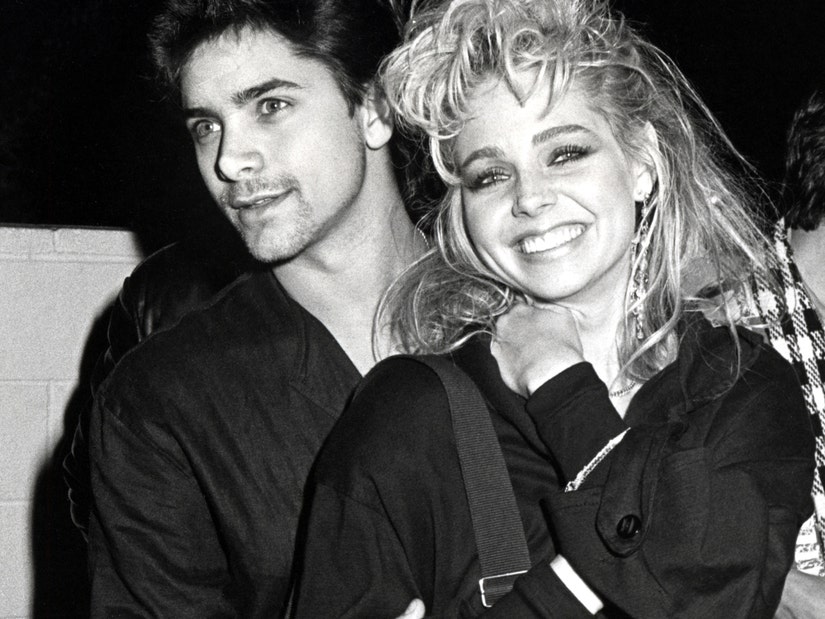 Getty
"I was busted up, man," Stamos recalled of seeing Danza with Copley, who claimed she and the Full House star were "broken up" at the time.
John Stamos is weighing in after his ex-girlfriend Teri Copley claimed she didn't cheat on him with Tony Danza during their relationship in the 1980s.
In his new memoir, If You Would Have Told Me, which came out on Tuesday, the 60-year-old actor claimed he once caught Copley sleeping naked in bed with Danza after he walked into the former's guesthouse. On Monday, Copley, now 72, responded to Stamos' allegation in a statement to PEOPLE, claiming that they were already "broken up" at the time.
On Tuesday, Stamos addressed Copley's claim during an appearance on SiriusXM's The Howard Stern Show.
"She came out yesterday or I think the day before and said we were broken up," he told Stern, per Entertainment Weekly. "And I don't think she told me that. I was busted up, man."
In his book, Stamos wrote how he remembers it, recalling it again during his interview Stern. "I walked in and they were in bed together," he said. "I saw four feet coming out of the sheet. I was so brokenhearted."
The Full House alum said he decided to write about the moment in his book to "highlight some of the relatable issues" he went through.
"People thought like, who's going to cheat on Stamos? Well, it's happened more than once," Stamos said. "The real reason why I put that story in there was to, well, to be relatable, but also the end of the story was this: I remember walking in and I see them, and was like, 'I'm gonna kick this guy's ass.' Then I kind of saw his abs and I'm like, 'I'm gonna run.'"
Despite the incident -- and whether or not he and Copley were actually broken up -- Stamos said he credits Danza and his series, Who's the Boss, in helping Full House get renewed for Season 2, which he wrote about in his memoir.
"They said, 'We're going to try one thing -- we're going to put Full House on during summer reruns and put you behind one of our hit shows, and if you gather an audience and bring it to the second season we'll pick you up and we'll keep it going,'" he recalled. "Well, that's exactly what happened, but the show that they put on as our lead-in was Who's the Boss? So he f--ked me over here, but without Tony, I'm not sure that that show would have made it past Season 1."
Stamos noted that Danza -- a former professional boxer -- "would have killed me" if he tried to confront him about the situation.
"I was mad at her. I was very, very hurt. But he dated her, I guess, before me. I don't blame her," he admitted. "I was 19, 20, whatever. I was like a kid. My naïveté is really what's helped me over the years because I just went into stuff like a dummy. But these girls, I couldn't keep up with them."
"I wanted to highlight this, you know, turning from a caterpillar into a butterfly because I was gawky," he said. "I wanted to be a puppeteer. I did magic and puppets and these girls thought I was a joke."
If You Would Have Told Me is out now.