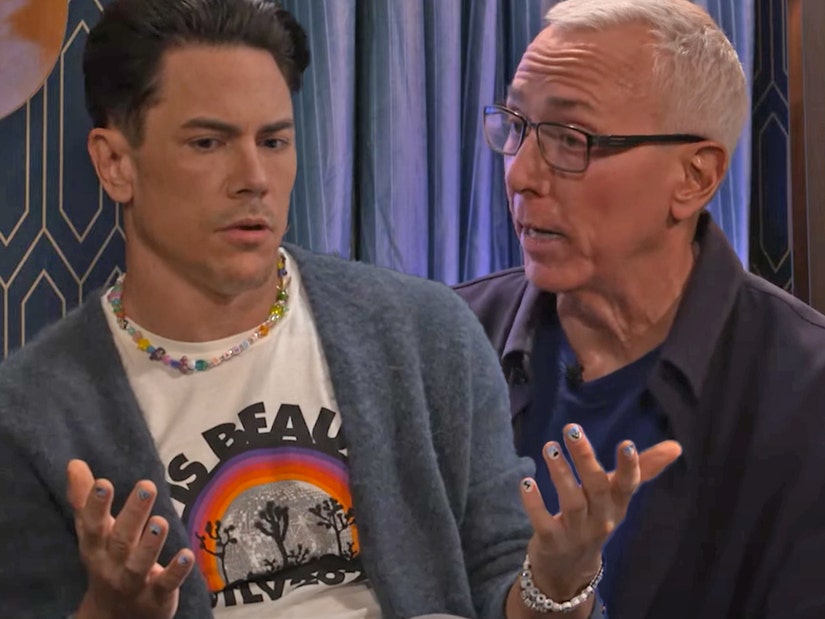 YouTube
Dr. Drew was surprised by the results while he also shared his own thoughts about the 'Vanderpump Rules' star's vanity and codependency
During the Thursday's episode of Sandoval's Everybody Loves Tom podcast, the Vanderpump Rules star spoke to the board certified physician and addiction specialist about his past traumas, touching on things like his parent's divorce to some of his sexual insecurities.
Pinsky then proceeded to have Sandoval take a test to determine if the reality TV star is in fact as narcissistic as his ex, Ariana Madix, claimed, following their breakup earlier this year.
VPR fans will remember that Sandoval cheated on Madix with their friend, Rachel Leviss, and carried on an affair behind her back for months before ultimately being exposed in March, erupting into the scandal we all know now as "Scandoval."
"You took the narcissism test. You are not measurably narcissistic. It is a test for narcissistic traits. It is not a way of diagnosing a disorder but it is a way of showing traits," Pinsky shared. "You actually scored very low."
According to Pinsky, the average score on the test is in the 15 or 16 range. "You were a 7," he told Sandoval. "You are actually one of the lower ones that I've seen, which is interesting."
Pinsky was admittedly surprised, telling the Tom Tom co-owner that he did test higher for vanity, however.
"The only thing you were slightly up on was vanity. That is a reasonable measurement of something you're interested in because of your appearance," he added. "It is not good or bad, it is just a trait."
Sandoval, on the other hand, was not surprised by the results, telling Pinsky that he's witnessed narcissistic behavior first-hand from other cast members on the hit Bravo series.
"I knew because I had been around people with narcissistic traits -- they are on our show -- so I know what it is like. I just know that I am not those people," Sandoval said.
In addition to being a little vain, Pinsky labeled Sandoval as co-dependent, telling the 41-year-old he saw co-dependent traits in him following their candid conversation.
"I think you are more on the codependent side and less on the narcissistic side. Codependency is a construct, it is not a diagnosis," Pinsky explained. "It is a situation where it is hard to assert yourself. You are not great at boundaries and when you see people in pain, you have to make it stop."
He continued, "You feel like you have to make it stop because you feel like an empathic person but underneath it is your own pain being mobilized that you have to make stop. You have to distinguish your pain from other people's pain."
Sandoval has entered therapy since his high-profile split from Madix, telling listeners on a previous episode of the podcast, "Talking with my therapist, I was able to take things and things that he said, advice, and apply them in real time, to real life."
He added, "And I think that was really important. Staying here, facing it, being in it," Sandoval added.
While he's working on himself, Sandoval is steering clear of serious relationships for now.
"I have had to be very, very vocal about that to people that I am dating. I am currently dating and I have to warn them that sometimes I am very honest and open and a very loving person," Sandoval said Thursday. "So I like to be friends and connect but I have to warn people to keep things from getting too attached too quickly. I need to take time to not get into a serious relationship again."