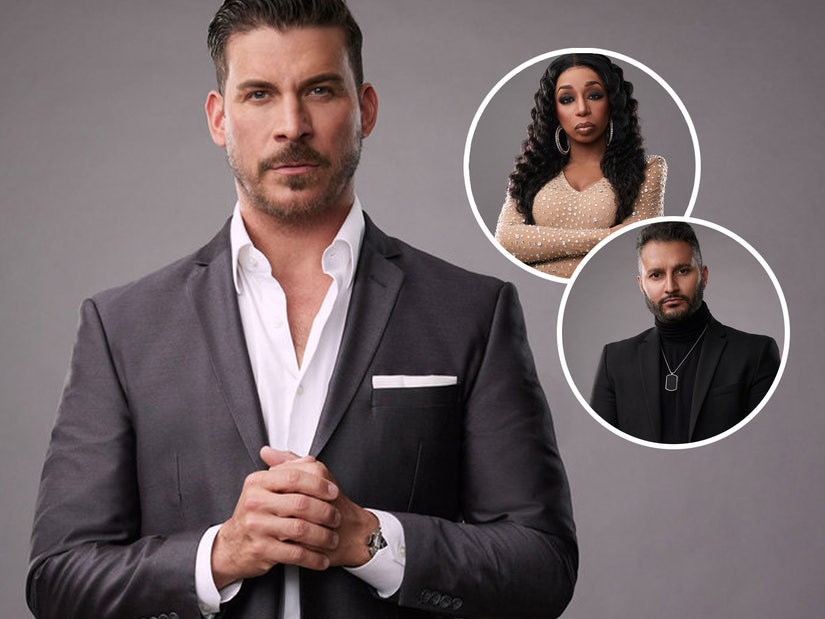 E!
The Vanderpump Rules star was called a "demon possessed" with a black heart by Pollard and nearly got into blows with Love Is Blind's Shake Chatterjee before he was the first person eliminated from the show.
Jax Taylor may be considered one of the biggest bad guys of Vanderpump Rules, but when facing off against a House of Villains, he didn't stand a chance.
He was one of 10 infamous faces from across the reality TV spectrum to compete on the new E! series ... and, on Thursday night, was the first one to be eliminated in dramatic fashion. Taylor's elimination, or "banishment," came after two pretty tense moments between himself and a pair of his costars: Live Is Blind's Shake Chatterjee and reality icon Tiffany "New York" Pollard.
Chatterjee painted a target on Jax's back after a conversation in which Taylor attempted to give Shake some advice on how to cash in on his reality show fame -- revealing how much he and his wife Brittany Cartwright pull in from Cameo and Jenny Craig deals in the process. Shake felt it only proved Jax didn't need the prize money for the show, telling others he should be booted because of it -- leading to some heated confrontations between the two.
When it came to Pollard, they didn't really have too many interactions with one another, but that didn't stop her from exclaiming -- once he was put up for elimination -- that his heart was "ruthless, it's black, it's ugly," before adding, "I know why you're in this house because you're a demon, you're a demon possessed."
Speaking with TooFab after the elimination, Taylor opened up about where he stands with them both now -- where it became clear he's much cooler with one than the other. He also said his run on the show is far from over.
Watch the whole interview above or keep reading:
TooFab: We're here to talk about your elimination, or banishment, from House of Villains
Taylor: "I'm not really eliminated, I'll be back. This show has a lot of twists and turns and you can never really figure this show out. I'm not really gone for a minute, but I'm back."
TooFab: At the moment you were banished, so how does it feel to be the first one to go, unanimously as well?
Taylor: "Everybody keeps driving home that you were unanimously eliminated. So, how this show works is, it doesn't matter if a couple guys pick me and the rest don't. It has to unanimous because the person that did vote for me to stay, now they have a target on their back. It needs to be unanimous or you're gonna get voted off. It's more like a chess match than anything else."
"As far as getting eliminated first, I was a little upset about it at first because I felt like nobody really knew me there. The only thing they're going off of is I'm an intimidating guy, I'm kind of athletic, I want to win and I'm aggressive and I'm kind of an Alpha male. I'm all those things you kind of really don't want on a show like this because I'm gonna win. You wanna eliminate someone like me first."
"When I found that out and asked everybody at the premiere, 'You guys, why did you guys hate me that much?' Nobody hated you, you're just a threat and guys like you are usually the first to go. I probably should have downplayed myself a little more, but I came in like a raging bull, I came out to win and I didn't form alliances, I didn't have partnerships, I didn't even get to pick my own room. I was behind the eight ball before I even got there, I felt like there's no way to really do anything besides bully my way through this and clearly that didn't work. Next time I'll do my homework ... My wife told me, 'Please don't be the first one voted off, it's embarrassing.' And sure enough, I'm the first one voted off."
TooFab: What was her reaction to be being sent home first?
Taylor: "We watched the show together and she actually really liks it, she was just surprised how quiet I was, how kind of aloof I was, how I really didn't partake in any arguing and, to be honest, I just felt really out of place. I didn't know anybody, I didn't want to start arguments for no reason and I felt that's what everybody was just doing. Everybody was just dinging everybody. I also felt that I was with some iconic people in TV, Tanisha, New York, Omarosa, you don't want to go to war with them."
"They're so good at what they do, so I would creep around the house. Basically, it was like a master class for me on how to be on a reality show like that, I was learning so much. I learned a lot from these girls, I learned what to do, what not to do. I think they were thinking I would go into this show as the villain I used to be and I really wasn't. Here's a chance for me to be aggressive, lying and scamming and I chose to go the other route."
TooFab: The banishment is pretty dramatic, with you getting pulled backwards into wall … you were strapped in, am I right to assume you had some idea of what was going to happen?
Taylor: "I gotta be honest, I wasn't sure if it was going to be me or Corinne. I kinda had an idea it was gonna be me. I felt it a little bit, the guys said, Yeah, you're probably gonna go first. It was on a hydraulic, it went back real quick, it was all dark behind there. I got eliminated and then I was stuck behind there for a minute, to add insult to injury. Sitting in the dark, waiting until they got me out of the chair."
TooFab: I know New York made you cry with her words before your banishment, calling you a demon with a black heart. Have you spoken with her since, at the press day or premiere party? Are you cool now? Where do you stand?
Taylor: "I was on with some pretty incredible women and New York is one of them. She is iconic in what she does, she puts people in their place. I didn't really Google her until after the fact and I went, Ooooh, this is who she is. I took it personally, it bothered me, but after I talked to her at the premiere, she was like, 'Honey, this is what I do for a living.' You know how she is, she's spicy. She was like, 'This is what I do, it's who I am, it's nothing personal.' She's more of a scripted reality kind of person, that's who you're getting with her. It doesn't matter if it was me, Corinne, Johnny Bananas, she goes after everybody."
"I just took it to heart because I'm like, God, I met you five minutes ago. How do you know me? I have friends of 15 years I've had bad things with who have never called me these names. I've never had anybody make me cry. I didn't cry, let me clear that up, I teared up. I've never had anybody call me a demon before. I go, I'm the farthest thing from a demon. But I feel like, this is her schtick, her way to get rid of me. No harm, no foul, at the end of the day this is a game, they have to do what they have to do."
TooFab: Shake, on the other hand, I'm curious where you stand with him now.
Taylor: "I don't stand anywhere with him. I felt like Shake was one of those guys ... he should not have been on that show with us. He was way out of his league, A, and B, he reminds me of a guy who won a trip to hang out with a celebrity. That's who he is, he's one of those guys. Kinda like a fangirl a little bit. I tried to offer some of my knowledge of being on reality and monetizing reality and using this and making a living from this and he kind of used it against me and made me look like I was bragging and I was really not bragging at all. I was just trying to give him my playbook on what to do and what not to do."
"If I was in his situation, I would love if someone like me came up to be like, Hey, this is what you need to to, stay stay from this, talk to this person and then you can make some money. You gotta figure out what your niche is and go that way, I was just trying to help him out a little bit and then he goes upstairs and uses it against me, says I'm bragging, he's Googling me, finding out how much I make. Obviously, everything's on the internet, so you can research me and it says everything. He says, he doesn't need this money, he doesn't need that. Well, of course I do, we live in California, it's a very expensive place."
TooFab: Your issues with Shake started after you opened up about your financial situation. Do you have regrets when it comes to sharing the specifics about what you make from Cameo and Brittany's Jenny Craig deal?
Taylor: "No, not at all. I was giving him the Michael Jordan rule. Michael Jordan was on the Chicago Bulls, that was a very small percentage of the money he made. How Michael Jordan made his money was Gatorade, McDonald's, Nike, that's kind of the same thing. Michael Jordan said the same thing when he did his documentary, he's like, this is how I made my money, here is my platbook. It's the same thing, you're helping people out, it wasn't bragging at all, I'm just showing what you can make if you work at it. I don't need to brad, I'm a pretty happy guy. He saw like a vulnerability with me and he used it against me."
House of Villains airs Thursdays at 10pm ET/PT on E! and catch up on the E! app.