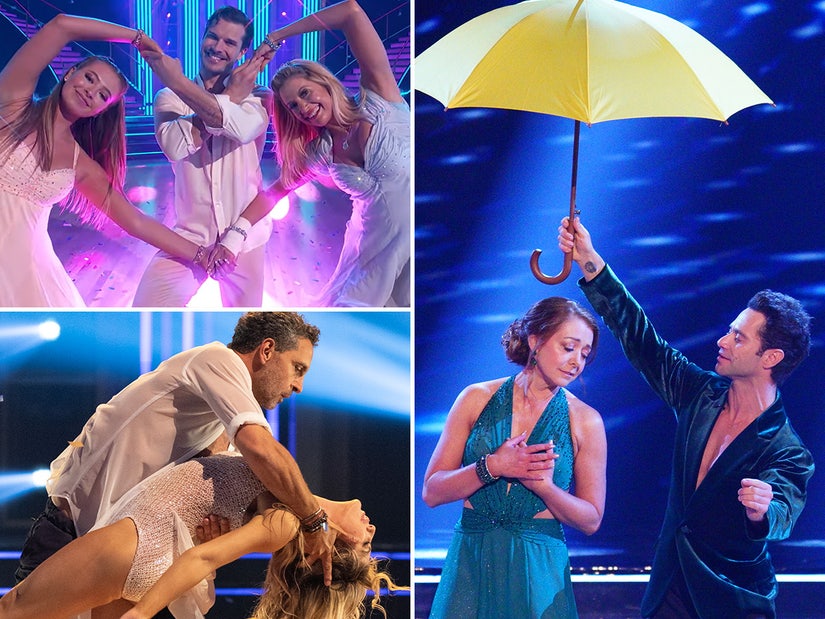 ABC
An emotional night on Dancing with the Stars as Mauricio Umansky honors Kyle Richards amid marital problems, Mira Sorvino recreates Romy and Michele's iconic dance with her daughter, and Alyson Hannigan pays tribute to her classic sitcom How I Met Your Mother.
This was a night that tore through boxes of tissues as the celebrities left their hearts on the ballroom floor on Dancing with the Stars. The night also featured a powerful tribute to late head judge Len Goodman featuring the return of some DWTS legends.
Among the ten remaining celebrities, we got a hilariously poignant tribute to Romy and Michele's High School Reunion, with Mira Sorvino's daughter standing in for the trio piece in place of Lisa Kudrow. The theme was "Most Memorable Year," and while that film wasn't Mira's year, it was certainly one of her most memorable roles.
Who do I think I am? you ask. Well, I spent nearly a decade of my life sweating and bleeding to the music as a dancer. From a young boy learning a shuffle-ball-change to performing with the St. Louis Ballet Company, I experienced the ups and downs of one of the most difficult physically demanding sports on the planet. During this time, I was also a member of the St. Louis Symphony Youth Orchestra, as well as a gymnast, writer and cartoonist. I had a lot more energy in my younger years. And I've spent the last twenty years analyzing and critiquing reality competition shows for various media publications. I've got this.
(Waltz - "Moon River," Audrey Hepburn) We didn't know what to expect from this piece, but when the pros teased it in the package remembering Len Goodman and said there would be "no messing about," it was clear what we would get. This was pure, straightforward, stunningly gorgeous dance. There was no hamming for the camera -- even as this saw the returns of some famous faces from DWTS past -- and no one took center stage. Okay, Derek and Julianne Hough did for a few moments, but we suppose that was to be expected.
Returning to help the current cast pay tribute to the ballroom legend alongside the Houghs were Kym Herjavec, Anna Trebunskaya, Karina Smirnoff, Edyta Śliwińska, Tony Dovolani, Louis van Amstel, Maks Chmerkovskiy, and Mark Ballas. The final shot with the spotlight on Len's chair was gut-wrenchingly beautiful. Ultimately, this was classy and stunningly performed and exactly the kind of dance that would have left Len wanting more and proudly holding up his paddle to give "from Len, a 10!"
Mira Sorvino & Gleb Savchenko
(Contemporary - "Time After Time," Cyndi Lauper) 2004 was the year Mira gave birth to her daughter Mattea. She called being a mother her "greatest and most cherished role," and has enjoyed her daughter's journey through dance. She's now a choreographer and dancer for a contemporary dance company. Now, she actually came to join in with Mira and Gleb, making this a three-person performance and nod to the iconic dance scene in Romy and Michele's High School Reunion.
This was such a sweet routine and a beautiful moment with mother and daughter. Mattea joined for the opening moments and returned for the end, but you could feel throughout how much her presence helped Mira connect with the heart of the piece. She's still a bit heavy and lacked some of the fluidity of movement that would have made her transitions a little more seamless, but we loved the nods to the bizarre choreography from the film and some of its most unique images.
Ariana Madix & Pasha Pashkov
(Viennese Waltz - "happier than ever," Billie Eilish) 2023 was obviously Ariana's most memorable year as it's the year her life blew up all over national news in a bizarrely omnipresent cheating "Scandoval." Now, she's picking up the pieces and finding herself and what a wild and incredible journey it has been. She's definitely coming into her power.
While there were some technical issues in this piece (staccato movement in her feet at times), we found ourselves surprised by how powerfully emotional it was. Look, the opening solo portion where she kind of turned and stood there went on twice as long as it needed to, but once she got into partnering with Pasha, there was so much pain and "f--k you" coming through in equal measure, it was both empowering and heartbreaking. Ariana has really been showing an incredible ability to emote in these dances we wouldn't have expected. She was more connected here than we've ever seen her.
Charity Lawson & Artem Chigvintsev
(Contemporary - "Lose You to Love Me," Selena Gomez) 2022 was the year Charity graduated and began her Bachelor Nation journey. But most importantly, that year symbolizes the year she was free from an extremely toxic relationship. That experience with infidelity certainly haunted her time as a Bachelor contestant, and as The Bachelorette, and now it's time to step into this new chapter. The song couldn't be more appropriate for the sentiment of the piece, so it certainly helped Charity get into it.
The athleticism on display in the opening portion on an apparatus clearly stolen from a playground was just incredible. Charity utilized her cheerleading strength there, but there was no upbeat, chipperness to the piece itself. It was wrought with strength and pain. Charity matched Artem's intensity throughout the piece, though we didn't quite get the story from pain to joy as clearly as they wanted. We saw the pain, but missed some of the journey. Had they not told us that, though, we'd have believed it was maybe just her crawling out of the darkness -- that we could see and it was powerfully presented.
Bruno and Carrie definitely saw the journey, though, with Carrie getting some laughs when she referenced having danced with a pole in her past. "Get your minds out of the gutters," she told the audience, clarifying that she was referring to her time as a dancer on tour with Madonna in her earlier career.
Alyson Hannigan & Sasha Farber
(Viennese Waltz - "Perfect," Ed Sheeran) 2003 was the year Alyson met her husband Alexis Denisof as part of the Buffyverse and began her domestic journey as a wife and eventually a mother. She said she didn't really even understand "what actual love was" before meeting and falling for him. This song was the one she would have written for him were that what she did. Instead, she could dance to it.
Alexis showed up for rehearsal and he must have really inspired her as this was the most elegant and connected we've seen Alyson all season. She was filled with grace and had just lovely movement across the floor. And all of that after Sasha made her risk it all by dancing with a yellow umbrella, and even flipping it in the air twice! It all went off flawlessly, creating a beautiful image (and sweet nod to her How I Met Your Mother days and that show's love story). Alyson was connected, she flowed beautifully across the floor, her lines felt stronger and longer. Honestly, this was the biggest one-week jump of the season so far for any celebrity.
Harry Jowsey & Rylee Arnold
(Contemporary - "Keep Your Head Up," Andy Grammer) In 2020, "Too Hot to Handle" came out and Harry became known on a whole new level, which pushed him into some problematic behavior as he found himself facing online abuse and nastiness. All of that left him considering retreating back into anonymity. He credits best friend Kristian Barbarich for being the one he turns to when struggling for great advice and unconditional support.
Unfortunately, Rylee could have achieved much the same effect as this dance had she performed with a properly-weighted coat rack. Harry is clearly getting a lot out of this experience and we applaud that, but he did not allow himself to put any of his emotional freedom into the dance. Instead, he was extremely stiff with zero musicality throughout. His movement was stiff and heavy with no grace. Honestly, this was what you might see in a Week1 performance. The only difference was that he was there for Rylee through a series of impressive lifts, which does take precision and strength. He had this one element down, but not the dancing part.
Jason Mraz & Daniella Karagach
(Quickstep - "On the Road Again," Willie Nelson) 1999 was the year Jason went from being a janitor at a school to hitting the road to pursue his musical dreams in California. Along the way, this song spoke to his passion at that moment. Now, he lives the song, making it even more impactful for him and representative of his entire professional career.
We love the way Daniella never shies away from making her partners work for it. This was a very playful and creative piece, but it was also a demanding one, expecting a lot from Jason. He delivered pretty impressively with his footwork, and we found ourselves applauding his hold in frame as well as he did. There were a few other fun elements tossed in, like hints of Charleston, along the way, creating a very light-hearted, effervescent piece that left us smiling as much as Jason was (hamming it up) throughout.
Lele Pons & Brandon Armstrong
(Contemporary - "I Stand by You," The Pretenders) 2020 was the year Lele opened up about her life with OCD and anxiety in a docuseries, which opened a new chapter for her personally and professionally. It all happened because she found a young woman who took her own journey to grappling with her mental health because of Lele's inspiration -- which only inspired her to be more open in order to try and help even more people. "If I'm an influencer, this is how I'm gonna be able to influence people," she said.
Her piece was inspired in part by that journey and by her husband, showing that there is a path forward through challenges. Lele could have had just a hair more abandon throughout this piece to really have us feeling how much this story and journey has meant to her. That said, there were some incredible and intricate lifts throughout, so we'd understand if she was in her head a bit about not screwing those up and falling on her head. It was a beautiful piece, though, and a continued upward trajectory for her journey on this show.
Xochitl Gomez & Val Chmerkovskiy
(Viennese Waltz - "Until I Found You," Stephen Sanchez) 2021 was the year Xochitl became the first Latina superhero as America Chavez in Doctor Strange in the Multiverse of Madness, which obviously was a huge change in her life at such a young age. She's still only 17 years old! Because of the film, she had to miss out on her quinceañera, which was hard for her. That absence in her life inspired Val to try and create a special moment for her with this dance that she can cherish for years to come.
He gave her a beautiful princess moment complete with gown, a Prince Charming and the sweet innocence, perhaps, a girl might feel as she turns 15. Xochitl perfectly embodied that innocence in a way that felt so wholesome and uplifting, we found ourselves smiling in our hearts as we watched. It helped that her technique was gorgeous with fluid movement across the floor, the rise and fall you want to see, lovely lines and partnering. Honestly, she and Val are one of the most gorgeous pairs this season as he's truly bringing out her greatness.
Mauricio Umansky & Emma Slater
(Contemporary - "Rise Up," ss) 1996 was a big year of change for Mauricio when it was him, wife Kyle Richards and their two kids living in a two-bedroom condo. Just before Christmas, he lost his job, pushing them to really pinch pennies and understand struggle. "I felt like an absolute failure of a human," he said, crediting Kyle with telling him that he'd always dreamed of being in real estate and why not see this as an opportunity to make that change.
This was a breakthrough performance for Mauricio, who got to tell his own story. Props to Emma for incredible choreography. We hate to say we wanted a little more passion from Mauricio because he did give so much, but the dance wanted just a bit more. His technique and partnering was absolutely incredible throughout this, with some great lifts and movement. His partnering was on another level. Who knew this real estate mogul would quickly solidify himself as a dark horse contender on this show, but he's rising up week by week.
Barry Williams & Peta Murgatroyd
(Paso doble - "Born to Be Wild," Steppenwolf) 1968 was the last year of normalcy for Barry Williams before The Brady Bunch changed everything for him. Not only was he part of a smash television show, The Bradys became a traveling musical act and Barry was being positioned as a teen idol. It's kind of a lot more than even most stars have to deal with -- and especially at such a young age.
He went off on the wrong foot at one point, leading to a stutter before a kick, and forgot to bend his knees in a stance, but we did find ourselves impressed with the intensity he brought to his matador role. This is a tough dance for a non-professional to master because there's precision and so much strong character required. He definitely brought the right character and was mostly bringing the strength we were needing to see. It's not a breakthrough dance, but definitely a performance he can be proud of.
Not to knock someone when they're down, but if you look at tonight's scores from the judges (and even more dramatically from us), you'll see a pretty glaring disparity between most of tonight's performances and the couple that landed in the bottom of the pack. Harry Jowsey did not rise to tonight's emotional occasion, and if he couldn't do it here, we think he might have reached his peak.
He's right in that his biggest enemy is his own head, but he's yet to figure out how to get out of his own way and let himself go fully into a dance or a style. You can even see it when he dances, as he seems too hyper-aware of the cameras and what that represents -- all the people watching him at home.
That said, the lowest score has rarely meant elimination on this show, and certainly hasn't been the case throughout this season. That could spell trouble for both Alyson Hannigan and Mira Sorvino. After those three, though, you've got a four-way tie for fourth place with Ariana Madix, Barry Williams, Lele Pons, and Mauricio Umansky. There were some breakthrough moments in that pack, so we don't see any of them going.
If Harry were to somehow survive, we suspect it would spell very bad news for Mira. But we went into these results feeling at least somewhat confident that America saw the huge difference between what Harry brought and what everyone else brought. After tonight, though, it looks to get a lot more difficult.
We're not sure what to take of Alfonso Ribeiro's comment that this was the closest vote of the whole season. Does Harry really have that much support out there? Were we about to say goodbye to Mira? What did you do, America?
Ariana was first to get the good news, followed by Barry, Lele, and Mauricio. All four of these couples got the same score in the middle of the pack, which makes it feel certain that the judges' Bottom 3 is America's, as well. But who was the bottom?
There were no surprises when Xochitl, Charity, and Jason joined them. They've been at or toward the top all season. That left Harry, Alyson and Mira as the not-necessarily-the-Bottom-3 (but probably). Of the three of them, this was indeed another upset week and the end of the road for Mira Sorvino.
Both Harry and Alyson scored lower than she did with the judges, but clearly Harry's social media following and Alyson's fans from BTVS and HIMYM (among her other notable roles) were enough to overcome Mira's Oscar-winning career. It was beautiful seeing her dance with her daughter in this final week and get to be the dancer she always dreamed of.
Dancing with the Stars celebrates Monster Night next Tuesday at 8 p.m. ET on ABC and Disney+.