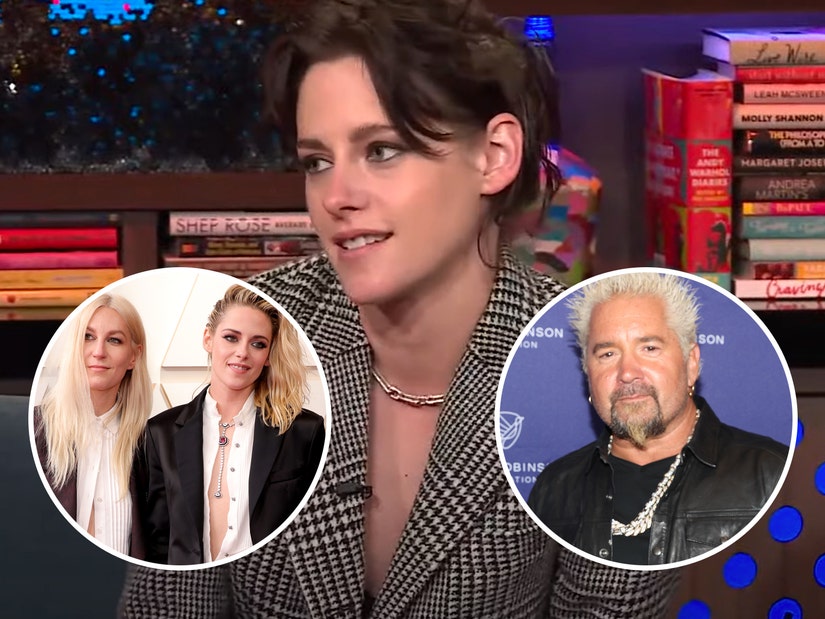 YouTube / Bravo / Getty
Kristen Stewart revealed in Nov. 2021, that she and longtime love, Dylan Meyer, were engaged -- and the 'Moxie' screenwriter was the one to propose.
During an appearance on Watch What Happens Live Thursday, Stewart revealed whether Guy Fieri will in fact be officiating her wedding to fiancée Dylan Meyer.
"I think we're probably just gonna marry each other and call Guy and say, 'You were here in spirit, babe,'" Stewart told host Andy Cohen after a virtual audience member called in for an update on the upcoming nuptials.
As for why Fieri, the Twilight alum quipped, "We have a lot of similar fashion sense and hair."
"Also, I just think he seems like a really nice dude," Stewart added, on a more serious note. "And, he marries a lot of queer people. I think his sister is one of us. I think he officiates a lot of them."
Stewart said after hearing that, she knew the celebrity chef was the one for the job, telling Cohen that his people reached out to her after she expressed interest in the Diners, Drive-ins and Dives star officiating the affair.
"They reached out and they were like, 'You know we are down for this,'' she explained. "And I was like, 'Me too, but also, I'm bad at planning stuff, so I'll hit you up soon.'"
While it's still up in the air as for if Fieri will be at the altar with the pair, Stewart said the wedding is still very much in the works, though a date is still TBD.
"I don't know," Stewart said when asked when they're getting married. "We're gonna sort of surprise ourselves."
Stewart first shared her interest in Fieri officiating their wedding in November 2021, telling Howard Stern during an appearing on his radio show, "We did hear that Guy Fieri from the Food Network officiates a lot of gay weddings. So, the idea of that man -- that sweet, sweet spiky headed man -- coming to our wedding and officiating it, it just makes me laugh so much."
Fieri heard Stewart's plea and surprised her on TODAY with a prerecorded response shared by hosts Hoda Kotb and Savannah Guthrie.
"Hey Kristen, Guy Fieri here, and I heard through the Flavortown grapevine that you are looking for a sweet spiky-haired officiant for your wedding," he said, before adding, "I'm all in!"
"Is he joking?" exclaimed a shocked Stewart, before Kotb asked whether she was joking when she mentioned his name in the first place. When asked if Kristen's comments on Stern were a "real offer," she responded, "Absolutely!"
"Do you know where he lives? What's his address? Does he live in L.A.?" she then asked the cohosts, who said they'd connect them. "We should talk about this."
Fieri retweeted the video to his Twitter and confirmed he was serious -- tweeting, "Oh that offer is legit!"
Stewart, who revealed in that November 2021 interview with Stern, that she and Meyer were engaged, shared that it was the Moxie screenwriter who was the one to propose. The proposal came years after the pair first met in 2013, and two years after they first sparked romance rumors.
"It's not a given that I would be the one, you know what I mean? Like, with two girls, you never know, like, who's going to fulfill what weird f--king gender role thing and we don't do that or think about it in those terms," Stewart explained to Stern.
The Spencer star continued, "So I was like, 'Wait, well, I'm not the one for sure.' And so I was kind of joking for a bit, like, 'No, I want to be the one to propose, like, I want to be proposed to' and then she just grabbed that bowl and made it happen. It was f--king so cute."