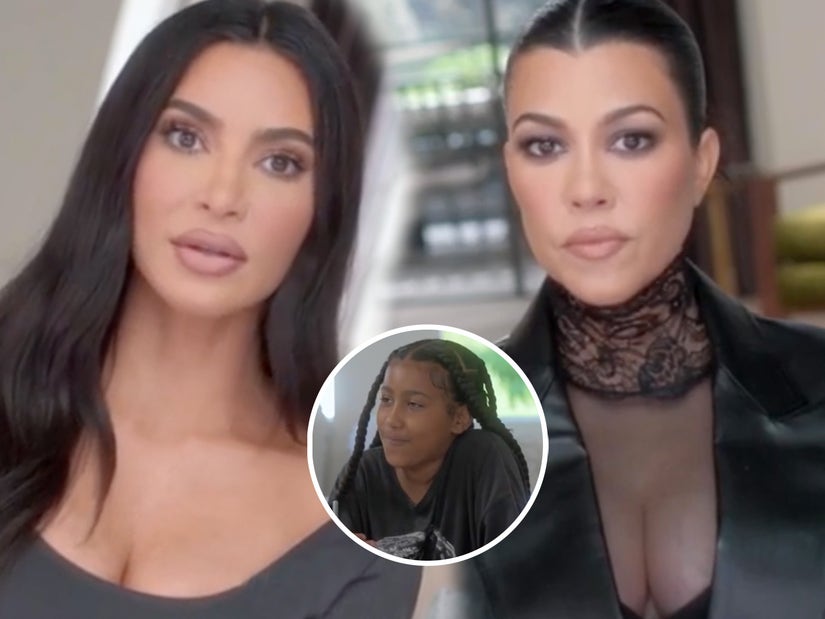 Hulu
On The Kardashians, Kim and Kourtney explain how they put their nasty feud behind them -- before Kim opens up about why North was "furious" with her as they exchange parenting tales.
While the two have been on rocky terrain all season after the drama from last season reignited when the sisters watched the episodes back, the pair revealed on Thursday's new hour of The Kardashians that they once again moved past things.
Appearing in a joint confessional, the two were asked how they were doing since exploding on one another. "Everything's all good now. I mean, we're here," said Kim, before they were asked how they got to "a good place" again.
"Knowing that the goal was not about who's right or wrong, just moving past it and getting to a better place," said Kourtney, saying it was easier to move on once they got through watching all the episodes. "We can breathe," said Kim, as Kourtney added, "We can move on, know that everything's okay."
Kim said the two "didn't even have to talk" about that went down between them, saying neither of them really wanted "to have a deep talk about it" and instead just wanted to "move on" and "sweep it under the rug." She added that even when going through a rough patch, the two are always there for each other, especially when it comes to mom advice.
"She'd drop anything for us to have parenting advice, I don't care what kind of fight we're in. She knows the kind of s--t I'd be going through, I can understand the kind of s--t she'd be going through," said Kim.
With that, another advice session started as Kim opened up about some of North's behavior of late. After first saying she threw a fit during a drive to school, she said her daughter was also "furious and wouldn't speak to me" after Kim took Saint to London because "she didn't get an alone trip" too. Kourtney suggested to give each of the kids "real focused attention" and some one-on-one time, adding that it doesn't have to come in the form of an extravagant trip. She also said something she does with her kids is make breakfast together, with the children taking turns picking the meal.
As they compared parenting styles, Kourtney said she finds "that coming from a more loving approach works best," while Kim admitted to having a "little bit of frazzled energy" to her approach, giving "a little bit of tough love" and sass to her kids when she's feeling stressed.
"And North, she'll go to her dad's and be like, 'Dad is the best, he has it all figured it out. He doesn't have a nanny, he doesn't have a chef, he doesn't have security, he lives in an apartment,'" she continued, taking it back to daughter North. "And she'll start crying, 'Why don't you have an apartment? I can't believe we don't have an apartment.'"
Kourtney could relate, saying her children do the same thing after staying with Scott Disick. She said they come home saying, "Dad has the best house. Your house sucks. It's not super big, the vibe's better." She added she felt like "everything falls on the parent that's more involved."
Near the end of the episode, Kim put Kourtney's advice to use and made sushi rolls with North -- who, when asked whether her mom was a good cook, exclaimed "Heck no!"
"North is really special and smart and creative and definitely beats to her own drum. Her personality is really silly. It's so interesting, because her temperament as a child is the same now," Kim said of her daughter in a confessional. "Kourtney always says North is my lesson on this planet, it means I'm supposed to learn even more patience. She teaches me patience. She has taught me a lot about life."
New episodes of The Kardashians drop Thursdays on Hulu.