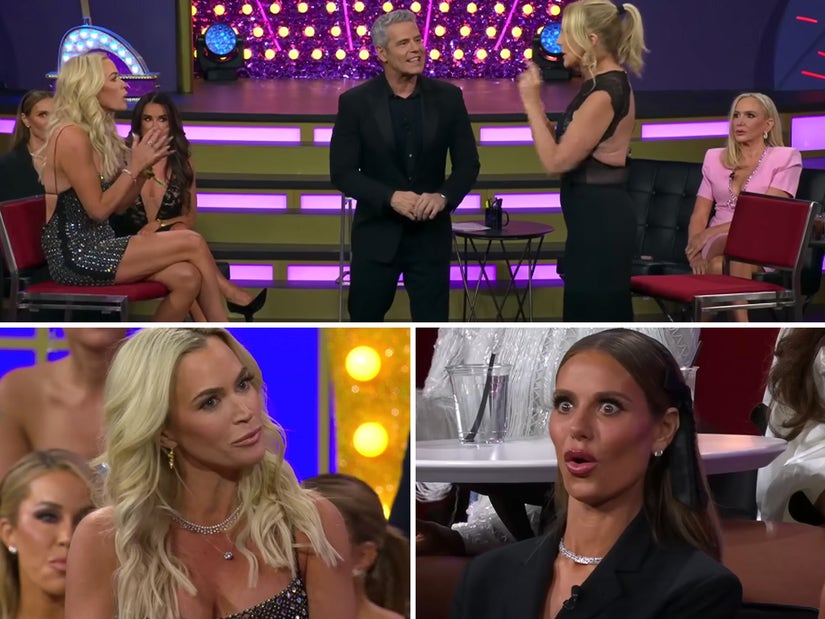 Bravo
Andy Cohen hoped the two could "squash the beef," but this backfired big-time after Teddi quipped Gunvalson was "triggered by somebody who actually has cancer."
On Saturday night, the two were both guests on one of the BravoCon episodes of Watch What Happens Live, dubbed BravoCon Live, which then aired on Monday night. During the show, host Andy Cohen did a segment in which he called two Bravo stars onto the stage to hash out their differences; the first pairing was Vicki and Teddi, the latter of whom was a surprise addition to the lineup.
The plan was to see whether the two could "find a resolution" -- but with this duo, they very clearly could not. As soon as Teddi walked out onto the stage, Vicki appeared unamused.
"I know you find her annoying, you have had her banned from attending the Tres Amigas. Is there hope for you two to come together?" asked Cohen. "Is there a problem? Does she talk poorly? Does she try to take Tamra away from you?"
"I can share my friends, I'm not that kind of girl," Vicki responded, adding that their issues "go way back." She then explained just some of their beef, saying, "One of the things you said -- and I'm gonna go berserk on it -- where was I on January 6th? I'll tell you where I was, I was at my condo in Puerto Vallarta. And I have proof. I'm always spending January ... why the hell would you ask me where I was January 6th?!"
"I originally thought that maybe you just had issues between me and Tamra being such close friends," Teddi hit back. "Then I realized you were probably just triggered by somebody who actually has cancer."
Jaws dropped from the rest of the women on stage.
Teddi was diagnosed with Stage 2 melanoma earlier this year, while Vicki's ex Brooks Ayers had a whole storyline about whether or not he faked a cancer diagnosis on Real Housewives of Orange County. While he maintains he was diagnosed with cancer in 2013, he did admit to faking documents about his supposed treatment. Vicki, however, told Jeff Lewis in 2021 she had a secret, 2-year battle uterine cancer ... which could explain why she was so triggered by Teddi's comment.
"That's so gross. You're gross," she exclaimed, getting out of her chair and pointing fingers toward Mellencamp. Added Andy: "I don't think we're going to be able to squash this beef."
"I have no respect for somebody that would say that to me. How dare you? Low blow, buh bye!" added Vicki, as Teddi walked back off stage. According to The Daily Beast, Vicki was "not happy" and "visibly ranting at Andy Cohen during the commercial break" after the incident.
"After Teddi left the stage, she was like really pissed," Cohen shared Monday on Andy Cohen Live. "I kind of thought Teddi was gonna come out and they were gonna squash the beef, which is the goal of 'Squash That Beef.' They did not squash the beef. No, no."
"Vicki, during the commercial break, she was like, 'Get me two tequila shots,' and I'm like, 'Can we have tequila shots for Vicki, please? Can we have tequila shots for Vicki, please?'" he added. "We brought them out and then she was great. Her rebound was unbelievable and she kind of got a bunch of energy. The whole crowd was like, 'Whoop it up, whoop it up.' I mean, it was crazy."
During a taping of another BravoCon Live event over the weekend, Cohen asked Teddi and Vicki's mutual friend Tamra Judge about the incident -- with Tamra saying she had a tough talk with Teddi earlier in the day and told her the comment wasn't in good taste.