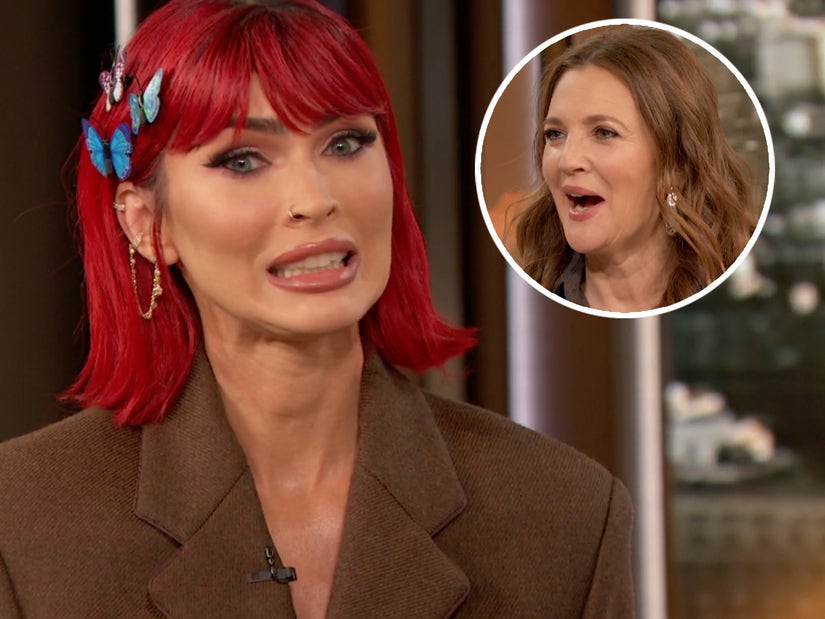 The Drew Barrymore Show
Appearing on The Drew Barrymore Show, she also opened up about her recent tattoo regret, attracting partners with "rage" and how her kids made her more "selfless."
During an appearance on The Drew Barrymore Show, airing Friday, the actress opened up about seeking revenge on an ex, as well as the types of men she attracts and how being a mom changed her for the better.
While answering one of Barrymore's "Final Five" questions, Fox revealed "the worst thing" she's ever done to an ex -- though it appears she self-censored herself after ruling out sharing a couple more NSFW options.
"I don't know if that's something I can say on TV. When I was young and I did have a temper and I was wild, I got mad and I took a bunch of paint and I painted a Friedrich Nietzsche quote all over his wall so he had to repaint his house afterwards," she told Drew. "It was like a really angry quote about like how life is futile, you suck basically. So he had to repaint the bedroom."
"That's, on a scale of one to ten, that's like a two but that's what I can share," continued Fox. "That gives you an idea of what I was capable of."
During the speed round, she revealed she just got a tattoo she already regrets -- saying "I just got on that I don't like that I have to rework and it's my entire arm, so not a big deal." She added that, as she gets older, she actually starts feeling more regret for a lot of her ink, "because they just don't look good anymore, they oxidize and spread. Not words you want associated with your body, ever."
Elsewhere in the interview, Fox opened up about the types of men she attracts and how their relationships often mirror that of her parents.
"I'm always attracting to myself either a version of my stepfather or a version of my mother," she shared. "My stepfather, he's passed on now, he was a very impulsive and aggressive, very verbally, mentally, and emotionally abusive. And my mother, who is still with us, and I don't want to drag my mother, but my mother I perceived her to be passive and wasn't as protective of me as she should be."
"And so I think I either will attract a partner who brings the overly masculine, the rage element and then I become my mother in that relationship or I attract a partner who plays the role of my mother and that awakens a shadow in me as well," she added, "where I become very rebellious and I resist and push against the relationship from that angle."
Barrymore could relate, saying she loves "the drama" of being in a relationship, from the "butterflies" to all the "highs and lows." Added Fox: "That's the greatest addiction of all time. Nothing can replace that. The endorphins can't be replaced from a dramatic relationship like that. It's easy to get addicted to to that."
While Fox also admitted to being a "really rebellious and wild" person when she was younger -- and someone who was "always running away to fall in love with a new love, every new costar" -- that all began to change when she starting having children.
"I was addicted to the falling in love and I think I probably hurt a lot of people in that process too because a lot of people have really been in love with me and I did not respect or honor that," she explained. "And then when I had kids, something happened in me where -- because I didn't want to repeat my childhood, to not repeat my parents' pattern with my kids -- This selfless person was born when I birthed my first child."
She got choked up with that last statement, referring to the birth of her first child with ex Brian Austin Green, Noah, born in 2012. The two exes also share children Journey and Bodhi. Fox is currently engaged to Machine Gun Kelly.