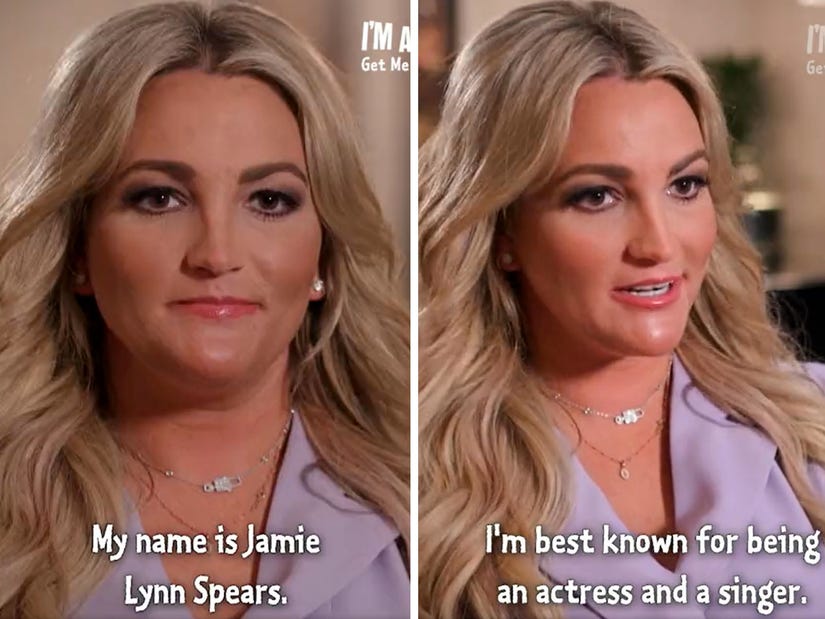 ITV / Twitter
Jamie-Lynn was viciously trolled by Britney stans
Jamie Lynn Spears is heading to the Australian jungle for the new season of the UK reality show -- I'm A Celebrity...Get Me Out of Here! -- and her introduction video had fans a bit confused.
As shown in the clip, which was posted on Monday night, the 32-year-old shared that she's "best known for being an actress and a singer." This caused quite a stir on X, formerly Twitter, with many users poking fun at Jamie Lynn, noting that she's best known as being the younger sister of Britney Spears.
"I'm best known for being an actress and a singer. I have been doing it since I could basically walk," said Jamie Lynn, who starred on Nickelodeon's Zoey 101 as a teen, and more recently, in the Netflix series, Sweet Magnolias.
"I'm doing this to show my girls, you can get out there and do absolutely anything you want, even if it's scary," she later added, referencing her daughters Maddie, 14, and Ivey, 4.
X was flooded with posts from social media users sharing their thoughts on Jamie Lynn's words, and it appeared that many couldn't take her comments seriously.
"Jamie Lynn Spears… best known for being an actress and a singer? Lols. Lots of lols. You do you girl," a person wrote.
"sorry, jamie lynn spears looked down the barrel of a camera and claimed she was known for being a singer and an actress?" a second user added.
"I know we're all abit delulu but Jamie-Lynn Spears pretending we all know her as a singer & actress and not just as Britney's annoying, horrible, evil sister is just embarrassing..," a third fan wrote, while another said, "Jamie-Lynn Spears pretending she's known for anything other than being Britney's jealous sister."
Jamie Lynn will make her debut on the series when it premieres this Sunday on ITV.
As for why she decided to join the show, the Nickelodeon alum said, per Daily Mail, she wants people to "see the real me."
"There is literally every misconception you can have on a person about me so I don't take any of it seriously," Jamie Lynn said. "I do think going on I'm A Celebrity will be a nice way for people to see the real me."
"This is an opportunity to be myself and do something really cool and have some awesome experiences in the meantime," she added.
However, she admitted that she's "dreading" what she might find in the jungle.
"Everything I have seen I have been afraid of," Jamie Lynn said. "Absolutely every one of these trials I am dreading. I haven't looked at any of them and thought, 'Oh cool, I could do that one.' It is going to be terrifying."
She shared similar thoughts in a press release for the show, while also revealing that the SAG-AFTRA strike pushed her into unscripted reality shows, including Dancing with the Stars.
"I think it is so far out of my comfort zone and this year with SAG being on strike, I have said 'yes' to a lot of unscripted projects. I am really enjoying throwing myself into these experiences," Jamie Lynn said in a statement, according to The Wrap.
Jamie Lynn's appearance on I'm A Celebrity comes on the heels of the release of Britney's now-bestselling memoir, The Woman In Me, with the pop star slamming her sister in the book.
At one point, Britney -- who was under a 13-year conservatorship until 2021 -- wrote that while in a mental facility in 2018, her sister texted her writing, "Stop fighting it… There's nothing you can do about it, so stop fighting it."
She added, "I thought they were going to try to kill me. I didn't understand how Jamie Lynn and our father had developed such a good relationship. She knew I was reaching out to her for help and that she was dogging me. I felt like she should have taken my side." While on lithium, "they were only visiting to finish off what they'd started a few months earlier, to kill me for real."
Britney also criticized her sister for releasing her own memoir, Things I Should Have Said, in 2021.
"As I was fighting the conservatorship and receiving a lot of press attention, she was writing a book capitalizing on it. She rushed out salacious stories about me, many of them hurtful and outrageous," wrote the singer. She added, "She will always be my sister, and I love her and her beautiful family. I'm working to feel more compassion than anger toward her, and everyone who I feel has wronged me. It's not that easy."
Jamie Lynn and Britney appear to have a strained relationship, although the currently status of the sisters is unclear.
"I'm A Celebrity…Get Me Out Of Here!" premieres on this Sunday on ITV1 and ITVX.