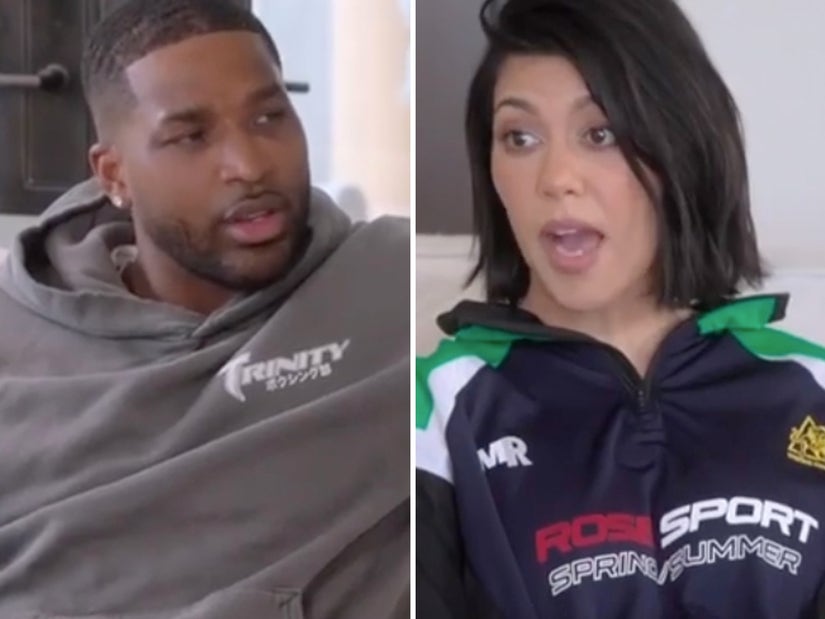 Hulu
"It really came down to not knowing how to love because that's the way I grew up," Tristan told Kourtney, who grilled him hard on his past cheating and paternity scandals.
Thanks to a lot of work with a therapist for the past two years, he felt he was finally in a place where he could "really see and own up to the mistakes I made" in a way he hadn't before. While his sit-down with Kylie went well -- get a full breakdown of that conversation here -- Kourtney pushed back a bit harder.
She walked into the room with a notebook in hand, presumably full of all the thoughts she wanted to bring up while hashing things out. "I was gonna tell you, 'This is what I want you to take from this,'" Kourt quipped of her pad, before Tristan mentioned he's been going to therapy for two years and found it helpful to take notes during those sessions.
"I'm not here to judge. I don't have any anger. I want an understanding of how you could do these things or how it got there," Kardashian prefaced the conversation, before saying she was "curious" whether Tristan ever thought to himself, "I don't have remorse."
Calling that question "fair," Kourtney then asked, "The next day after you do the deed, do you feel anything?" As he replied -- in the present tense -- "When I cheat, I feel disgusted the next day with guilt," Kourt shot back, "Then why do you do it again?"
"I was just cheating for an action, just cheating for a feeling. Honestly, it really came down to not knowing how to love because that's the way I grew up," he responded, pointing to how he saw his father treat his own mother. "As a kid, when you see that, the trauma you have is, because you can't protect your mom because you're so young and because your mom tells you it's gonna be okay, you numb your emotions of feeling scared or sad. It's my defense mechanism."
Tristan added he believed his mother always put on a happy face, even when going through a tough time, so that he and his siblings wouldn't be affected. Because of that, he said, Thompson "never understood how to feel pain or how to feel someone's emotion, because the most important person in my life, even though they're being treated terribly, was always happy."
"So I never understood pain and suffering," he continued. "I've never seen a man treat a woman good, I've never seen a man not cheat on a woman, I've never seen a good husband. I made a mistake."
Kourtney cut him off there, adding, "Multiple" -- before he asked whether he every understood before why he was making them in the first place. He then admitted his mistake was cheating, as well as not being honest with Khloe after the fact, making it so they weren't able to "figure it out together instead of her being blindsided."
Kardashian flipped everything he said back onto Tristan, saying that if Khloe was basically his mother in this situation, wouldn't she want her to put herself first and tell Tristan he didn't "stand a chance" anymore because of what he'd put her through. The episode ended with her dropping one last bomb, telling Tristan, "I'm just saying, I don't think you deserve Khloe or the actions that you've done have been something she's deserved."
The conversation will be continued next week; new episodes of The Kardashians drop Thursdays on Hulu.