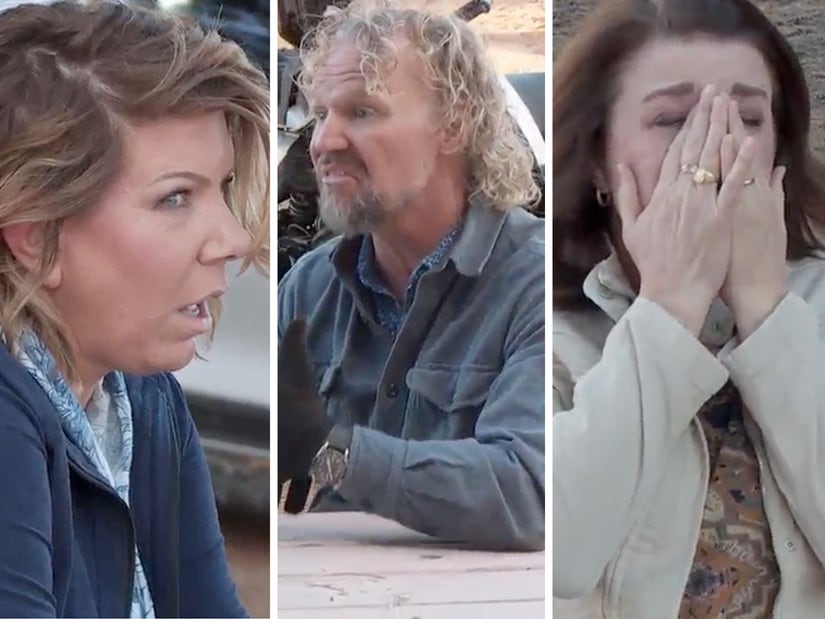 TLC
"This appears to be the end of our plural marriage," says Kody after Meri drops a "bomb" on him and Robyn -- who breaks down in sobs over the situation.
On Sunday's new episode of Sister Wives, Kody Brown's first wife let him and Robyn know of her plans to leave Flagstaff behind and move full time to Parowan, Utah -- where she runs an inn.
Her decision also seemed like an official break from Kody and their plural marriage, leaving Kody with only Robyn by his side after Christine left him and Janelle decided to separate as well.
Kody and Meri married in 1990 but divorced in 2014 so Kody could legally marry Robyn. While they remained spiritually married, they drifted apart in recent years -- something made worst when, in 2015, Meri admitted to entering a catfishing relationship with someone she thought was a man but turned out to be a woman. Her marriage with Kody has been pretty platonic ever since.
After he made it clear on their 32nd wedding anniversary in April 2022 that anything romantic between them was "never going to happen," they spent the next six months drifting even further apart. "So for the past six months since he had that conversation with me, I've had to really take a lot of time to figure out what I need," said Meri in the new hour, "and the fact that there really is no commitment or covenant, he's already broken it."
"I really feel like I was emotionally abandoned by him many, many years ago, well before the catfishing," Meri continued, before adding how their relationship took another hit when she watched last season of the show as it aired and saw Kody say he didn't "consider myself married to Meri anymore."
"That was pretty insulting and pretty vulgar for him to just be open to that," said Meri, who believed Robyn would truly be the only one who cared when she informed them of her decision to leave.
"Is now a good time to drop a bomb? I wasn't even planning on talking about this, but I guess here we are," began Meri when she met up with both Kody and Robyn, before telling them she was moving to Utah full time. "It's all coupled with everything else that's been going on, in the statements of Kody has made to me this year that I probably won't be renewing my lease here," she added.
Robyn then began to break down crying when Meri said she wasn't sure whether it was just a temporary move. "I'm not going to apologize for what I know in my heart is what I need to do," Meri added in a confessional, "if it's going to hurt Robyn's feelings, if Kody's going to be jumping for joy, whatever the emotion that somebody else has about it is irrelevant."
Meri looked straight at Kody and told him that "things that you've said to me and about me this year, it changes things." She went on to claim that she and Kody had an off-camera conversation days earlier where it seemed their marriage "was not going to move forward." However, per Meri, Kody wanted to keep their split private, while she wanted it public.
"I felt like we had decided that we're just going to have to go on being friends because we're not going to be in a marriage. That's what I thought we had literally agreed to," Kody said in his own confessional. "You want something that we can't have together, and we can always have something else, but not that," he then told her, before Robyn walked off in tears.
As Kody and Meri talked one-on-one, he told her he felt it was "ridiculous to stay in a duty-bound marriage," as she said she didn't think that was "fair" for either of them. When he then said it was hard to accept "that it's not going to go back to a place that works for what you're looking for," she pushed back in a confessional, saying it felt like he was putting the blame on her and not taking any accountability of his own.
When Robyn returned to the table, Meri told her it felt "like we just had a breakup conversation." Kody acknowledged it as an ending too, saying he was glad the two could still be "friends in the part of the departure."
"I'm not going to force somebody to be with me who doesn't want to be with me. I'm not going to make somebody act how they don't want to act," Meri then told him, before Kody said he'd be down to act if that's what she wanted.
"I am willing to fake being in love with Meri, doing my duties as a husband, sort of putting up with things that frustrate me so deeply that I struggle to be around her," he confessed. "If I need to, for the sake of whatever ... I can fake through this. I don't want to. But if you're gonna insist, than we will."
Meri was adamant her decision wouldn't change what their relationship has been for the last few years, telling Robyn "nothing's gonna change." She added, "it's not fair for me to be alone like I have been for years. And it's not fair for him to feel like he has to do a duty" -- before adding in a confessional she just has to learn "how to be friends with my ex-husband's wife" going forward.
Robyn was clearly upset with all of this, with Kody explaining why in a confessional.
"Robyn came into our family specifically because she intended to live plural marriage. This appears to be the end of our plural marriage," he said. "This is goodbye. It was a negotiation that was long overdue. But we've agreed now and I hope she finds peace because I will."
The hour ended with Robyn sitting on her own, sobbing.
"I wanted to sit on a porch with my sister wives, here on this property with our kids and our grandkids and Kody running around like he does and having a family," she expressed through tears, before concluding, "I don't understand."
Kody and Meri announced in a joint statement back in January that they had "permanently terminated" their "marriage relationship," just a few months after this episode was filmed.
Sister Wives airs Sundays on TLC.