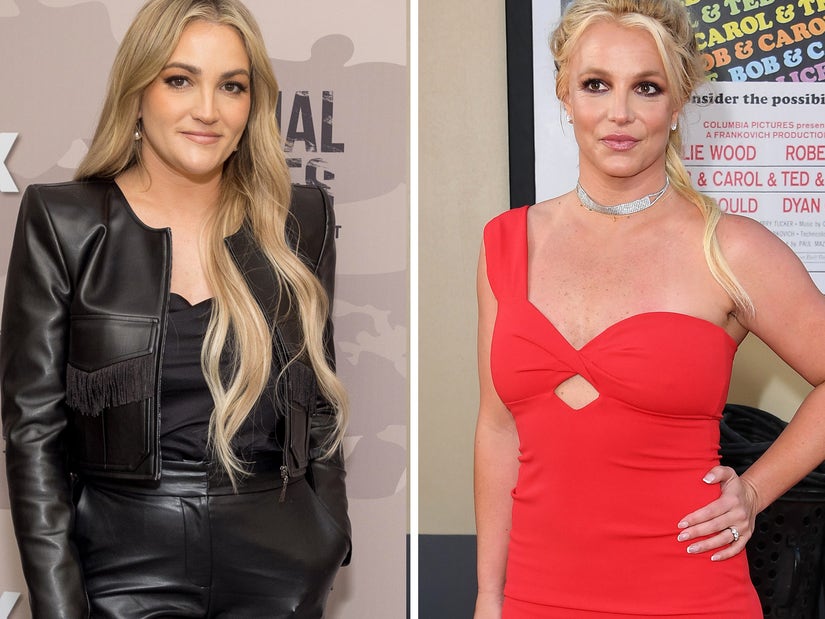 Getty
"I decided to keep the baby. I was 16. The whole world was like, 'You're a s--t, you're horrible, your life is over ...," said Jamie Lynn, who also explained how she almost emancipated herself from her parents as a teen.
During a conversation with her costar Fred Sirieix on a new episode of I'm A Celebrity...Get Me Out of Here!, per Daily Mail, the actress revealed she spoke to her sister before she traveled to the Australian jungle for the British reality series.
Jamie Lynn, 32, alluded that she and Britney, 41, are on good terms despite the latter criticizing her in her recently released memoir, The Woman In Me.
"I think every family fights and has their stuff, but I talked to her before I came here, and we love each other," Jamie Lynn told Sirieix while lying in a hammock.
"But the both of you became so famous and so big…," Sirieix added, to which Jamie Lynn replied, "Oh, I always say this. My momma, not in a cocky way at all, my mom literally believed we were the best in the world. I think we grew up, all we ever did was sing and dance, that was our whole household, that's how we were."
Jamie Lynn recalled her experience as a child star, before that all ended when she became pregnant at 16 while starring on Zoey 101.
"I auditioned for a show called All That, and that's when I was on All That for three years before I was on Zoey [101]," she said. "It was very successful. After I finished Zoey, I had my love of my life, what I thought, I decided to keep the baby. I was 16. The whole world was like, 'You're a s--t, you're horrible, your life is over…"
When Sirieix asked if she "felt it," Jamie Lynn said, "Oh yeah. Because I got pregnant young and I was on a kids' show."
The Nickelodeon star -- who was 17 when she gave birth to her daughter Maddie in 2008 -- went on to share how her parents -- Lynne and Jamie Spears -- reacted to her teen pregnancy.
"They had a lot going on," Jamie Lynn recalled. "I just think they were sad I was in that situation but also it's your baby having a baby. I had to go hide away for a long time because they were relentless."
She went on to detail how the media coverage and backlash affected her daily life.
"'I moved to Mississippi and literally hid. Put a gate around me," Jamie Lynn said. "I had 20 paparazzi on me every day. They wouldn't leave me alone. They came and lived in Mississippi, middle of nowhere. It was horrible. I hated it so much."
"I just wanted to be normal. I wanted my baby to be normal," she added. "Everybody told me I was going to be a horrible mom. So I was like I've got to raise this baby by myself and I did."
The Dancing with the Stars alum then became emotional as she revealed that when she first "went away" after she found out she was pregnant, "a lot of people" around her "didn't want me to have the baby."
Sirieix praised Jamie Lynn as "amazing," before the latter recalled how she almost emancipated herself from her parents.
"When I got out of that, I told my parents I was going to emancipate them, that way I could make my own decisions," she said. "I was secretly telling her I was going to doctor's appointments."
"I was going to meetings with a lawyer… My poor mom, we put her through it," she continued. "And so then she was like, she didn't want me to do that, she knew that would mean I'd probably marry the father and lose my fortune that I'd amassed over the years of working… she said, 'Just go baby…'"
"It was the first time I was in control," Jamie Lynn told Sirieix. "My mom did [come and visit]. I don't know what's wrong with me, why I wouldn't take the easy route sometimes, but I just don't want to."
The reality star's appearance on I'm A Celebrity has already received criticism from viewers -- and apparently producers as well.
Even before the show's premiere, Jamie Lynn was trolled by Britney fans online after she shared that she's "best known for being an actress and a singer" rather than the pop star's younger sister.
Meanwhile, according to the Daily Mail, I'm A Celebrity producers are concerned that Jamie Lynn may exit the show early, with the outlet noting that she has allegedly been isolating herself from her costars and producers are reportedly worried she may be at "flight risk." She has to stay in the camp for 72 hours to receive her paycheck.
"I'm A Celebrity…Get Me Out Of Here!" airs on ITV1 and ITVX.