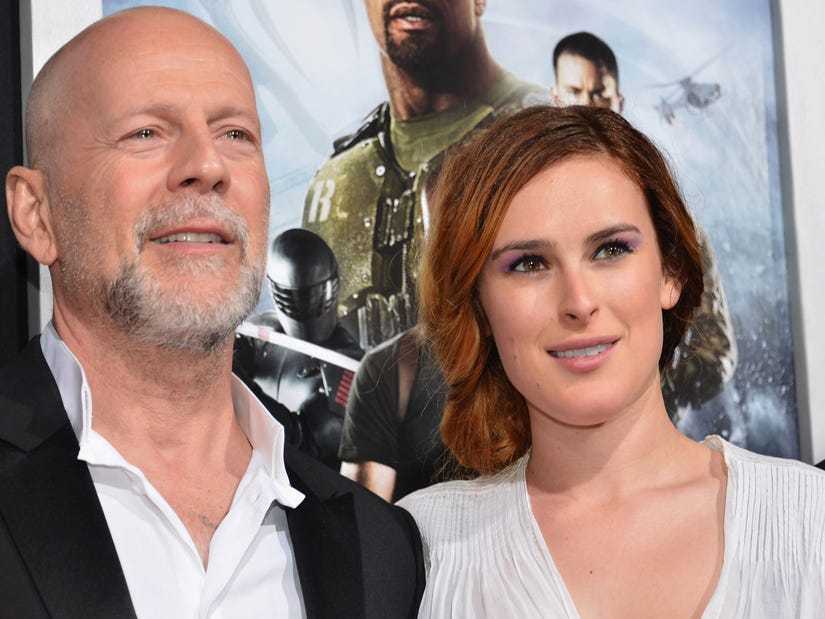 Getty
The 'Die Hard' star announced he was retiring from acting in March of 2022 due to a rare form of aphasia. He was later diagnosed with Frontotemporal Dementia.
The new mom took to Instagram Monday to share a throwback photo of herself as a baby, cradled in a shirtless Bruce's arms. The proud dad smiles fondly at Rumer, his eldest daughter, who is adorably outfitted in a white dress and matching headband, one finger in her mouth.
"Really missing my papa today. 🥲," Rumer, 35, captioned the pic.
Bruce, who's also dad to daughters Scout, 31, and Tallulah, 28, with ex-wife Demi Moore, and Mabel, 10, and Evelyn, 8, with current wife Emma Heming, announced he was retiring from acting in March of 2022 due to a rare form of aphasia. He was later diagnosed with Frontotemporal Dementia.
And in October, Moonlighting director and Bruce's longtime friend, Glenn Gordon Caron, revealed the Die Hard star is no longer completely verbal.
Waiting for your permission to load the Instagram Media.
Rumer's post was met with lots of love in the comments, mostly from fans and those who understand the very real impact dementia can have on a family.
"Hugs. It's an odd kind of hard to miss someone who is still here. Dementia is a cruel beast. ❤️," one commenter wrote, with another adding, "He's still there just differently ❤️❤️ sending you love."
Rumer also received support from celebs, including Destiny's Child alum, Michelle Williams, who left behind a trail of red heart emojis, and actor, Josh Rhett Noble, who worked with Bruce on a film in 2021.
"I love this photo. I unfortunately lost my father-in-law to FTD not long ago. I was unaware of Bruce's diagnosis when we worked together in 2021. I feel for you so much," Noble wrote. "I appreciate your family being open about his condition and bringing awareness to this terrible disease. Sending you love and light."
In a personal essay written for Maria Shriver's Sunday Paper, the mother of two shared her perspective and what she's learned as she and Bruce's family navigate his disorder. In a step-by-step guide, Emma shares the value of community, being aware and research.
"I struggle with guilt, knowing that I have resources that others don't," she wrote. "When I'm able to get out for a hike to clear my head, it's not lost on me that not all care partners can do that. When what I share about our family's journey gets press attention, I know that there are many thousands of untold, unheard stories, each of them deserving of compassion and concern. At the same time, I see that what I share matters to others who may be struggling, and in a small way makes them feel seen and understood."
Other members of the Willis family have shared updates on the 68-year-old actor over the last year, including Tallulah, who told Drew Barrymore earlier this month that her dad is doing about "the same."
"He is the same, which I think in this regard I've learned is the best thing you can ask for," she said during an appearance on The Drew Barrymore Show. "I see love when I'm with him, and it's my dad and he loves me, which is really special."