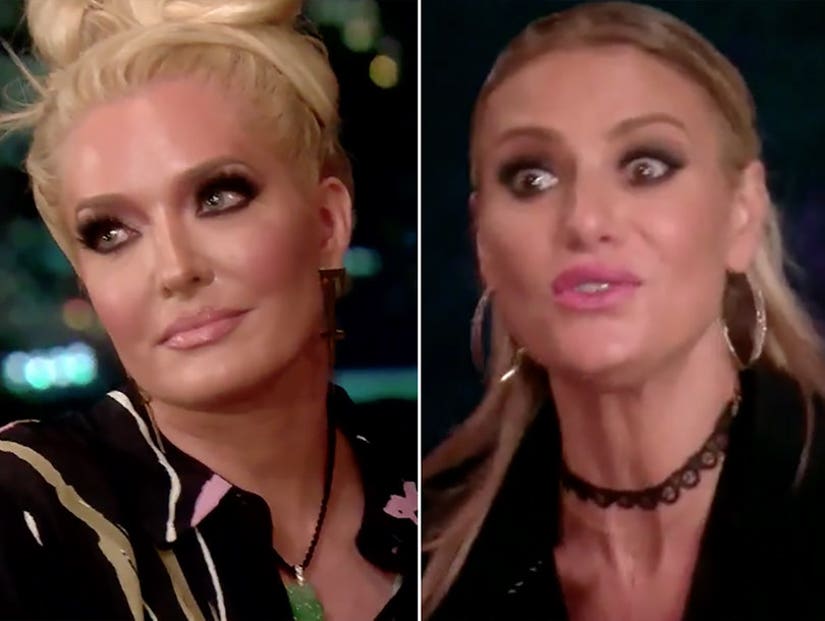 Bravo
The newest star of "Real Housewives of Beverly Hills" was blindsided on Tuesday night's episode, as both Lisa Rinna and Erika Giradi were out for blood in Hong Kong.
"I was a bit shocked, I didn't expect Erika to voice that resentment she had been harboring over the last 4 months," Kemsley told TooFab. "There was a lot of intensity on the boat."
The two got into it while on a harbor cruise, after Rinna accused Dorit of insinuating she had a drug problem while relaying a story Lisa told her about dropping Xanax into her smoothies. Erika sided with Rinna on the issue before telling Kemsley, "I don't like bullshit Dorit and that's what I think you are."
"I definitely was not prepared for what happened in Hong Kong. I wasn't prepared what happened with Erika, I wasn't prepared for what happened with Lisa or Eileen [Davidson]. It was very much survival in that moment," Dorit said of the heated exchange.
"I also believed very much in my intentions. I knew that my intentions were always good and I'm not one that likes to be bullied. If I ever feel like I'm in a situation where I'm being bullied, I'm always going to stick up for myself, I'm always going to stand strong and hopefully find the strength in that moment to stand on your own, which I did at times, against three people."
"I think I really did manage to hold my own and it was intense," she added.
Of the accusations she was spreading a pill-popping rumor, Dorit said her comments were all in good fun just like Rinna's original quip.
"I'm one of those people also, my husband and I banter so much in our house, we are constantly taking the piss out of one another. Our friends are like that," Kemsley told TooFab. "I like to joke and have fun and particularly with a topic that might be sensitive, making it lighthearted, it's always a nicer way, an easier way, for me to not feel this tension. There were jokes along the way but I thought everyone in the conversation understood that they were jokes."
As any fan of the "Real Housewives" franchise can confirm, these explosions almost always seem to happen when the women go on what should be relaxing vacations. Dorit told TooFab she knows why tends to be the case.
"It's sort of par for the course. We flew 15 hours, we didn't have an adjustment period to the time change. We were all jet lagged, we're all exhausted, we're away from our families, our children, our loved ones, it's just us," she added. "We all sort of know it's the end of the season, so whatever there is, it's the time to get it out. I think that's just the name of the game, the nature of the beast. That's why I think these trips tend to bring the most drama."
The drama continues next week, as her fight with both Erika and Rinna escalates.
"Real Housewives of Beverly Hills" airs Tuesdays on Bravo.