The ever-expanding online world of original video content has the potential to transform Hollywood as we know it -- but talent behind some of the most successful web series fear Hollywood may be ripping them off.
TooFab has learned that a deal to air the Emmy Award-winning web series "The Lizzie Bennet Diaries" and PBS Digital Studios' series "Frankenstein M.D." on cable television caught the actors, writers and producers completely by surprise.
"Not a single person was told anything," actor Sara Fletcher told TooFab. And now many of the people connected to the deal are wondering if they will be paid properly.
"Lizzie Bennet" was created by executive producer Hank Green (brother of "The Fault in Our Stars" author John Green) and head writer Bernie Su. The shoestring-budget series became a viral hit that won a Creative Arts Emmy for Original Interactive Program in 2013. Their company Pemberley Digital went on to produce a sequel called "Emma Approved," and partnered with PBS Digital Studios to produce "Frankenstein," featuring popular YouTube comedian Steve Zaragoza.
In December 2016, Su's second company, Canvas Media Studios -- which produced StyleHaul's "Vanity" series starring Denise Richards and Karrueche Tran and is currently developing "Socio" for MTV -- announced a deal with Sinclair Broadcast Group to syndicate their digital shows on a new internet-focused cable channel called TBD. Canvas quietly included "The Lizzie Bennet Diaries," "Emma Approved" and "Frankenstein M.D." in the deal, recutting the YouTube videos into 30-minute television episodes with commercial breaks. The episodes have been airing on TBD in regular rotation since mid-February.
None of the cast, writers or producers from these three shows were notified before the episodes launched, and there are no closing credits citing their work, individuals with knowledge of the situation told TooFab.
A PBS Digital Studios representative told TooFab they were not aware of the deal and declined to comment further.
"Frankenstein" cast and crew only found out after actor Brendan Bradley happened to see a fan tweeting about the TV episodes on March 1 and asked her to send him screenshots.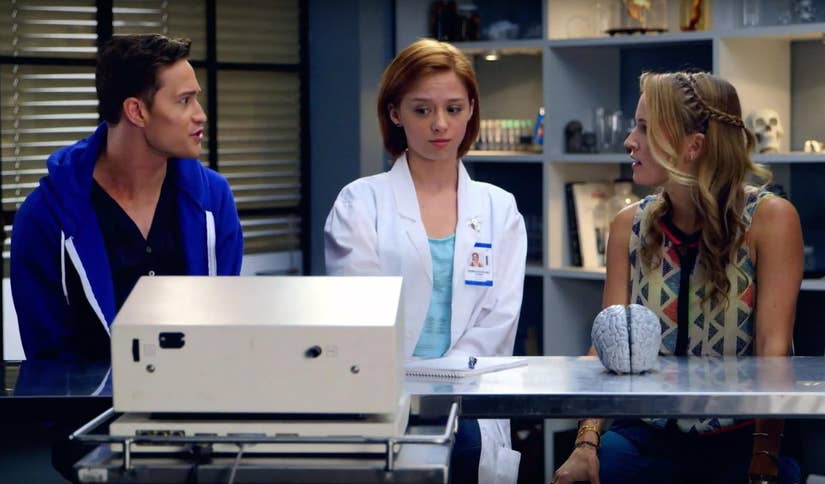 Brendan Bradley, Anna Lore and Sara Fletcher in "Frankenstein M.D." / PBS Digital Studios
When Fletcher contacted SAG-AFTRA to ask about residual payments for "Frankenstein," she was told the paperwork hadn't even been filed yet.
"Which is in really poor taste, because it's already airing," she said. "In my mind, you should at least inform everyone that this is happening."
Meanwhile, a SAG-AFTRA representative told Bradley that Pemberley still owed residual payments from several years ago, when its web series were moved from YouTube to home video.
The writers and actors were not officially informed until March 7, three weeks after the shows started airing on TBD.
In an email obtained by TooFab, Su told them "we will be adhering to all WGA and SAG determined syndication residuals through this deal," but did not offer further explanation or specify when payments would be made.
Su's business partner David Tochterman told TooFab that Canvas does not own "Lizzie Bennet" or the other Pemberley shows, but helped facilitate their distribution through TBD.
But Green said that he hasn't worked on any Pemberley series since "Lizzie Bennet" and couldn't comment on how the business is run. "I do still have a stake in the shows, but I'm not involved in decision making."
Fletcher wondered why there was no announcement or mention of the television deal on social media from Pemberley, when the company has eagerly promoted other projects and events.
"Steve [Zaragoza] has a huge following online. Why wouldn't you want people to know, to be able to push it? It makes me really question the intention behind it," she said and added, "I would like to assume the best, that it was just an oversight, that they were in talks with SAG-AFTRA and WGA. But it's odd to me that they didn't let us know."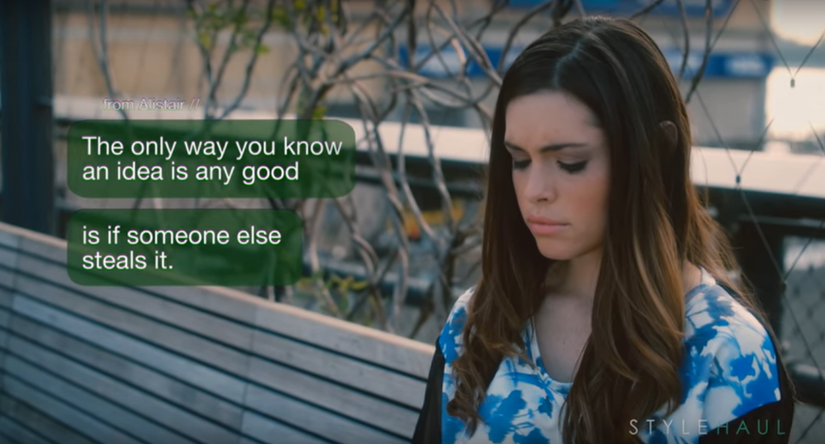 Alex Frnka in a scene from "Vanity" / StyleHaul
This is not Canvas Media Studios' first clash with digital creators.
Court documents obtained by TooFab show that in 2015, the company was tangled in a lawsuit claiming the concept for StyleHaul's "Vanity" was stolen from the pilot episode for a series called "Gloss" starring "Lizzie Bennet" actor Allison Paige, which had been shared in confidence with Mr. Su months earlier. The lawsuit was eventually dismissed.
Tochterman said that Pemberley has and will continue to honor its contracts with its creators and talent. "Not only will these series reach a broader audience, all who were involved in their production will benefit as well."
Fletcher, who starred in the "Secret Girlfriend" web series that was turned into a Comedy Central sitcom in 2009, acknowledged that actors don't always need to be informed of new distribution deals.
"If you're on a TV show and they decide to put it on the internet, they don't tell you," she said. "If you're on a TV show and they sell it overseas, a lot of the time they don't say anything. You just get residual checks in the mail."
Things get murkier, however, when you look at TBD's unusual approach of putting made-for-the-internet content directly on television with all credits removed.
"Very rarely do you hear about someone from digital taking a show and crossing it over to television in its entirety," Fletcher said. "Usually there are contract renegotiations and then they reshoot it."
Bradley told TooFab that he was surprised to hear the shows were allowed to air on TBD before residuals paperwork was filed, because he has encountered strict union rules about residual payments both as an actor and a producer.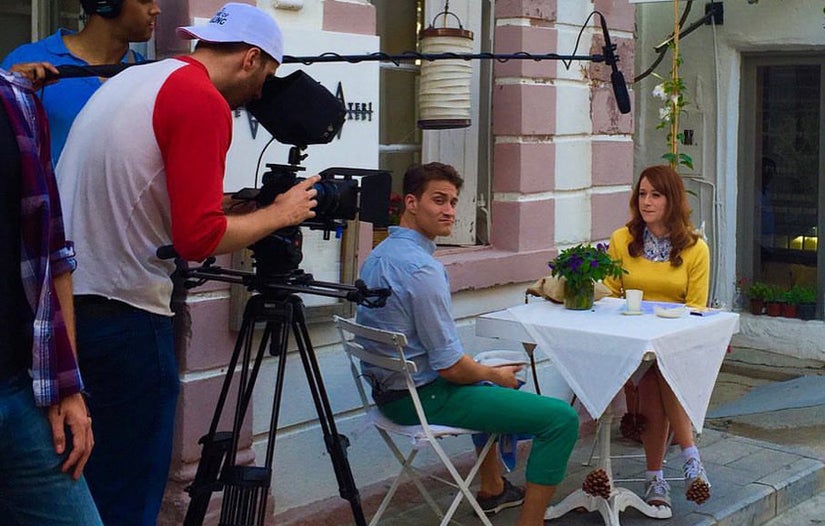 Brendan Bradley and Ashley Clements filming "Non-Transferable" / Jigsaw Ensemble
A 2008 web series he acted in, called "The Legend of Neil," was allowed to release a DVD only after every cast member signed a letter authorizing the upgrade of their contracts. In 2016, when he produced romantic comedy "Non-Transferable" for digital release and was later approached by agents and distributors interested in putting the movie in cinemas, the union told him that he would have to upgrade contracts for everyone in his cast.
A SAG-AFTRA spokesperson declined to comment directly on the situation, but told TooFab that "residuals obligations vary depending on the type of contract to which a picture is signed. Whether or not the applicable contract changes, depends on the circumstances of a show's distribution." They urged SAG-AFTRA members to reach out to their union representatives if they had questions.
There are similar concerns among the shows' writing teams, according to individuals with knowledge of the situation.
Because the YouTube series were re-edited, there's a possibility the writers will only be paid residuals per each 30-minute episode, rather than for each original video -- exactly the kind of thing that would have come up in negotiations, had they taken place. Some even worry that because the web series were so low-budget on their first run, the writers could be owed next to nothing.
As the lines between digital and traditional entertainment continue to blur, the TBD deal highlights a risk that companies could try to avoid paying full rates to their cast and crew by producing cheap online content, and then take advantage of loopholes to move it to more profitable platforms.
What Can Creators Do About It?
How creators should protect their livelihoods is an ongoing discussion in the YouTube community. Hank Green made this a personal cause in 2016, co-founding the Internet Creators Guild (ICG) to share creators' expertise and help them navigate the industry.
Fletcher said that in her experience, digital entertainment is not inherently riskier than the rest of Hollywood.
"I have made a living by doing both digital and traditional media, and the digital world has been really good to me," she said. "I've gotten to work with a lot of really awesome people. Whenever I meet someone new, I'm like 'You should absolutely do digital, because it's a great place to get started, it's a great place to get your feet wet.'"
"Digital companies build a reputation based on the people that they work with," she added. "I think it spreads really quickly who's easy to work with and who's not."
Bradley told TooFab the issue is very important to him, and he continues to urge SAG-AFTRA to be more proactive about how digital creators are paid.
"Residuals should be based on exhibition, not revenues," he said. "We have the tools to calculate the exact difference in scale for new media content that gets 1,000 versus 100,000 views. We know the actual cost per click is different on iTunes than it is on YouTube. We have already negotiated and determined the value of syndication on various types of television and physical media. This stuff isn't new and it's all trackable in real time."
While Bradley said there's room for debate over emerging technology like virtual reality or 360-degree videos, the rules for content airing on television are quite clear. "When it comes to traditional outlets, the unions have already negotiated and determined the appropriate value and it needs to be honored."
"Ultimately, ubiquitous professional content for free is not sustainable - for anyone," he said.
Full Disclosure: The author interned with Pemberley Digital in 2014.