Just a day after Bill O'Reilly was let go from Fox for allegations of sexual harassment, one of his accusers is speaking out about her experience.
Perquita Burgess sat down with the ladies of "The View" to talk about her time working at Fox and the inappropriate interactions she had with O'Reilly.
"He would walk by my desk and he made a grunting noise, and when he made the noise I thought maybe he had a muscle spasm, but as time went on I noticed every time he walked past my desk, if no one was around, he would make that noise."
Just weeks after sexual harassment claims surfaced against Bill O'Reilly, 21st Century Fox confirmed Thursday that the Fox News host will not return to the network.
In a letter sent to employees, Fox News said "after a thorough and careful review of allegations against him, the company and Bill O'Reilly have agreed that Mr. O'Reilly will not return to the Fox News Channel."
"He wasn't speaking to me, he wasn't saying hi," Burgess continued. "It was embarrassing so I got to a point where I just didn't look at him."
"Fast forward to maybe 3-4 weeks in, we were on the elevator alone together and he let me off first as gentlemen do, and as I was getting off the elevator he said, 'looking good there girl.'"
Burgees said after the comment, the "hairs rose on the back of my neck because I knew the grunting and groaning was going on, we were on the elevator, he doesn't speak, and then he waits until I get off the elevator and walk in front of him, and as I'm walking in front of him, makes these remarks."
Flash forward to a few weeks later when Burgess says she noticed that O'Reilly was constantly leering at her, and walking by her desk.
Burgess then went on to tell The View about when O'Reilly called her "hot chocolate," which his lawyer Marc Kasowitz disputed, saying: "It is outrageous that an allegation from an anonymous person about something that purportedly happened almost a decade ago is being treated as fact, especially where there is obviously an orchestrated campaign by activists and lawyers to destroy Mr. O'Reilly and enrich themselves through publicity-driven donations."
"One day he walked by my desk...and I'm just sitting there minding my business and he says, 'hey hot chocolate.' But he didn't look at me when he said it."
"I didn't respond, I was mortified because not only was it sexual, I took that as a very 'plantational' remark," Burgess said. "Such a blatant person with such a high profile making her feel uncomfortable but then not acknowledging me, that's a problem."
The hosts then asked Burgess questions about how she reported the situation, to which she said she only told family and friends because as a temp, she was not a formal employee of Fox. Burgess lawyer joined the discussion to say all they ever wanted to do was take down O'Reilly.
All of this began when The New York Times published an extensive report April 1 exposing multiple sexual harassment cases against O'Reilly that resulted in him and Fox News paying out upwards of $13 million in settlements to women who were not permitted to speak about the cases. Since then, advertisers jumped ship in droves from O'Reilly's highest-rated cable news program. An internal investigation was also launched to look into the claims.
O'Reilly released this statement after this exit from Fox: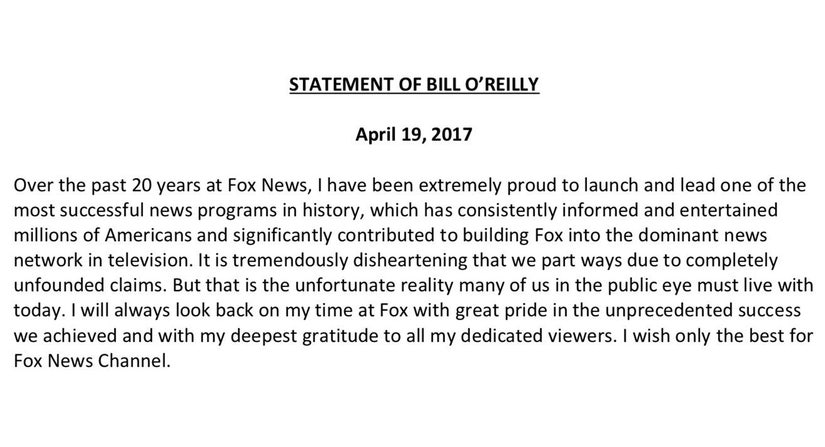 Twitter