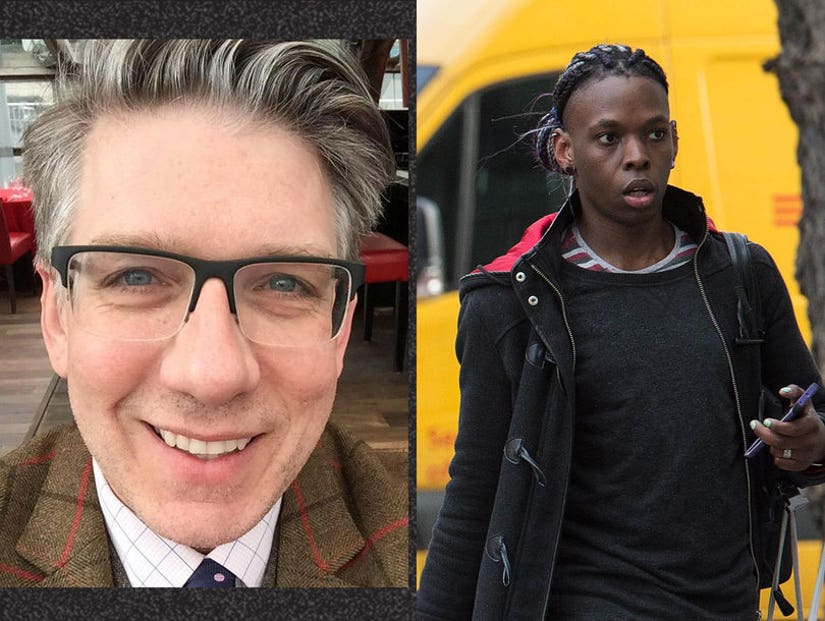 Facebook / AP
25-year-old Gerald Matovu is accused of robbing a dozen men after drugging them with 'chemsex' drug GHB — one of them fatally.
The murder trial over a film extra's death has revealed that the suspected killer is an alleged serial Grindr thief.
Eric Michels, 54, (pictured above, left) who had small roles in "Skyfall", "Jack Ryan: Shadow Recruit" and "World War Z", was found dead at his home in the UK in August of last year.
Gerald Matovu, 25, (pictured above, right) is currently on trial for his murder, accused of poisoning him with an overdose of the "chemsex" drug GHB.
Matovu and his 23-year-old alleged accomplice, Brandon Dunbar, are also accused of drugging and robbing 11 other victims who they lured with the promise of sex, via hook-up apps.
Michels, a father of three, split from his wife in 2010 after coming out as gay.
On Tuesday the court heard Michels and Matovu met up in central London after they found one another on Grindr, before taking a cab back to his home in Chessington.
The following morning Michels 14-year-old daughter texted her dad, asking if he wanted to meet up for a meal before she went on holiday.
When she received the "totally uncharacteristic" reply of "Hello hun im a little busy talk soon", she became suspicious and tried to call him. She said an unknown male answered the phone and immediately hung up when she identified herself.
Summoning her mother, they drove to his home, where they found him motionless in bed with the duvet pulled up over his face.
"She attempted to rouse him by shouting his name but to no avail," the prosecutor told jurors. "Her mother then entered the property and pulled the duvet off his face to reveal that Mr Michels had dried blood and green bile near his lips. He was not breathing."
An empty 3ml syringe missing its needle was found on the floor near the bed.
His phone and laptop were missing. Prosecutors claim Matovu took photographs of his bank and credit cards, drivers license and passwords before leaving — his alleged MO in previous thefts.
Along with the murder charge Matovu faces six counts of administering a poison or noxious substance to endanger life, one count of assault by penetration and one count of causing actual bodily harm, according to the BBC. He is further charged with five counts of possession of articles for use in fraud, seven counts of theft and possession of a controlled drug of class C — all of which he pleaded not guilty to.
Dunbar meanwhile pleaded not guilty to five counts of administering a poison with intent to endanger life, one count of assault by penetration, one count of ABH, seven counts of theft, five counts of possession of articles for use in fraud, two counts of fraud and one count of unlawfully retaining a wrongful credit.