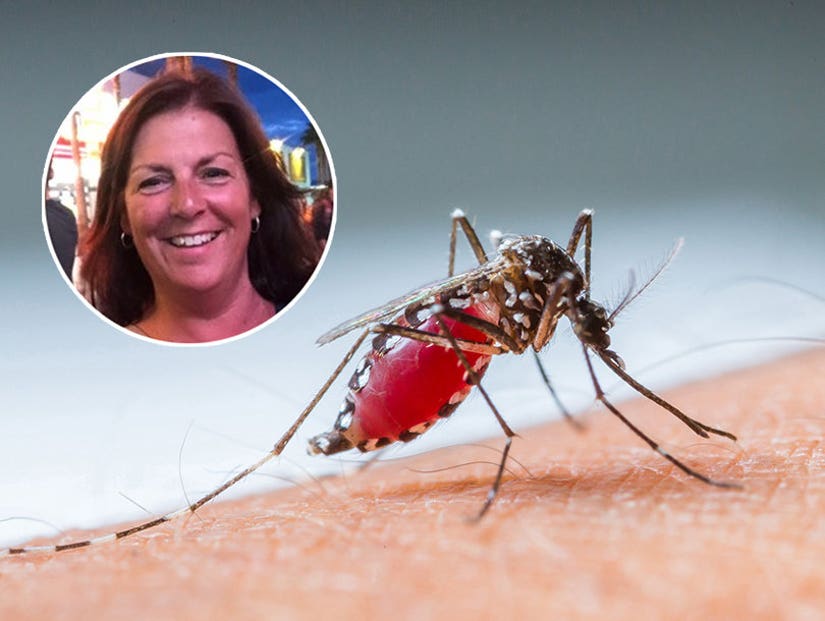 Getty/Facebook
The 50-year-old died after contracting the EEE virus.
A Massachusetts woman has died after contracting a rare virus from a mosquito bite.
50-year-old Laurie Sylvia was infected with Eastern Equine Encephalitis — the EEE virus.
The Massachusetts Department of Public Health confirmed hers was the fourth case in the state this year, and the first fatality.
"We are working with several state agencies including MDAR, local boards of health, local Mosquito Control Projects, and other mosquito control experts on mosquito surveillance and appropriate public health response activities," health officials said in a statement.
They warned residents to use mosquito repellent and wear long sleeves and pants, and to ensure standing water does not gather on their property. Those living in high risk areas should consider staying indoors from dusk to dawn to reduce risk of exposure.
The victim was the wife of local union boss Robert Sylvia Jr, ABC6 reported.
"For the last several days we were hopeful that with the best possible care from the Doctors and Staff at Tufts Medical Center in Boston, she would be able to recover," Teamsters Local 59 said in a Facebook post on Saturday.
"We have just learned that this will not be the case. Laurie's condition has deteriorated and regrettably, the family is now preparing for the worst."
They added just a day later: "It is with great sadness and heavy hearts that we inform you Laurie Sylvia has passed away. All of us here at Teamsters Local 59 extend our sincere and deepest sympathies to Bob and his family."
EEE virus particularly infects birds, often with no evidence of illness. Mosquitoes become infected when they bite infected birds, who in turn pass it to mammals — usually horses and llamas — and rarely, humans.
EEE is normally considered very rare; Since the virus was first identified in Massachusetts in 1938, fewer than 100 cases have occurred. But four have now been identified there in the past year alone.
The state suffers an outbreak every 10-20 years, which lasts 2-3 years; the most recent outbreak occurred between 2010 and 2012 when nine people were infected, four of whom died.
Symptoms include stiff neck, headache, and lack of energy, and typically show up three-to-ten days after a bite from an infected mosquito. Inflammation and swelling of the brain — encephalitis — is the most dangerous and frequent serious complication. The disease progresses quickly and patients can slip into a coma within a week.
There is no treatment for EEE. According to Mass.gov, about half of the people identified with EEE in the state died from the infection. People who survive disease will often be permanently disabled; few people recover completely.