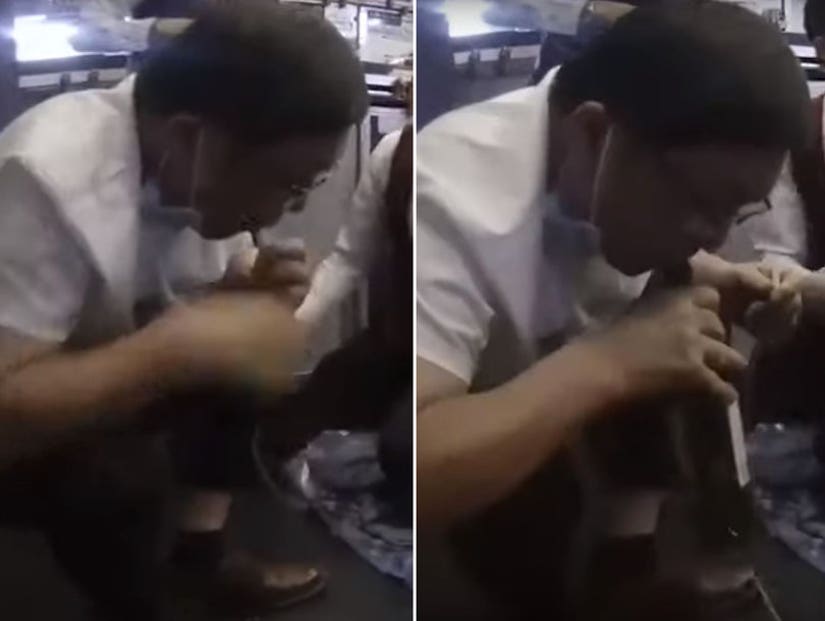 YouTube
The incredible makeshift procedure was caught on film.
A doctor saved a man's life aboard a flight by sucking urine from his bladder for almost 40 minutes straight.
The medical emergency broke out on a China Southern Airlines flight to New York on Tuesday, the South China Morning Post reported.
Cabin crew put out the call for a doctor on board after an elderly passenger with a swollen stomach began complaining of severe pain.
Luckily vascular surgeon Zhang Hong was aboard, and quickly managed to determine that the man had around a liter of urine trapped in his bladder, but wasn't able to urinate.
With six hours still to go until the flight landed and a potentially fatal rupture imminent, he swiftly devised a plan.
Clearing out the staff area they made a makeshift bed. He then rigged a device together using the materials that were available to him, including a portable oxygen mask, a syringe needle, straws from milk boxes and tape.
He managed to pierce the patient's bladder, but the syringe was not big enough to ease the pressure, so he had to improvise with the only pump he could rely on: his own lips.
Sitting beside the patient, he spent the next 37 minutes sucking the urine out of his bladder, and spitting it into an empty wine bottle and a glass.
The incredible rescue, in which Dr Zhang sucked out between 700-800ml of urine, was all caught on film.
"If we had not dealt with the situation in time, the patient's life would have been at risk," Zhang said, according to the publication. "It was an emergency situation. I couldn't figure out another way."
"When I saw that the man could hardly bear the pain any more, my only thought was how to get the urine out of his bladder."