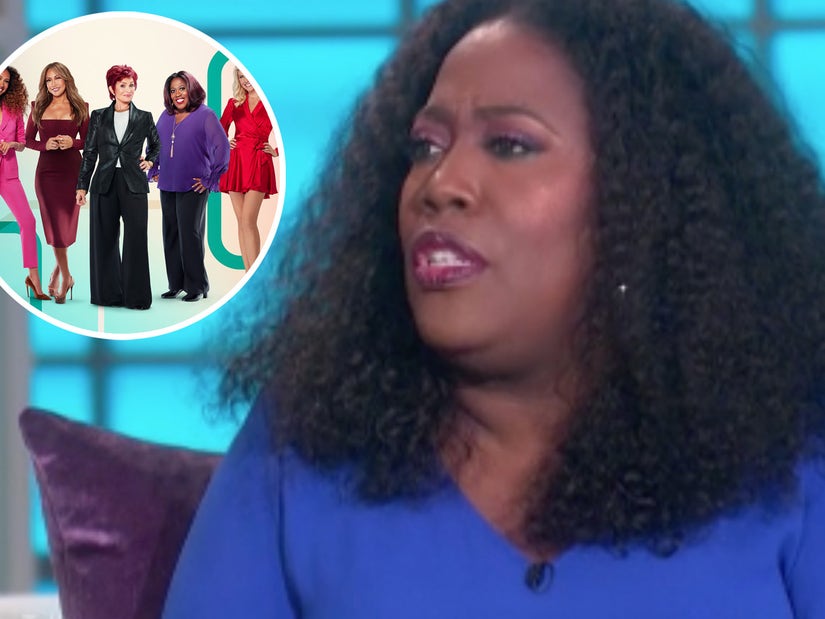 CBS/Getty
The show returned -- sans Sharon -- after an unplanned hiatus following the contentious Osbourne-Sheryl Underwood discussion of Piers Morgan.
The women of "The Talk" sure had something to talk about today.
Monday marked the first episode since Sharon Osbourne -- one of the founding co-hosts of the CBS daytime staple -- left the show amid an internal investigation. The investigation was launched following a contentious argument between Osbourne and Sheryl Underwood precipitated by Sharon's defense of Piers Morgan, after he unloaded on Meghan Markle over her sit-down interview with Oprah Winfrey.
The show has been on hiatus since March 12, initially saying they'd be off just a few days before ultimately extending it to April 12. During that time, Sharon revealed first that she wasn't sure she'd be welcomed back but that she was open to having a dialogue. Then she announced her departure.
While she wasn't there to participate in the discussion, the situation was addressed at length on Monday morning. Underwood began the show with a video from backstage, saying the day's hour would "be unlike any other we've had before." The footage was released online before the episode began airing.
"We haven't been together in the studio since the week of March 10 and, as you may know, during our break, Sharon decided to leave 'The Talk,'" she explained. "We need to process the events of that day and what happened since, so we can get to the healing."
"Over the next hour, we will honestly discuss what occurred and explore some of our feelings. And we'll also show you how anyone can become more comfortable discussing important issues and having difficult conversations," Underwood continued. "By the end of the hour, we want everyone to feel empowered and ready to move forward. So, let's start talking."
The show then showed Underwood, Carrie Ann Inaba, Amanda Kloots and Elaine Welteroth all sitting on stage, as Inaba said they "must" have a conversation about race, "no matter how uncomfortable." She said that, in order to prepare for the episode, "over the past few weeks, individually and as a group, we've been in our healing sessions" on diversity and equity.
She added that, while she was out when the Sharon-Sheryl conversation happened, she "felt it as deeply as you all did." She continued, that, "as we go over the events of that day, I will do less talking but a lot of listening and supporting." The cohosts were then joined by expert on diversity, equity, inclusion, and justice Dr. Donald E. Grant the the first segment.
"I'm nervous, but I'm ready, I feel a safe space," said Underwood as Grant asked how she was today, before she shared her side of the story. "I didn't want to escalate things with Sharon because I thought I was having a conversation with a friend, but also I knew I had to be a example for others to follow because I didn't want to be perceived as the 'Angry Black woman.'"
"That really scared me, I didn't want to be that and I wanted to remain calm and remain focused. It's difficult to go back to that day because I feel the trauma, I feel fearful and a little apprehensive," she continued. Welteroth also chimed in, first praising Sheryl for how she handled the situation. "I think it's important for people to know how much strength and willpower it takes to maintain that kind of composure in that situation," said Elaine.
"I didn't feel that I was heard, which saddened me because part of the reason why I joined this show with all these diverse, beautiful, intelligent women is because I though that we had an opportunity here and we do have an opportunity here to have conversations that help show people how we can bridge these divides in this country and we can do it with empathy," she added.
"When hard conversations like this come up, I tend to play the mediator/therapist role," said Kloots, who said she was trying to get everyone to listen to each other at the time. "I was listening to Elaine that day and you were making so many excellent points that just weren't being heard. I was trying to think about what I could sit here and contribute to be a mediator and get everybody down to a level where we could all listen and talk."
Underwood then specifically addressed the moment Sharon told her, "Don't you cry" during their argument. "I'm not tearing up because you've hurt me or I want some sympathy, I'm tearing up because I have to restrain that," she said, "because if I had responded then I would have been the 'Angry Black woman.' I think that's what resonated with Black women out there, but other women [who are told] don't express emotion on a job, don't do anything like that. To be told you can't do something and I'm grown .... you get that feeling, 'I'm a grown ass woman,' and you have to suppress that."
Welteroth agreed with Underwood, saying they both knew they had to remain composed in the face of someone who was "A) Not listening and B) Who went off the rails into disrespect when we were maintaining our respect within the context of this very complex, charged, emotional conversation that was emotional for all of us."
She also shot down "false narratives" that came out since the incident at hand, saying they hadn't really spoken out yet because they were respecting the investigation into the matter.
She said narratives "that frame Sheryl and I as people who attacked a woman on air" or suggested they're "part of some sort of conspiracy" were "absolutely, categorically false and I think it's really important people hear that." She continued, "What you will see is two women who were maintaining their composure, dignity and a sense of respect every single step of the way and we were not heard."
"There was nothing on my card that was preparing me," she added, shooting down any rumors there was a "planned" attack on Osbourne. "That is categorically false and unfair."
When asked how she's been coping, Underwood said she feels like she's been in "PTSD, because it was a trauma." She added, "I feel like I want to get past this because I really wanted to get back to work with my friends and my colleagues and the crew ... but I also wanted to get back to the audience."
Underwood also addressed claims that the two had been in communication since her last day on set. "I have not spoken to and do not have any phone call missed or received that I can find in my phone, but there were text messages sent to me," said Underwood. "The reason I did not speak about or acknowledge or even respond to those text messages, because they were coming to me during the internal investigation. I didn't know if you were supposed to communicate or not communicate ... I want to be clear on this: I have not spoken to Sharon. I have not had phone calls from her. And my fear of answering something because something pops up in the media that's misunderstood."
She said that if she was greeted sincerely by Sharon, she would return it, "because we've been on the show together for 10 years." Underwood then quoted Maya Angelou, saying, "When someone shows you who they are, believe them the first time."
Throughout the rest of the hour, the women discussed how to be anti-racist, owning your privilege and tackling unconscious bias, before welcoming therapist and life coach Dr. Anita Phillips on the show to talk about ways to heal after a painful event or conversation.
"I would hope with growth comes evolution," Underwood said in conclusion. "I want the audience to take this journey with us and watch the show every day. Stick with us, because we're about talking and talking things out, we're about learning from each other, laughing with each other and healing together. I would hope that would continue."
Added Inaba, "Having these challenging conversation is important and just like you we are going to continue on this journey. As a show and as a company, we're going to keep working behind the scenes with equity experts."
After the episode aired, Piers Morgan went on Twitter and retweeted the video of Sheryl's opening remarks. "What a shameless fraud," he commented, along with the vomit emoji. He also shared a headline of Underwood's PTSD quote and added, "Oh what a crock of s---."
Osbourne has not commented on the episode.