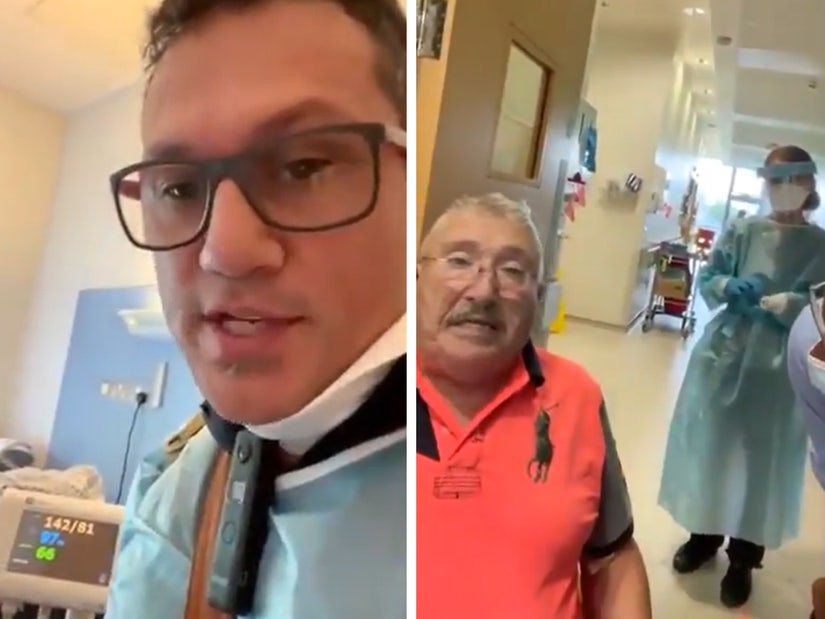 Twitter
update 9/27/2021 10:12 AM
Joe McCarron has died, according to Irish media.
The 67-year-old passed away on Friday, the Irish Times reported, just days after being convinced to leave hospital by anti-vax protester Antonio Mureddu in a since-viral video.
The incident is now under investigation by senior members of An Garda Síochána, the Irish police force. "An Garda Síochána continues to investigate a number of recent incidents which occurred at Letterkenny University Hospital," a Garda spokesperson confirmed, "A senior investigating officer is appointed to oversee the investigation."
Former Justice Minister Alan Shatter previously called for those involved to be criminally prosecuted:
It is a criminal offence to intentionally or recklessly cause serious harm to another.The idiots who hauled a seriously sick Covid patient out of Letterkenny Hospital earlier this week endangering his life shld be arrested by Gardai and a criminal prosecution initiated.

— Alan Shatter (@Alan__Shatter) September 18, 2021 @Alan__Shatter
Heartbreaking footage out of Ireland shows a struggling Covid patient being persuaded to leave a hospital by an anti-vaxxer.
The now-viral video shows the elderly patient named Joe, clearly struggling to breathe, while an activist tries to convince him the staff are trying to kill him, and his doctor pleads with him to stay and continue getting the care he needs.
"Put your trousers on. We are going home," the activist tells the patient, as he films the interaction himself. "You are safe. Get your stuff. Nobody will touch you."
The doctor knows it is ultimately the patient's decision, and tries to warn him how much danger he is in.
"What he is doing is wrong. He is endangering your life by doing that," he tells the patient. "You have to right to decide... but I don't think what he's saying is right. You are barely able to breathe... we want you to stay to help you."
His "rescuer" interjects: "You wanna stay here, they're going to f---ing kill you Joe. These people aren't going to help you."
The whole time, Joe is sat in a wheelchair between them, wheezing heavily and clearly confused.
"I'm very worried about you, I want you to stay. I think he is staying something very dangerous," the doctor pleads again. "What he is saying is wrong and very dangerous. And I think he is endangering your life. It is a very difficult decision that you have... I'm not lying to you — you could die."
"But this will be your best chance in the hospital, getting the oxygen and getting the support we are giving to you."
But the activist is not relenting.
"Your oxygen is 98 percent, these people, they are lying, so we go home now my friend."
"Think about his wife," the doctor begs in one final attempt.
"Yes she consents," the denier shoots back, as he leads Joe away. "It's better if he dies in the house than die in here."
According to The Irish Times, the incident took place in Letterkenny General Hospital in County Donegal.
It reported that in a second video, apparently shot afterward, Joe revealed he had been admitted to the hospital the week prior with Covid-19; he was told he needed to be put on a ventilator, but he had refused.
A spokesperson for Saolta Healthcare Group, which oversees the hospital, said it was aware of other similar incidents besides, adding it had "grave concerns about the impact of this type of activity on both patients and staff."
"The deliberate spreading of disinformation and at times defamatory comments against named staff members along with the posting of these videos on social media platforms is adding significantly to the burden already facing healthcare professionals," she said.
The Professor Dolores Cahill the activist refers to at the top of the video is an outspoken vaccine critic and professor at the school of medicine at the University College Dublin; she had an arrest warrant issued in August after allegedly organizing an illegal gathering of more than six people for a rally during the pandemic lockdown in London the previous year.