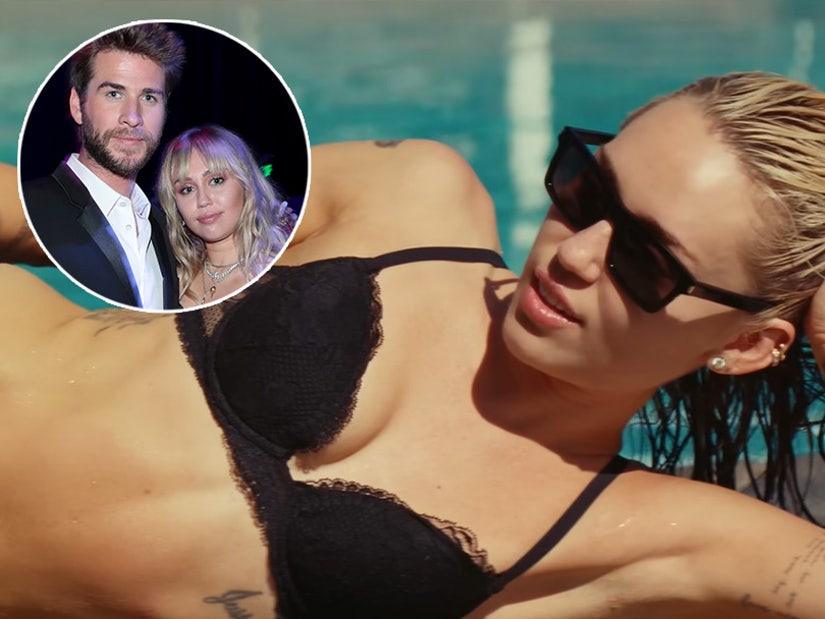 Columbia Records/Getty
The provocative music video features Miley in lingerie (and less) as she sings about overcoming a failed relationship.
Miley Cyrus has released her new empowerment anthem into the world, and she did so very pointedly on a specific day -- in Australia.
While "Flowers" dropped at 7 p.m. ET in America, Just Jared notes that in a since-removed graphic promoting the song's release, Miley first listed a release time and date of 11 a.m. January 13 in Australia.
It's certainly a day she probably still remembers, as it's the birthday of her ex-husband Liam Hemsworth. Is it just coincidence or a hint as to just what and who Miley is singing about on the first release from her forthcoming eighth studio album, "Endless Summer Vacation."
She dropped an extremely provocative music video -- it is Miley, after all - to coincide with the release of the single wherein she slowly strips down from a gold dress with hood to black lingerie and finally showers in nothing but the skin she was born in.
She then wraps it up with a nice blazer, minus the shirt, of course, and matching slacks to really express the exuberant message of the song, which is her coming to realize that she doesn't need this mystery man in her life anymore.
She started the track hinting at a perfect domestic life on the surface, singing, "We were good, we were gold / Kind of dream that can't be sold / We were right 'til we weren't / Built a home and watched it burn."
She lamented that she "didn't want to leave you" until she remembered all the things they used to do together she can just as well do herself, including writing her name in the sand, dancing and ultimately, "I can love me better than you can."
One major hint from the lyrics that the song could be about Liam is the line about watching their home burn. On November 11, 2018, Miley and Liam lost their shared $2.5 million home to the Woolsey fires.
When she sings about not wanting to leave, it was Liam who filed for divorce, with Miley reportedly wanting to still work on their relationship. At another point, she does a booty shake dance that some believe alludes to a red carpet moment where she did that to an awkward Liam, who was not interested in playing along.
Fans also found a parallel to Miley's songs about all the things she could do for herself to all the things Bruno Mars would do for his lover on his own "When I Was Your Man."
Miley and Liam first met on the set of "The Last Song" in 2010 when they were both still teenagers. He proposed two-and-a-half years later, though they would be off-again, on-again before moving in together ahead of the fire that destroyed their home in 2018.
A month later, they were married, but by August 2019, they were separated. They continued in this tumultuous way until their divorce as finalized in January 2020.
While fans were devouring the video and track, they were quick to make the possible connection to Liam and share their theories and convictions online.