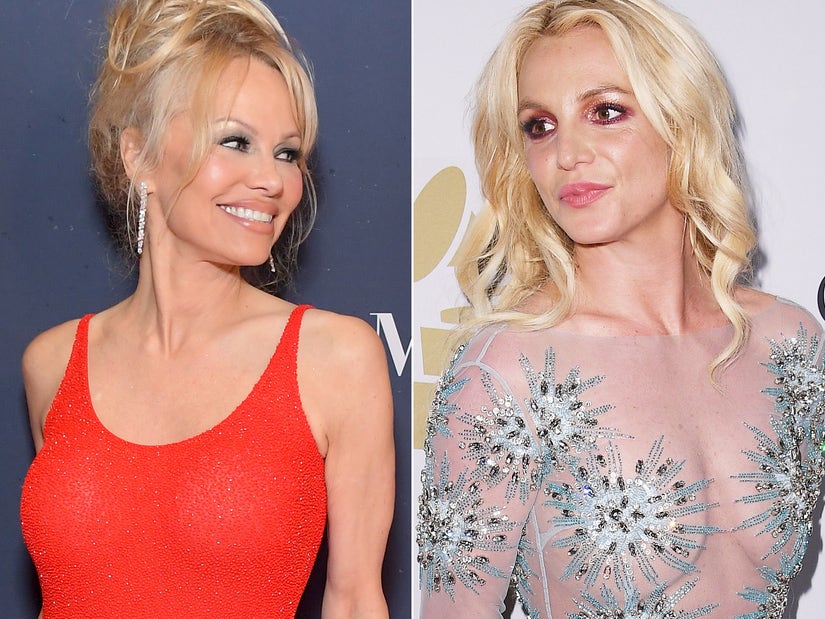 Getty
In a since-deleted post, the "Toxic" singer praised Anderson's sons for saying, "why the hell bring up things that happened 20 years ago if they really messed up my mom ???"
In a lengthy since-deleted post that was captured my several media outlets, including Hollywood Life, Spears opened up about Anderson's story and how she saw many parallels with her own. She also heaped praise on Anderson's sons."
"I really respect the fact that her children stood up for her relating to the fact that people were trying to sell her story from the past !!!" Spears wrote. "They said 'why the hell bring things that happened 20 years ago if that really messed up my mom ???'"
"Referring to the embarrassing subject being sold in a comedic TV comparison ... he's right !!!" Spears continued, referring to the critically-lauded "Pam & Tommy" mini-series. The "he" she was referring to was Anderson's eldest son Brandon, who produced her new documentary.
"Why bring something up from 20 years ago that you know f---ed someone up," Anderson's younger son Dylan said in the documentary. "The worst part of her life and making a semi-comedy out of it; [it] didn't make sense."
Spears said that when it was referenced that Anderson went through a dark period after the reopening of this traumatizing chapter of her life after all these year, she "was like DAMN!!!"
"With 4 documentaries released about me last year with people I adore speaking about my past !!!" she wrote. "THAT alone was almost as hard as what I went through in my past !!!"
At this point, she pivoted to targeting her family, revealing that she'd had a "secret relationship" when she was 25 years old, describing it as her "rebelling."
Still, though, she added, "That doesn't make it right for my dad to claim he's ME and take over for 15 years of my life !!!" She took another shot at her brother Bryan's claim that those were good years for the family: "I'M SURE IT WAS ... giving me way too much work while they HAD THEIR MEETINGS !!!"
She circled back to Anderson's documentary saying it showed her "that people should support you exactly where you are in that moment of your life ... unless cruelty rules the world ???"
She then asked rhetorically if it makes her family feel "WAAAAY better about themselves to embarrass me and bring up my past ???" She went on to say the way she was portrayed in the documentaries was embarrassing and "felt semi-illegal !!!"
Anderson and her children have blasted the Hulu mini-series starring Lily James and Sebastian Stan that chronicled the theft of their sex tape and its subsequent distribution online and through bootleg recordings.
Anderson has been adamant that she never made any money from the infamous video that made her even more famous and completely derailed her acting career.
She has stood by this claim even though she and then-husband Tommy Lee successfully sued the distribution company. Even though the company was ordered to pay them $740,000 each for copyright violation, it reportedly got out of doing so because it went out of business.
"I wish she made the money. She would've made millions of dollars if she just would have signed a piece of paper," said son Brandon in the documentary, per ET. "Instead, she sat back with nothing and watched her career fizzle into thin air. She was in debt most of her life."
Her younger son Dylan said it was a testament to her character and values, adding, "I think it would have been a different story if she did cash in on the tape. It just shows you, right? Like, that thing guaranteed made people millions of dollars, and she was like, 'No.' She 100 percent cares about her family being okay and me being okay. Never cared about money."
Spears didn't mention her own teen sons with Kevin Federline, Sean Preston and Jayden. There is, however, a stark contrast to how Brandon and Dylan have stood by their mother and Federline saying in August, per The Daily Mail. "The boys have decided they are not seeing her right now," and sharing they did not attend her wedding to Sam Asghari.
According to Federline, their children were uncomfortable with Spears' oft-erratic and oft-seminude or nude Instagram posts. "I try to explain to them, "Look, maybe that's just another way she tries to express herself.: But that doesn't take away from the fact of what it does to them, "he said. "It's tough. I can't imagine how it feels to be a teenager having to go to high school."
In an interview with People in September 2022, Jayden said they did not attend because "she didn't invite the whole family, and then if it was just going to be me and Preston, I just don't see how that situation would have ended on good terms."
While he acknowledged that the conservatorship over Spears may have gone on too long, he doesn't believe his grandfather, Jamie, "deserve[s] all the hatred he is getting," and he doesn't back Spears' claim that her family is "manipulative."
"They are not bad people. They know what we are going through now. They want our future to be what we want it to be," Jayden told the outlet. "They just want to watch over us. Memaw and Uncle Bryan are a good part of our lives. They have taught me how to deal with things."