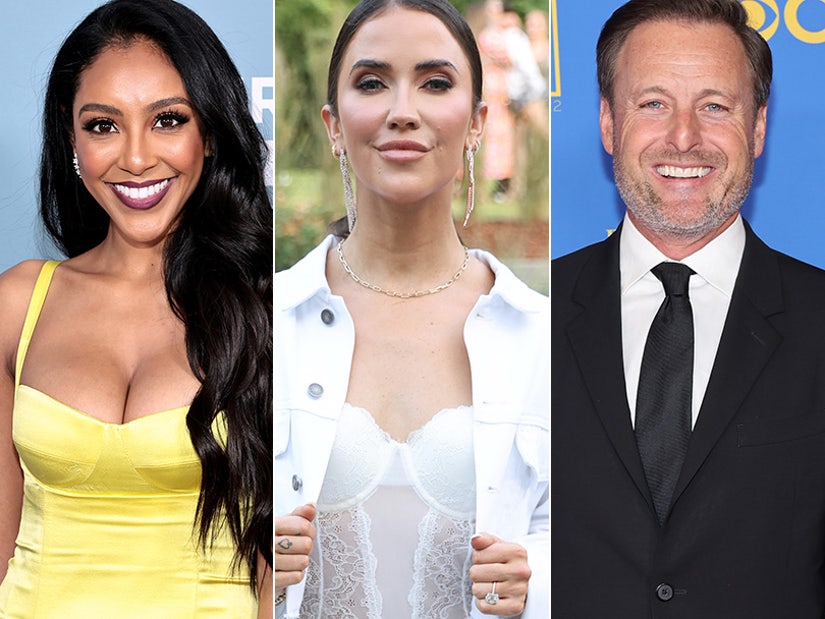 Getty
Former host Chris Harrison agreed in a podcast appearance where they also discussed her claims that he ghosted her after she got the job.
The two former "Bachelorette" leads took the helm of two seasons of the franchise in 2021 before ultimately being replaced by Jesse Palmer, who now serves as the new face of the franchise and hosts all Bachelor Nation formats.
The news came as a surprise to fans who had grown to enjoy the easy playfulness that Bristowe and Adams brought to their roles -- but it came as an even bigger surprise to Bristowe, who now believes they were "set up to fail."
Bachelorette Katie Thurston actually thought she was going to have no hosts, while Bristowe and Adams didn't know they would effectively be hosting the season. She told Harrison she believes she and Adams were dubbed "mentors" because "they didn't want to pay me what they paid you to host."
She further said they were essentially thrown to the wolves when the season began, with no real training or guidance as to what they were supposed to do. "It was kind of like, 'Just go out there and be yourselves!'" she recalled.
When she said she found herself questioning why both of them were sharing the role, Harrison said that was the only thing that upset him about the two of them being tapped to replace him.
"only thing that really upset me when I heard that you and Tayshia were hosting was that it was you and Tayshia, and that they named two of you. Because you were doomed to fail. You were set up to fail. That was never going to succeed," Harrison said.
"There's not room for two people; there's not room for two mentors. There's not room for two emotions in that mental space that you're taking over," he continued. "So, that was just never going to work."
Harrison stepped away from the franchise after he failed to denounce Rachael Kirkconnell's attendance at an "Old South" antebellum party in college from 2018. Kirkconnell eventually became the winner of Matt James' season -- the first-ever Black "Bachelor" lead.
Instead of condemning her attendance while chatting with the first-ever Black "Bachelorette" lead, Rachel Lindsay, on "Extra," Harrison said, "Well, Rachel, is it a good look in 2018, or is it not a good look in 2021? Because there's a big difference."
To this, Lindsay responded, "It's not a good look, ever."
All of this fallout was very fresh in the news at the time Bristowe and Adams were stepping in, and Harrison and the studio were initially saying he was only stepping out temporarily. Suddenly, it became permanent, leaving Bristowe with "imposter syndrome."
One of the criticism Bristowe and Adams faced after episodes started airing was for their more light-hearted and playful approach. They were more like Thurston's girlfriend and confidants or -- dare we say -- mentors than hosts.
Bristowe agreed with Harrison's sentiment about two hosts not working, saying that it also led to her and Adams being "silly and goofy with each other where we didn't take it as serious as one person would have and, like you said, there really isn't enough room for two people to be in that position."
She said when she was told after the following season featuring Michelle Young that they would not be asked back, she was told, "You probably saw this coming." Bristowe insisted she did not, and even thought she had definitely proven herself, in particular after she had to host an "After the Final Rose" by herself when Adams contracted Covid.
Also weighing on her was that around the time she realized she was being perceived in the media as Harrison's replacement, along with Adams, that's when he went radio silent on her.
"All these articles started coming out, saying, 'Tayshia Adams and Kaitlyn Bristowe replacing Chris Harrison,'" Bristowe said on the "Not Skinny But Not Fat" podcast last week. "And so I messaged Chris probably about 10 times without him responding. I just want him to know that I thought he was irreplaceable and I didn't want to step on toes."
When she brought this up with Harrison, he explained, "I was going through something extraordinary and it had really nothing to do with you or Tayshia, and at that time, I needed people in my life … that could be unconditionally loving and caring."
He went on to explain, "You weren't equipped to do that because of where you were in all this," referring to their close ties to the franchise that he was severing ties with amid a cloud of controversy and outrage.
He told her that what he was needing at that time was a friend just checking up on him, which Bristowe was not able to do. "This time, I needed that flip of just: 'Hey, how are you? Are you OK?'" he told her. "Not, 'Are you OK with me taking the show and you're irreplaceable.'"
He went on to say that he just "didn't' have the bandwidth to deal with all of that," but also assured her that he "truly just wasn't worried at all about who was hosting" the show.
Bristowe said she did reach a point where she understood why he had to keep that distance. "When I didn't get text messages back, I was like, this is what it has to be," she said. "The relationship obviously has to change. I wanted to continue to reach out and check in and talk, but then I felt like, he's not ready to talk to me."
Harrison conceded that the friendship had changed at that point, but he'd wanted to sit down with her after her previous podcast appearance where she lamented him ghosting her not because he saw it as a cry for help but rather as "a cry for something she lost."
"And so, instead of getting mad, or even disappointed, which I'm not, I was saddened that a friend of mine was mourning the loss of our friendship and that that friendship had changed," Harrison explained.
While things may never bounce back to quite what they were, Bristowe and Harrison were able to fully express their feelings through that tumultuous period in both of their lives and lay the groundwork to rebuilding those bonds of friendship.