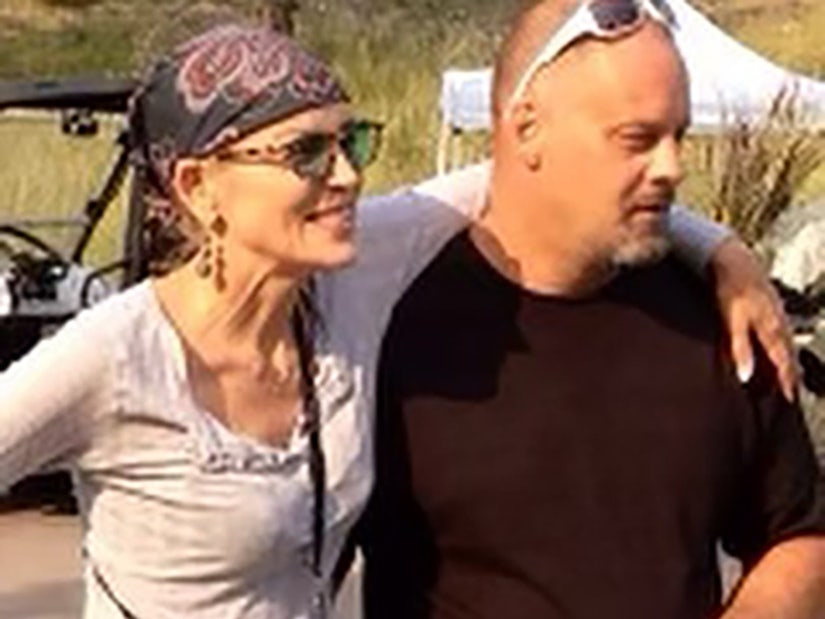 Instagram
Celebrities send their love and condolences to Sharon Stone and her family after the heart attack death of her brother Patrick at 57.
Sharon Stone paid tribute to her late brother Patrick in a tearful video late Monday confirming his death from a heart attack. He was 57.
In a moving and raw video, Stone spoke of the loss of her brother. Her voice cracked and she could not even maintain eye contact with the camera as she confirmed his passing.
Adding to the tragedy for her family, she said, "Yes, he is the man who was the father to River, who we lost last year, at 11 months old." The actress had previously shared that Patrick and his wife Tasha had lost their infant son to total failure in August 2021.
Waiting for your permission to load the Instagram Media.
She shared that Patrick is survived by Tasha, their son Hunter and daughter Kaylee.
"Like any family, we thank you for your love and support in this time of immeasurable grief, and we appreciate all of your condolences," she continued. "We've had a tremendous amount of loss in these last couple of years, as so many of you also have."
TMZ was first to report Patrick's passing, reporting that he died early Sunday morning as a result of a sudden cardiac episode due to heart disease.
In her own post confirming his passing, Tasha wrote, "My heart feels like it's been ripped out of my chest. Patrick went to be with our sweet River ... I don't know what else to say, he was my world."
Celebrities and fans alike shared their condolences on Stone's post, with Elizabeth Banks "sending love," Kate Beckinsale offering "lots of love," Jeremy Renner commenting, "bless you," and Octavia Spencer sending a string of heart emojis.
"Dearest Sharon, I'm so sorry for your loss. I do understand very well what you're going through," wrote John Travolta, whose wife Kelly Preston died in 2020.
"My deepest condolences Sharon sending you so much love," commented Lisa Rinna. Hilary Swank added, "Godspeed Patrick, and deepest condolences to you and your entire family."
"Wow mama. I'm so sorry. Will be thinking of you and your family during this nightmare you're going through. Sending you so much love," wrote Milla Jovovich. Debi Mazar sent "my condolences to you and our family."
Dorit Kemsley shared, "I'm so sorry for your loss," while Sharon Osbourne was "sending [love]," and Angie Harmon wrote, "I'm so sorry beautiful friend. Love you & yours & praying for you."
Gloria Estefan commented, "Sending love and prayers to accompany you and your family throughout this incredibly difficult time of grief & loss…" Ana Navarro added, "My [heart] breaks for u. I lost my brother to a heart attack 22 years ago, and miss him every day."
Waiting for your permission to load the Instagram Media.
More celebrities offered their condolences in a second post Sharon shared on Monday featuring images of Patrick. "Sending so much love," commented Aubrey Plaza, while Michelle Pfeiffer wrote, "I am so sorry for your loss."
Naomi Campbell wrote, "My condolences to you and your family." Andi McDowell commented, "So sorry for your loss I send you a heart full of love," while Rosie O'Donnell added, "so sorry."
"My heart is with you Sharon," commented Sela Ward. "I wish there were words of comfort but there are none . Not for this. Know that you are surrounded by love and he is flying free."