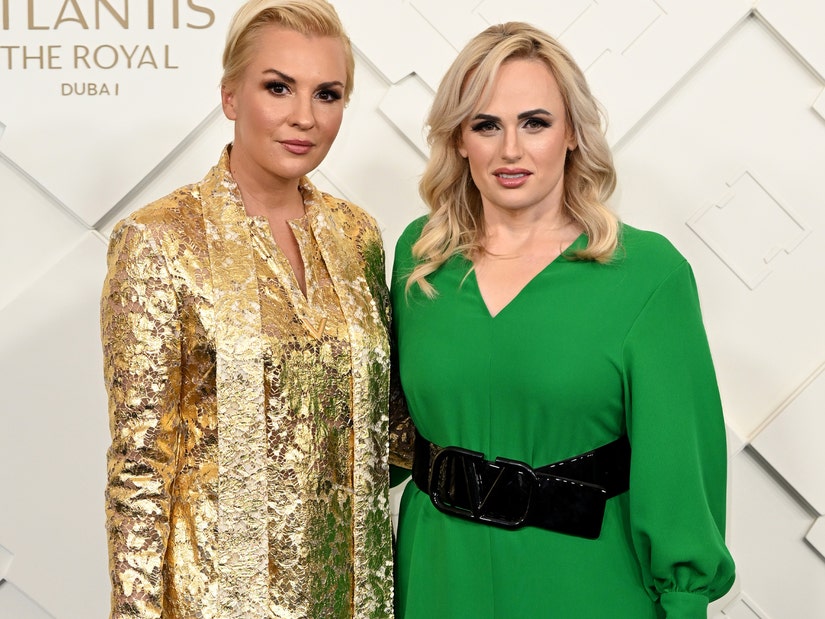 Getty
The "Pitch Perfect" star also addressed criticism over attending parties shortly after her daughter's birth.
Rebel Wilson is opening up about how her family -- and her partner's loved ones -- reacted after the couple revealed their romance last summer.
During an appearance on Tuesday's episode of the "Life Uncut" podcast, the actress shared that while her family has been supportive of her romance, her girlfriend Ramona Arguma's family "hasn't been as accepting."
"My whole family has just been amazing," Wilson, 42, told the podcast's hosts Laura Byrne and Brittany Hockley. "Ramona's family hasn't been as accepting. And so in many respects, it has been a lot harder on her to have to make the news public."
"With her, she's not in the public eye, it's much harder on her," she continued. "It's so sad to see what happened with her family over it."
The "Pitch Perfect" star added that she hopes "people will change their attitude about things."
In June 2022, Wilson and Arguma went public with their relationship. At the time, the former revealed her romance with the latter in a coming out post on Instagram.
Alongside a photo of herself and Agruma, Wilson wrote, "I thought I was searching for a Disney Prince… but maybe what I really needed all this time was a Disney Princess 💗🌈💗#loveislove."
Waiting for your permission to load the Instagram Media.
Meanwhile, also during her appearance on the "Life Uncut" podcast, the "Senior Year" star addressed the backlash she received for attending two parties shortly after the birth of her daughter, Royce, whom she welcomed via surrogate in November.
Wilson shared the news of her daughter's birth on November 5, revealing she was born earlier that week. And on November 11, "The Hustle" star went to a birthday party for Leonardo DiCaprio as well as a star-studded celebration in honor of Paris Hilton and husband Carter Reum's one-year wedding anniversary.
And according to Wilson, she received some heat for it, which she admitted she wasn't expecting.
"It was only a week until I got mum-shamed," she recalled. "I was shocked at the criticism because Chris Hemsworth goes to the gym, and people aren't yelling, 'Where's your kids?' But why do they do it to every woman?"
The "Pitch Perfect 2" actress noted that she questioned whether or not she should go to a party shortly after her daughter's birth. However, Wilson said her nanny suggested she go, pointing out the fact that baby Royce is asleep by 7 pm.
"It's a little bit of work in a way," she explained. "Like, I'm talking to directors or talking to other actors that might be useful to collaborate with. And then we were basically home by midnight."
Wilson continued her decision to go out, and stressed that people -- especially women -- shouldn't throw judgment on how other mothers parent.
"Just because you become a mother, doesn't mean that you lose your identity as a person," she said. "It doesn't mean you can't go out with friends or you can't go on a holiday. It doesn't mean you can't have a career."
"People will say I'm in a privileged position, which I am, but I think it's so outdated," Wilson added. "Why is it women shaming other women? It always is.'
Back in November, the "Bridesmaids" star announced the news of Royce's birth by sharing a sweet photo of the newborn dressed in a pink onesie and unicorn socks on Instagram.
"Beyond proud to announce the birth of my first child, Royce Lillian, born this past week via surrogate 💗," Wilson gushed in her caption. "I can't even describe the love I have for her, she's a beautiful miracle! I am forever grateful to everyone who has been involved, (you know who you are), this has been years in the making…but particularly wanted to thank my gorgeous surrogate who carried her and birthed her with such grace and care."
She also called her daughter the "BEST gift" she'd ever received, "I am ready to give little Roycie all the love imaginable," she continued. "I am learning quickly…much respect to all the Mums out there!"
Waiting for your permission to load the Instagram Media.