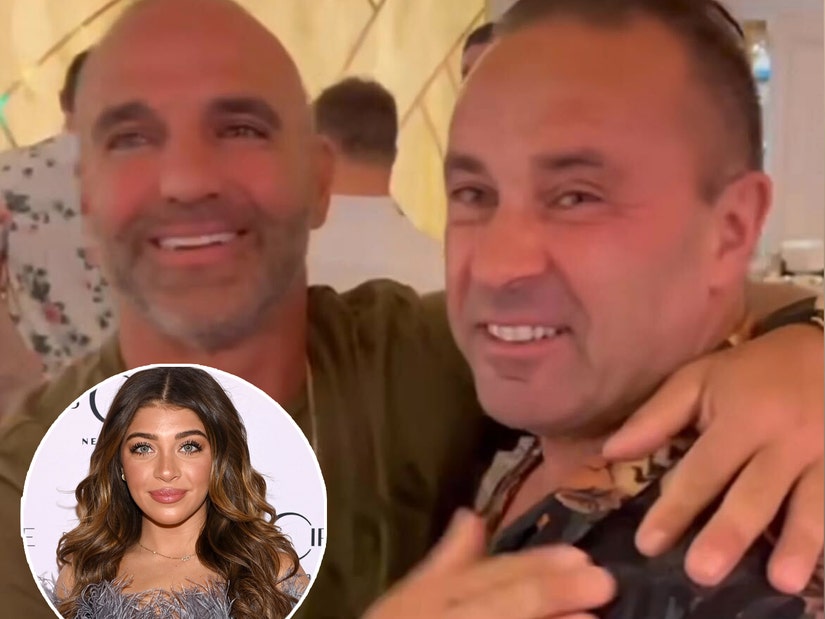 Getty / Instagram
RHONJ star Gorga said in response: "Get the hate out of your heart"
On Sunday, Gorga posted a video of him and Giudice running into each other at a bar in the Bahamas, where Teresa's ex-husband now lives and works in construction after being deported from the United States in 2019.
Waiting for your permission to load the Instagram Media.
"Both walked into the same bar at the same time. A lot of history there. We have memories since we were kids," Gorga captioned the post. "I'm happy he's doing well and looks good. We were both happy to see each other and catch up. Glad someone caught it. #life #rhonj"
The video had no sound, but showed the pair giving one another a hug, before briefly turning together toward the camera. Shortly after Gorga posted the video, Giudice's daughter jumped into the comments, calling out her uncle for being an "opportunist" by sharing the footage to social media.
"This is honestly comical knowing you were with him for not even 5 minutes and we're [sic] able to have somebody take a video of the interaction meanwhile all you have done is talked so poorly about my father," she wrote. "You are such a opportunist to take advantage of the once in a lifetime opportunity to see my father and use it for a post."
Gorga replied, writing that "we both said horrible things about each other" and calling their interaction "a nice moment."
He concluded, "We have a lot of history. Get the hate out of your heart."
During the last season of RHONJ, Gia and Joe got into it after the former was upset with the latter speaking ill of her father. He did eventually apologize to her on the show and they appeared to be in an okay place, but tensions blew up at the reunion between Joe, his wife Melissa Gorga and Teresa.
Things between them got so bad, Teresa didn't even include Melissa in her wedding party -- and the Gorgas wound up skipping her wedding to Luis Ruelas altogether.
"Real Housewives of New Jersey" airs Tuesdays on Bravo.