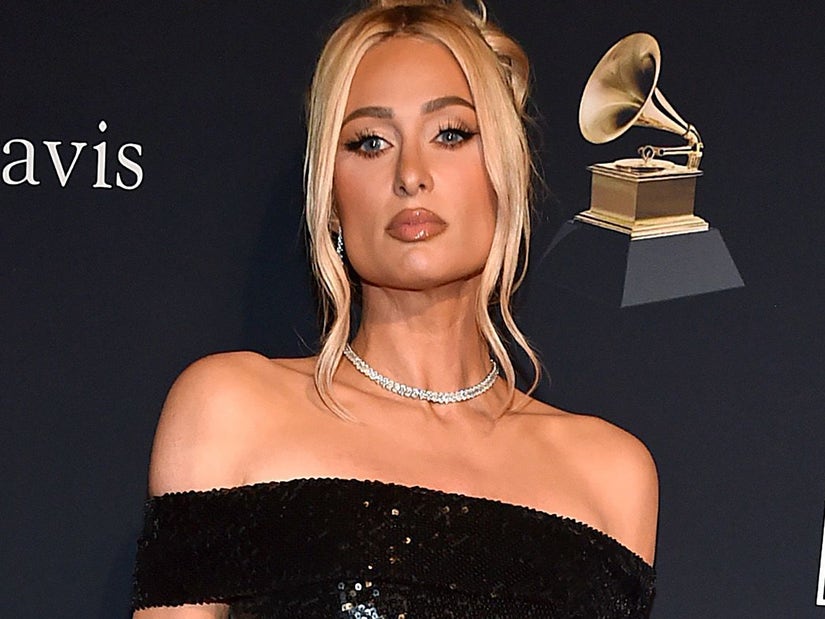 Getty
In a new interview with Glamour UK, Paris Hilton also opens up about an inappropriate relationship with a teacher, having an abortion at 20, and a scary encounter with Harvey Weinstein.
Paris Hilton opened up about some of the darkest chapters of her life in a new interview with Glamour UK, revealing two formative traumas when she was just 15 years old, including an alleged rape.
The first experience hit close to home, as Hilton said that one of her teachers "took advantage of a young girl." She shared that she had blocked out the alleged inappropriate relationship for years.
"He would call me on the phone all the time, just flirting with me, trying to put in my mind that I was this mature woman," she shared. It went so far that she said he showed up at her house and lured her out to his car, but thankfully, her parents arrived home.
Waiting for your permission to load the Instagram Media.
"We only kissed, but if my parents didn't come, imagine what he would've tried to do?" Hilton asked. Instead, she recalled a high-speed car chase with her parents in pursuit, with him ultimately depositing her at home.
"To this day, I've not talked about it with my family. I've never told anyone," Hilton said of the alleged incident. "I don't know what it was, I just felt so ashamed by the whole situation -- just from the beginning at such a young age and it really stuck with me in a weird way."
Hilton said that after this, she was sent to live with her maternal grandmother in Palm Springs, where things took an even darker turn. While there, she and her friends did what all teens were doing at that time, hanging out at the mall.
According to the reality star, they started talking with some older guys who were always hanging around, eventually giving them their pager numbers.
"And then one day, they invited us to their house and we're drinking these berry wine coolers," Hilton recalled, adding that she remembers one man being adamant she drink. "I didn't drink or anything back then, but then when I had maybe one or two sips, I just immediately started feeling dizzy and woozy. I don't know what he put in there, I'm assuming it was a roofie."
She said she lost the next few hours, waking up alone and knowing that something had happened. "I remembered it. I have visions of him on top of me, covering my mouth, being like, 'You're dreaming, you're dreaming,' and whispering that in my ear."
Hilton said this was her first sexual experience.
Waiting for your permission to load the Instagram Media.
From there, she was sent to the boarding schools for troubled kids. Hilton previously alleged to the New York Times a series of traumas and abuses she endured there, including being forced to take drugs and having to endure forced gynecological exams.
"I was just a little girl," Hilton told Glamour. "I just feel like they stole my childhood and it's heartbreaking that it's still happening to so many kids today."
Elsewhere in the interview, she detailed an "unpleasant encounter" with Harvey Weinstein, which she says happened when she was 19 years old at the amfAR gala, which Weinstein was hosting. According to Hilton, the disgraced movie mogul approached her and asked if she wanted to come up to his room and read scripts, but she never went.
She claimed that the next night at the gala, Weinstein followed her into the women's restroom and tried to open the door of her stall. According to Hilton, Weinstein pounded on the door until security "literally carried him away" with him allegedly shouting, "This is my party!"
"It scared me and freaked me out," Hilton said.
Weinstein has denied any wrongdoing and plead innocent in the multiple cases of sexual intimidation, abuse and assault brought against him. He is currently serving a 23 year sentence in New York for criminal sexual assault and third-degree rape. On Thursday, he was sentenced to 16 additional years, to be served consecutively, for rape in Los Angeles.
Waiting for your permission to load the Instagram Media.
The #MeToo movement that brought down Weinstein's empire also empowered women like Hilton to own and speak their truths without fear of judgment or persecution. That's why it was so hard for Hilton when Roe v. Wade was repealed last year.
The loss of safe and legal access to abortions hits personally close for Hilton, who opened up about having had an abortion herself when she was 20 years old.
"This was also something that I didn't want to talk about because there was so much shame around that," she said of her choice. "I was a kid and I was not ready for that."
Now, though, through her political activism she feels it's more important than ever to speak out. "There's just so much politics around it and all that, but it's a woman's body," she argued. "Why should there be a law based on that?"
"It's your body, your choice and I really believe in that. It's mind-boggling to me that they're making laws about what you do with your reproductive health," she continued, "because if it were the other way around with the guys, it would not be this way at all.
You can check out the full interview at Glamour UK for Hilton's thoughts about the leak of her sex tape, amassing her own fortune, and her fake "heir-head" persona, which she described as a "trauma response."
She also talks about the parenting advice she got from childhood friend, and one-time assistant, Kim Kardashian, as well as the joy of keeping baby Phoenix a secret (even from her family).
Waiting for your permission to load the Instagram Media.