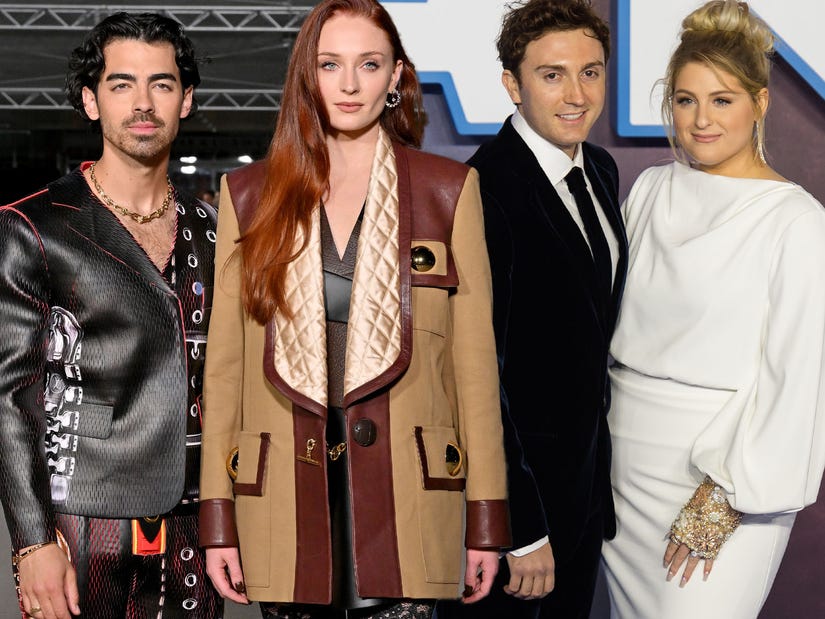 Getty
"I was, like, not bored," Sophie Turner says of her first encounter with future husband Joe Jonas
Almost nothing comes with as much anticipation (and occasional dread) as a first date.
However, there are plenty of celebs who have dished on their best first dates and can offer a little inspiration.
These stars opened up about some special first encounters and it sounds like they've got the whole dating thing completely mastered.
Find out what these stars said about their best first dates…
Meghan Trainor's first date with her now-husband Daryl Sabara ended up being the last first date she'd ever need! After going bowling and doing karaoke with another couple, Meghan says the night ended with a really impressive kiss.
"We went on a double date -- bowling and karaoke. He kissed me at the bowling alley. I told my security to step outside 'cause I didn't want to be watched. LOL. He was the best kisser ever. I know I'm really good at kissing, but I was shocked when he was," Meghan told Cosmopolitan.
When Joe Jonas slid into Sophie Turner's Instagram DMs, she admits she didn't have high hopes for their first date. But when he showed up to meet up with her friends at a bar, she says they instantly had a connection -- and ended up talking all night.
"He didn't bring security. He brought a friend, and they drank just as hard as the rest of us," Sophie told Elle. "I remember the two of us spending only a couple of minutes on the dance floor, and then we just found a space far in the corner and we just talked. We talked for hours, and hours, and hours. And I was, like, not bored. It wasn't contrived. It wasn't small talk -- it was just so easy. And soon we were, like, inseparable."
Offset wanted to go big for his first date with Cardi B. He ended up taking her to the Super Bowl and even though his team lost and he lost a lot of money, the date ended up being a major win.
"My first date, I went big. I wanted to do something that was not normally done. I wanted to have fun, not so serious…so I took her to the Super Bowl," Offset explained on "Jimmy Kimmel Live." "I lost $10,000 that night, too…but you know what I won? My wife."
After meeting at Coachella, Aaron Paul took his now-wife Lauren on a trip to Las Vegas that almost ended in them getting married! During their first date, the couple bought a jacket for their future child and tried to go to a chapel but it ended up being closed.
"Our first date after Coachella was a trip to Vegas. We bought our first child a baby leather jacket from All Saints," he said in an interview with Elle. "We also jumped into a cab and said, 'Take us to the nearest chapel. We're getting married.' The Little White Chapel ended up being closed. We probably would have gone through with it. It would have been a pretty funny story."
One of Selena Gomez's best first dates went down when she was still a teenager. Although she didn't specify who the date was with, many fans suspect it was with Nick Jonas. While discussing the date at the time, she said they spent the evening on the beach and it could have been straight out of a movie.
"I had dinner on the beach with a crush and there were lights on the palm trees! Then, [we] went walking on the beach, and after that we slow danced. Wait, it gets better. While we were slow dancing, my crush and I had our first kiss! And after it, I leaned back and I said, 'You cheated.' And he said, 'Why?' and I said, 'I don't kiss on the first date.' Then he said, 'Well, I never really play by the rules.' I was waiting for a director to say, 'Cut!' I was like, 'Are we shooting this right now?'" Selena told Twist.
Chrissy Teigen first met John Legend when she starred in his music video for "Stereo." The pair spent all day together on set and decided to even hang out after filming wrapped. They went back to his hotel room to have In-N-Out burgers and ended up spending the night together.
"We did the music video, we were together for like 12 hours," she said. "We spent the entire day together -- me in my underwear and him in a full suit and I went to go say goodbye to him, to his hotel, and we didn't ever say goodbye that night," Chrissy said on "The Wendy Williams Show."
Gisele Bündchen had been going on a series of unsuccessful blind dates when a friend paired her up with Tom Brady. Although the couple are no longer together, Gisele says she knew from the first date that she wanted to be with Tom.
"The third blind date was actually Tom, and I was like, 'That's it. I'm not going on anymore blind dates. Let's meet for a drink,' because you know, a drink can take three minutes or two hours. You know, when I saw those kind eyes, I literally fell in love, like, right away. I was like, 'What?' He was just so -- you know how sweet he is,'" she said on "The Tonight Show."