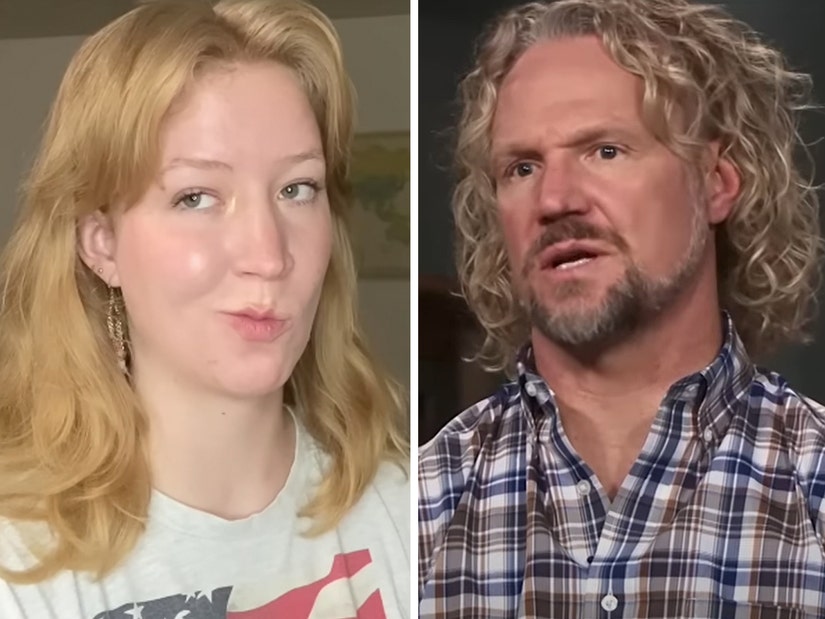 YouTube / TLC
Gwendlyn gets emotional as she compares her relationship with dad Kody Brown with his bond to his children with Robyn.
Kody Brown has 18 children with four different women -- but, according to daughter Gwendlyn Brown, he clearly favors some more than others.
That, of course, was a common criticism for Kody this past season of "Sister Wives," as his other wives accused him of prioritizing time with the kids he shares with fourth wife Robyn over the rest of the family.
In the latest video on her YouTube channel, Gwendlyn, 18, reacted to a recent episode in which Kody was seen doting on his two youngest children.
"I know that I should be happy for them but seeing him be like an active father with these kids really hurts," said Gwendlyn, who is one of Kody's six children with Christine. "Ugh, it sucks not being able to see them."
"It's terrible that I'm making this about myself, but it hurts so much to see him be a good father to others when I, like, didn't really get that much," she continued. "I know I should be happy for them and I am, I'm so happy they have a good father, or what looks like to be a good father and an active father."
"I just didn't get that and I don't remember that. I don't remember coming home from kindergarten and seeing my dad and him being happy that I ate all my lunch or that I made a friend at school," Gwendlyn added. "It was always my mom -- and it's great, I'm so happy I had her -- but it was never my dad and it sucks that he was not there so much."
She went on to say that Kody's kids "deserve" the attention they're getting -- saying they're "sweet, wonderful siblings who deserve the most loving, kindest father in the whole world."
"I'm just glad they can have that, even when I can't," she concluded.
Noting how Leon identifies as transgender and queer, Gwendlyn shared that the "Sister Wives" family "predominantly" practices Mormonism which "hasn't really traditionally been kind to queer people, especially with a family that's quite a bit conservative and partially against transsexuality in general..."
She added that Leon has "just been separating themselves from the situation and been sticking to people that are more safe for them."
"It's not that they're not fitting in," Gwendlyn added, "It's that they have chosen to go to people who they can trust, and it's just they found a safer community for themselves."
Kody married his first wife Meri in 1990, before Janelle joined the family with a spiritual marriage in 1993. Christine was next, spiritually marrying into the family in 1994, before Robyn did the same in 2010. Kody then divorced Meri on paper so he could legally marry Robyn in 2014.