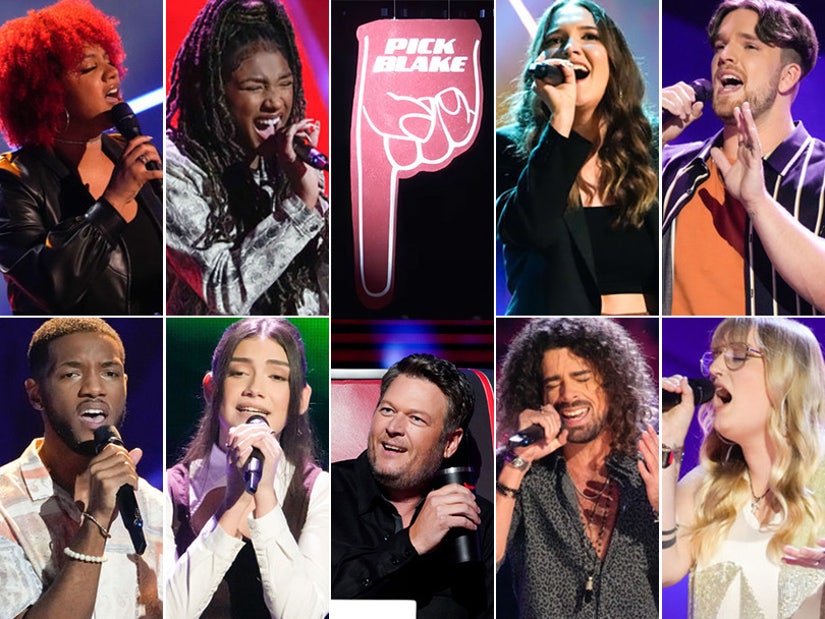 NBC
Blake Shelton pulls out all the stops to help himself (unleashing a giant foam finger) and Niall Horan (passing a mean note about Kelly Clarkson) beat the competition as "The Voice" Blind Auditions begin to wrap up.
The teams are filling up fast and it's looking like a strong season as "The Voice" Blind Auditions wind down this week.
Heading into the night, Kelly was in a bit of a slump, but she redeemed herself with some incredible pickups, including a show-stopping performance of a Harry Styles song so unique and individualized, we really felt like Niall would have the best chance at that artist.
With artists taking on singers like Chris Daughtry and Alanis Morissette, we finally got some bona fide rock pedigree on the season, while one gentleman blew everyone away with his soaringly pure sound on a Joni Mitchell classic. The contestants are challenging themselves hard this season, and when it works, we all win.
The Coaches were in rare form, too, as Blake was caught passing a nasty note to Niall about Kelly -- because Niall read it out loud to the class -- and even pulled out a giant foam finger to try and win one artist. Who's going to get up to his crazy shenanigans when he's gone?
We do kind of enjoy the way they've been building this bond between him and Niall as his protégé this season. Niall's language, too, has suggested that he's keen to continue with the show, unlike a lot of these one-and-done Coaches that seem to go as quickly as the join up. The show needs some stability with Blake going.
The show was built on Blake's rivalry with Adam Levine. He and Kelly have quickly developed one totally different, but just as fun. The sparring is such a huge part of the laughs and entertainment value of these early episodes, it's crucial that they find the right chemistry to continue without him. Kelly should be a part of that, so we'll see if Niall is really the guy to step up and go toe to toe with her down the road!
And just for fun, I'm going to rank the performances from worst to first to see who my favorites are, and then see how they do as the season progresses.
("Mystery of Love," Sufjan Stevens - 26, Atlanta, GA) Primarily known online for his rap and hip-hop, Joe went with a different flow for his Blind Audition … and it did not go well. His pitch was a little all over the place throughout the piece. It was just okay at best and that's not nearly going to cut it. We didn't hear anything that said this is the direction he should be pursuing as an artist, so if it's truly his passion, he's got a lot more work to put in as a vocalist. After his rejection, he offered up a rhyme he'd written just for the show and it was such a stronger showcase of his artistry. Now, there are rappers who sing just okay who have done their own choruses on hit tracks, so this is a combination that can work -- though we'd still recommend he go put some work in.
("When I Look at You," Miley Cyrus - 23, Miami, FL) A great song choice, but also a very demanding one. Domenica came across a little shrill at times, a little pitchy at times, and ultimately like she took on a little more than she could handle. It's hard to say if it was nerves or just the limits of her talent, but there wasn't enough there to really be able to contend with the caliber of talent on shows like this.
("Rescue," Lauren Daigle - 17, Winchester, CA) The challenge in taking on just about any Lauren Daigle song is they have so much heart and emotion on the original track, you pale in comparison if you don't leave us feeling everything and thanking you for all that pain. Alison has a solid tone in her voice, but it was a little tepid early on and then didn't quite nail the connection when she went big. It was a little like a pageant, where you can hear the talent but you're not really getting any depth from the performance. Much of that can usually be resolved with experience, both life and performing.
("Glimpse of Us," Joji - 24, Gary, IN) Boy, Chance made him sweat. We were going to be really disappointed if he didn't get a turn because Ray really did have a wonderful texture. This is not an easy song to deliver and he really managed to falsetto, the turns, the rise and fall. On top of that, he's got this lovely natural tone, a rich vibrato and a voice that sounds as well-trained as it was. We could use a little more emotional connection, but even as we say that, we could hear his heart breaking at the lack of chair turns. So he's capable of it, he just needs to infuse it into the lyrics of the song. We think this could be a real dark horse contender.
Results: Chance Turns [Team Chance]
("Fallingwater," Maggie Rogers - 19, Carrollton, TX) There was something missing through so much of Kylee's performance, like she was hesitant to really deliver the song. Maybe the chairs staying turned away for so long was eating at her, but we were feeling a disconnect from her and the song, which in turn left us feeling disconnected from her. Her tone, though, was nice with this ethereal sound that hung effortlessly in the air. Once the chairs started turning, her confidence grew and we started to hear some potential there, but it's a long way from being realized yet.
Results: Chance, Niall, Blake Turn [Team Chance]
("It's Not Over," Daughtry - 33, Lebanon, TN) When you take on a vocalist with a voice as big as Chris Daughtry's, the comparisons are going to be inevitable. The problem for Kason is that he was a little timid in his big voice and he definitely reined in Chris' range. The highest notes he did hit, which weren't far removed from his lowest, we could hear the slight strain. That's probably just not pushing himself to go there, staying instead with safe choices. He's got a very cool rasp in his voice and a great rock tone. He just needs to push himself harder to expand his sound and his range to be able to better fill the space.
Results: Blake Turns [Team Blake]
("Maybe I'm Amazed," Paul McCartney - 24, Scranton, PA) We only got a few moments of Alyssa, but she has a very cool, laid-back style. It worked perfectly on this track. That she was standing and playing keyboard while delivering it only added to her mystique as an artist. She could be interesting to watch and see what else she's got.
Results: Chance Turns [Team Chance]
("The One That Got Away," Katy Perry - 18, Paxton, IL) Gina's softer side is definitely her stronger side, with hints of Olivia Rodrigo and that very current sound in her approach, injecting a different energy and melancholy into Katy's track. It wasn't quite as strong when she hit that chorus, though it's possible Kelly's turn sent her adrenaline through the roof and knocked her off-key. Still, she's got such a cool, contemporary vibe to her sound, we could definitely see fans voting for her if she manages to keep in this lane across different songs. Even her timid little speaking voice works in her favor, as it adds flavor and character to her as an artist and makes her memorable.
Results: Kelly, Niall Turn [Team Niall]
("idontwannabeyouanymore," Billie Eilish - 17, Jacksonville, FL) She was so young and goofy and silly in her package, we didn't expect the depth and maturity in her voice. It has a unique character, too, filled with jazz-infused nuance and a playfulness. She was clearly having fun with her runs, but she also really sold us on the heart and believability of this message. It's an incredible place for her to be able to sing from at such a young age. Her voice also immediately told us how much more she could do in different styles and songs, which is exciting to think about. We were, honestly, a little surprised Kelly didn't turn.
Results: Chance, Niall Turn [Team Chance]
("Uninvited," Alanis Morissette - 22, Delavan, WI) What an audacious choice to make for an audition. Alanis was so much rage and pain and sorrow when she recorded this entire album and it permeates every track. To try and tap into that on a cover is just incredibly bold. On top of that, it has a unique arrangement and delivery. Christina proved definitely up to the challenge. We'd have liked for her to find a way to step away from the original track a little more and showcase who she is, but it's impossible to nail this song as written and not be incredible. The song is just that demanding. And she was. Where she can go from here is pretty much anywhere.
Results: Kelly, Chance Turn [Team Kelly]
("A Case of You," Joni Mitchell - 31, Montgomery, AL) What an interesting song choice, and a bold one, for a male singer, but JB came out with just the prettiest tone we've heard yet from a dude in this competition. He slayed the intricate rhythm of the melody and his falsetto was spot-on with zero effort. The range of this piece is not easy to land, and he was so confident in himself on that front that he was able to focus on the singer-songwriter side of the piece and tell the story with honesty. It was such a subtle and unexpected audition, and yet one that lingers in the recesses of your memory in the best possible way.
Results: Kelly, Chance Turn [Team Niall]
("As It Was," Harry Styles - 32, Atlanta, GA) There's singing someone else's song and then there's what Cait did. She wrestled with the intent behind Harry's track, tossed it up in the air and brought it down as her song. This is how you do a cover with intention as an artist. Add to that the incredible range and just drop-dead gorgeous tone of her voice and you've got someone really special. She knows who she is as an artist, making her instantly exciting to watch and anticipate, and she's got incredible pipes with power, range and control for days and days and days. Chance was calling her the next Whitney Houston. We're not ready to go there, but we're excited to see where she goes.
"Do you know Tems? I know Tems, personally." --Chance (to Mariah)
"You talking about Tims McGraw?" --Blake
"Luck of the Irish, my a--," --Blake (after Mariah chooses Chance)
"It kind of appears like a thumbs down, too, you know, if you look at it." --Kelly (about Blake's giant "Pick Blake" hand)
"Oh, yeah, or a huge middle finger." --Blake
"Alright, production, bring in my finger!" --Chance (no chance)
"It says, 'Kelly can't coach nerves. She admits it.'" --Niall (reading note Blake passed him)
"You should call your next album, literally, 'Manchild.'" --Niall
"Ha-ha. Ha-ha! I beat y'all!" --Blake (to other Coaches after no one else turned)
"Is your team filling up? I didn't think you had anybody at all today." --Blake (on Kelly's slow start)
"Kelly's lost before, too. I've never lost!" --Chance (to JB)
"She loses like half the time." --Blake
"I didn't turn around 'cause I just didn't hit my button -- didn't want to hear no." --Blake (to JB)
"I gotta figure out who from my team is gonna win the whole show now." --Chance
"It's not what you say, it's how much you say." --Blake (about Kelly's pitch style)
"You can make fun of how I'm winning, but I'm still winning." --Kelly
"Are you friends with the mom?" --Blake (to Kelly about Cait)
"No, so apparently she's been a fan since she was, like, a little girl." --Kelly
"The mom?" --Blake
"The Voice" continues Mondays at 8 p.m. ET and Tuesdays at 9 p.m. ET on NBC.