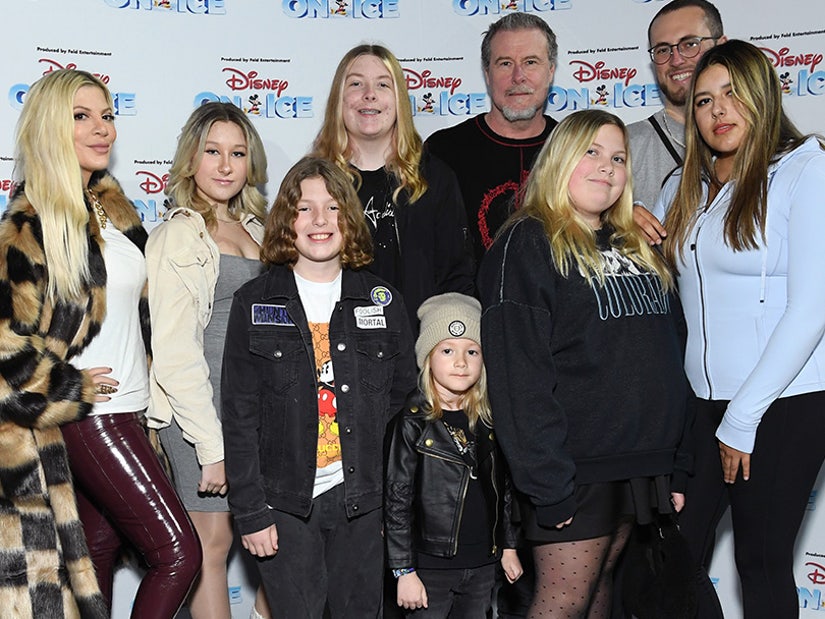 Getty
After a "continual spiral of sickness for months" affecting her entire family leads her back to Urgent Care with her kids, Tori Spelling discovers the root cause is "extreme mold" in their home ... so they're moving out immediately while they try to figure out their next move.
Tori Spelling's family is on the move without a clear destination yet. It's all to get away from an "extreme mold" infestation in their home that has been getting all of them sick for months, most recently sending her two youngest to urgent care.
The "Beverly Hills, 90210" alum shared the troubling story to her Instagram page on Wednesday, where she revealed a cylce of sickness that's been hitting the entire family that had finally reached a breaking point.
"Here we are again at Urgent Care," she captioned a shot of her with her five kids. "We've all been on this continual spiral of sickness for months. Sick. Get better. To get sick again."
Waiting for your permission to load the Instagram Media.
The actress said that they'd just assumed this was the price of having young kids going to school and bringing various sicknesses home. Spelling's children with husband Dean McDermott are Liam Aaron, 16, Stella Doreen, 14, Hattie Margaret, 11, Finn Davey, 10, and Bea Dean, 6. She is also stepmom to Dean's children Jack Montgomery, 24, Lola, and Eustace, 17.
The problem is that it became so relentless among all of them that she said it reached the point "where they are at home sick more than being in school." It was especially hard on the youngest two, who she said "are sleeping all day and say they feel dizzy even standing."
"Enter mold inspection!" Spelling wrote, sharing that they came out and "discovered extreme mold in our home." Mold infection can lead to recurring sicknesses, one after the other, she explained, detailing allergy-like symptoms, rashes, high temperatures, and respiratory infections.
"As we sit here today in Urgent Care … watching everyone getting swabbed and first up Finn with Strep throat and high fever of 103. We now know that when the house was labeled a health hazard and not live able that wording was FACT," Spelling added. "We now GET IT."
With this new information, Spelling said that the family intends to "vacate the home asap," even as they don't have a clear idea of where they might go. For now, she said they'll be looking for an Airbnb or Vrbo to get them through "till we can grasp what to do."
One good thing for which Spelling said she is grateful is that they are just renters in this particular home, and they have renters insurance. "We'd be lost how to tackle this without."
She concluded with some harsher words of deep sarcasm for her local school system, in light of this new information. "Special non shout out to our public school district for repeatedly not believing our kids were as sick as they've been continually," she wrote. "Just get them in school right?"
Spelling has been sharing her family's health struggles over the past few months, including Stella getting diagnosed with hemiplegic migraine in January after being hospitalized twice. She shared on "Jeff Lewis Live" that her 14 year old looked as if she'd suffered a stroke while suffering with the "extremely rare" condition.
That came after both LIam and Beau had been hospitalized with different illnesses earlier that same month, as noted by ET. And this was just after Spelling herself was hospitalized over the holidays with dizziness and trouble breathing.