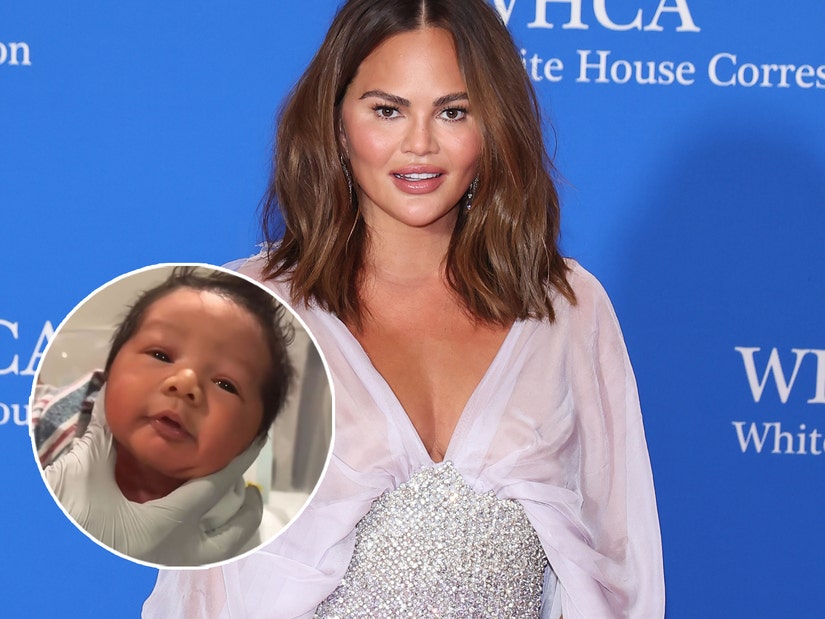 Getty / Instagram
Chrissy Teigen and John Legend welcomed a baby boy via surrogate -- and the child is already hair goals!
The Cravings book author couldn't help but share her owe over her newborn son Wren's full head of hair, posting an adorable video Wednesday of the baby night after announcing his birth via surrogate earlier that day.
In the post, the newborn is propped up by a nurse while being burped. Teigen captioned the post, "The hair. simple plan is shaking," referencing the lead singer of 2000s Canadian punk band Simple Plan, Pierre Bouvier, who shares a similar spiky, black 'do.
Waiting for your permission to load the Instagram Media.
"Can confirm…that hair is pop-punk perfection! 🤩🤘Congratulations! ❤️" the official Simple Plan Instagram account commented on the post, while Pierre himself added, ""Wait…. Was that a simple plan reference? 🧐. Congratulations!!!!"
Andy Cohen added, "Oh my gd. He is both of you to a tee," while Vanessa Lachey added, "OMG!!!! Too cute! 😍." Loni Love, meanwhile, wrote, "So cute… #auntieloni congrats Mama!!" before Kyle Richards commented, "OMG ❤️ congratulations!! Perfection ❤️"
Fans of the couple also went straight to comments, with many stating how much the child looks just like its happy parents. "OMG he looks more like John than John does," one commenter wrote, with an array of others agreeing over the uncanny resemblance.
The child – named Wren Alexander Stephens – is the couple's fourth child. The two are also parents to 6-year-old daughter Luna and 4-year-old son Miles, with their newest addition coming months after Chrissy gave birth to daughter Esti in January. Esti was born following the loss of their son, Jack, at 20 weeks.
Teigen announced Wren's birth in a statement which explained why the family decided to welcome the child via surrogate, writing that she had wanted four children "for as long as I can remember."
"After losing Jack, I didn't think I'd be able to carry any more babies on my own. To be honest, I've personally blocked out a lot of my mindset during that time, but one clear memory is being surrounded by people who wanted to make sure I wouldn't go through that pain and loss again," Teigen shared. "In 2021, we reached out to a surrogacy agency, with our first correspondence inquiring about perhaps having 2 tandem surrogate, to each bring us a healthy baby boy or girl. Twins, kinda?! At some point, early in our surrogacy journey, I came out of a therapy session, walked downstairs and said to John - I want to try to carry just one more time. If it doesn't work, we will be okay. We've already seen the worst. I promised I would be okay no matter what happened. I remember saying I just couldn't go on wondering my whole life if I should have tried again."
"And so we restarted the IVF process, the same process that gave us our beautiful Luna and Miles. We made new embryos. We did my transfer, and were happy to learn it worked -- we were pregnant with our little girl, Esti," she continued. "Around this same time, we also met the most incredible, loving, compassionate surrogate we could ever imagine, Alexandra. I knew she was a perfect match for us the moment we spoke to her. All our wishes and dreams aligned. I wanted to be her friend, I wanted our children to play, I wanted dinner together, I wanted to lay my head on her belly and be able to feel the hiccups and kicks. I wanted them to be in our lives for as long as time would allow."
The 37-year-old model went on to thank their surrogate Alexandra whom the baby boy's middle name is after, opening up about the arduous journey her body had to go through before the surrogacy transfer was successful.
"The first embryo we tried with Alex didn't survive, and I will never forget how hard she fought to get ready for a second transfer. How much she gave up of her own body -- surgeries to get scar tissue cleared, the mental toll it takes to go through all of that for yourself, much less for other people," she concluded. "Not wanting to rush the process, we took a breath and... were just patient. I laid around, enjoying the first trimester of my pregnancy, with of course a little bit of fear that isn't any different from any other expecting couple. As we crept toward the safe zone of my own pregnancy, we were overjoyed to learn Alexandra became pregnant with a little boy. Our little boy."
"Our hearts, and our home, are officially full. And to our Jack, we know both their angel kisses are from you."
Waiting for your permission to load the Instagram Media.