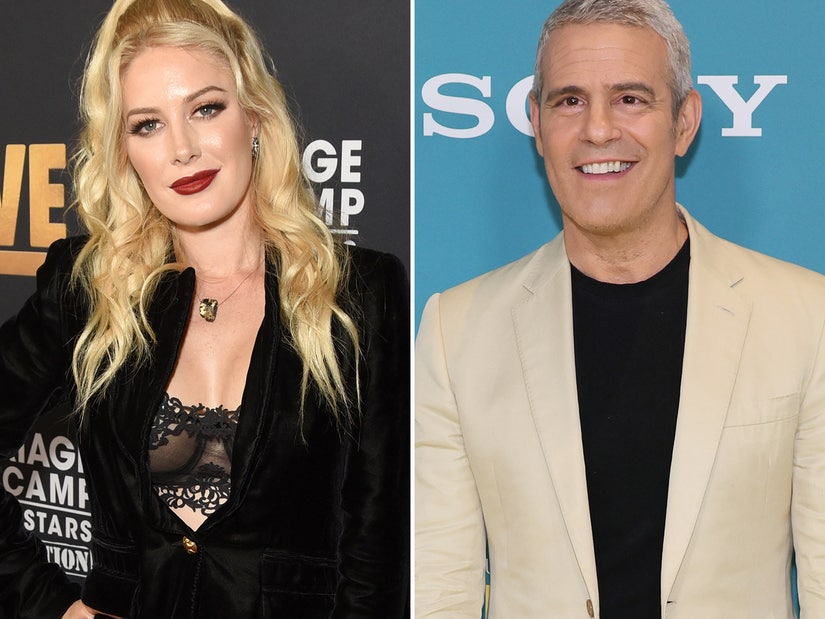 Getty
While Andy Cohen can't envision Heidi Montag as a Real Housewife, The Hills alum thinks she'd be perfect -- plus, Montag opens up about nearly dying after controversial 10 plastic surgeries in one day, feeling misled about pain and recovery time.
Heidi Montag is a reality television legend, but she's not currently participating on any reality shows. At 37 years old now, she might seem perfect for the Real Housewives franchise, but Andy Cohen doesn't see it.
Instead, he thinks it would be "weird" to even consider The Hills and Laguna Beach alum for Bravo's most famous franchise. At the same time, he took a moment to explain why and debunk some online theories on the latest episode of SiriusXM's Andy Cohen Live.
One of those rumors involves Montag's husband Spencer Pratt purportedly saying that Cohen hates him. Well, Cohen said that can't true because he has no real opinion on either of them. "I didn't watch Laguna Beach, so I don't even have much institutional knowledge of them."
The farthest he's come to commenting on them was saying "it would be weird if they were on the Housewives [for] the same reason that I was saying that it would be weird if Snooki came on the Housewives."
It's not about who they are or how they are or if they'd be good television. The problem for Cohen was that they'd became household names and institutions in their own right on rival shows on a rival network, MTV.
"They're so identified not only with another show, but with another network, so it's like, 'But wait a minute, you are supposed to be on Jersey Shore," Cohen explained. "It just makes it weird, so that's the reason."
Montag herself, though, disagrees with Cohen. In fact, she even floated an unsubstantiated theory that maybe it's because he liked her on-screen rival Lauren Conrad. Cohen debunked that, too.
It was during a chat with The Hollywood Reporter just last week that Montag said she thinks she'd be perfect for the franchise.
"I would think that he would appreciate the reality star that I am. I completely make sense to be on one of these shows," said Montag. "Maybe before when I was younger that didn't quite make sense. But I'm 37 now, and as a mama too, I could easily go on Orange County or Beverly Hills."
One of the reasons Montag became a household name ws because of the shocking decision she made to have 10 plastic surgery procedures at one time back in 2009. Acknowledging that it was her choice, she also suggested that she was misled by her surgeon on Page Six's Virtual Reali-Tea podcast.
She said she was told to expect a "quick recovery" and that she would be back on her feet within "a few months." A few months was actually more than a year, with Montag saying, "I could barely talk ... I had just had part of my chin sawed off."
That recovery period impacted her ability to appear on the final season of The Hills, which was also not anticipated. "I thought I'd bounce back and be able to be on TV like I was after my first cosmetic surgery," she said. "But there was just way too much done and each thing took too much time, and it hurt so bad. I was just in such an immense amount of pain."
She even said that things were looking grim at one point during her immediate recovery. "They called Spencer at a point and told him I had died basically. I wasn't doing well," she said. Her heart was only beating five times per minute, according to the reality alum, with her suggesting she was given a wrong does of pain medications.
Despite all the challenges at the time, Montag and Pratt have been able to build a life together since their time on The Hills. The couple wed in 2008 during the show and have gone on to have two children, 5-year-old Gunner and 10-month-old Ryker.
Montag has continued to appear on various reality television projects -- with and without her husband -- in the years since, including Celebrity Wife Swap, Celebrity Big Brother, Marriage Boot Camp, and The Hills: New Beginnings. Just don't look for her to show up on a Real Housewives show.