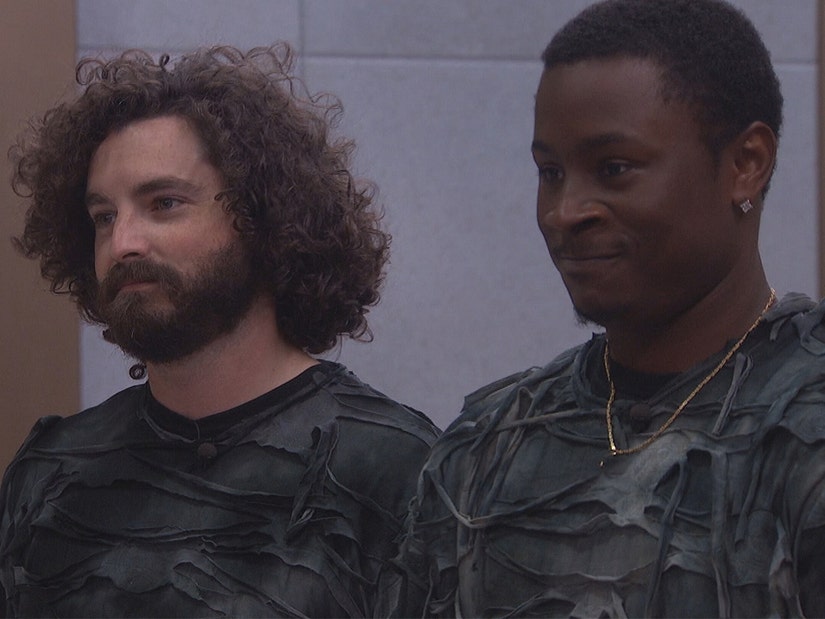 CBS
A strange week of Big Brother kicks off with no Head of Household or Power of Veto -- instead, evicted in the double eviction, both Cameron and Jared return to the house and compete against one another with only one returning completely during Thursday's show.
We're in uncharted territory this week on Big Brother as there is no Head of Household at all. To make matters even more stressful for the house -- especially America and Cory -- the two Houseguests they just evicted are back!
It was just a matter of hours (if that) that Cameron and Jared were out of the house. After last week's broken transmission clarified that "zombies" would be invading the BB house and that one of them would fully "resurrect" their game, the boys returned.
They were both garbed in black, tattered rags to represent their half-dead status. It was also revealed that they would be competing against one another this week with the winner returning to the game and the loser out.
While that might sound like a restful reprieve for the rest of the Houseguests, that's hardly the case. After all, these are people that just got voted out, and the action of doing that exposed a lot of people's games and strategies.
We got some flashbacks from the commercial breaks during Thursday's live double eviction which showed Cory deciding to put Blue up for fear she'd take Jared down, and Matt flat-out lying to Jared's face about using the Veto.
As it turns out, Jared pulled Houseguest's Choice and picked Matt to play in hopes he'd take him down. That didn't happen, as Cory made it clear he didn't want the nominations to change. Matt told Blue he was scared to use the Veto or he'd face their wrath.
After the zombies returned, he explained to Cirie that he kept nominations the same because he was told that if either Jared or Blue came down, Cirie would go up and he was pretty sure that if she went up, she'd go home. It's a fair assessment.
In a confessional, Matt made it clear he still trusts Cirie and wants to work with her, so we'll have to pay close attention to what he's doing with Jag, Cory, and America because they are gunning hard for Cirie -- especially the latter couple.
Matt was able to lie directly to Jared's face, though, which proves that he can get duplicitous when it comes down to it. But is he really afraid of Cory's power? He really needs to decide which game he wants to play.
The most dramatic and epic brouhaha of the night came when Jared confronted Felicia and Mecole about betraying him, only for Felicia to go code red on him for betraying her the week Izzy went home.
When he called her out on trying to make a Final 2 with him over Cirie, she was definitely backed into a corner. But is this the best approach? Families do sometimes fight and then come back together, but is that what this was?
Cameron's approach was much more chill. He was voted out by the will of the House -- with Jared unwittingly sealing his own doom by doing America and Cory's dirty work for them and putting Cameron on the block. But rather than scream betrayal, he complimented everyone on their games.
He was a lone wolf in the game since Red got evicted, and the primary target every week that he didn't have power. His hope is to change his narrative moving forward. First, of course, he has to win his way back into the house. Looking across the season, though, he's a far stronger competitor.
Jared had one competition handed to him when his opponent buzzed in with the wrong answer. The Veto he "won" was actually a Matt victory, only he didn't take the Power of Veto, letting Jared have it. His only real win was the wall competition, which admittedly is pretty brutal.
Still, the edge has to go to Cameron. And as the Resurrection Rumble competition began to play out, Cameron did take a lead after two rounds of play. This is the teeter-totter shovel competition where they have to transport balls to a shovel on one end of a giant teeter-totter and hope they don't fall off as they go back to fetch another.
The competition was played in three ongoing rounds, with no resets between. The hour ended in the middle of the final round, which Cameron went into with a four-ball lead. The winner gets to decide if they'll play for the chance to come back in, or force their competitor to compete and just hope they fail.
As it stands, Cory is feeling confident that he can work with Cameron should the space cowboy return to the game, but we're not so sure. Cameron sees the layout of the house really well. As an outsider for weeks, he's mastered the art of perception.
As such, he knows that power has shifted and Cory and America are currently running the house, with Jag and Matt as their little minions. They got Felicia and Mecole to work with them this past week, but they're also clearly being used as tools and not allies. Comerica are only loyal to one another, as are Matt and Jag.
Felicia and Mecole also have a Final 2, leaving Cirie and Bowie on the outside of everything. Bowie wants it that way, while Cirie is really hoping Jared can come back into the game so she can have an ally again. As for Blue, her and Jared are on the outs again, but she also knows she's a fifth wheel with Comerica's side.
If Cirie, Felicia, and Mecole can get back on the same page and then convince the house of the danger of that foursome, or filp Jag and/or Matt to their side, the house could well flip again. One thing about a week without HOH or POV is that there is only time to strategize and observe and really see who's holding power, who's too confident, and who's ready to make a move.
Mecole Hayes (30, political consultant) holds her position at the top as she's really in a swing position right now. No matter who comes back into the house, nobody is looking at her right now, and this season, right now is good enough. Everything else is in flux too much. [Grade: A]
Matthew Klotz (27, deaflympics gold medalist) has a competition win under his belt, which historically this season would make him a threat to get rid of. But he's still pretty teflon in this game. We also respect that he's maintaining a kind of loyalty to Cirie while also playing Cory's side of the house. We're not sure how his loyalties will play out at any moment, and know he's struggling, but he's in a swing position even better than Mecole's because he's getting intel from both sides. [Grade: A-]
Jag Bains (25, truck company owner) is very smartly making sly moves to ingratiate himself a bit to Cameron, as Cam is more likely to return to the game. He's also pretty effectively taken the target off of his back, for the moment, as Comerica seems pretty focused on sending whoever comes in back out. The question is if they'll still see Cirie as a threat after that (if they can pull that off). [Grade: B]
Felicia Cannon (63, real estate agent) had it out with her aliiance, but it almost seemed like the kind of fight that group could maybe grow from and move past. She has to know that there is no future with Comerica running the house for her. There are too many of them on that side and she's not one of them. She's seen pretty good so far, but does she see that? [Grade: B-]
Blue Kim (25, brand strategist) is in an awkward position, having betrayed Jared by keeping the fact he was Comerica's target from him, leading to his eviction. How will she react to him aggressively coming at her for it? Can she be trusted on the Comerica side of the house after she just wasn't (which is why he nominated her). Blue needs to make a strategic decision for her own game to find a path forward. [Grade: B-]
America Lopez (27, medical receptionist) is pretty exposed right now for the moves to get Cameron and Jared out. Both played out perfectly, which is indicative of how dangerous she and Cory are. Cory got the blood on his hands, but she'd make a pretty good consolation prize if they don't rise to power immediately next. We're not even sure Jag and Matt would want to keep that couple intact. [Grade: C+]
Bowie Jane Ball (45, barrister/DJ) is adamantly playing with no one, which is allowing people to use her and abuse her week after week. It's taking a toll on her, but her unwillingness to commit to any one alliance for half a season now and her wishy-washy approach to the game has made her someone who can't be trusted, and thus can only really be used. [Grade: C]
Cory Wurtenberger (21, college student) could be in a pretty vulnerable spot. We don't yet know if he'll be able to play in the next HOH competition as he's technically the outgoing one. He also just made a huge game move, and his targets are in the house to show and tell everyone what a huge threat he is. This season hates game threats and loves to boot the most recent HOH, so he's as vulnerable as he's ever been. [Grade: C-]
Cirie Fields (53, nurse) is in a tough spot, though it's heartening to see that Matt may still have her back. If she can get Mecole and Felicia back into her fold, which may (we say may) be possible, she could find a second life in this game. If Jared comes back, he'll definitely be a shield as he's a big, loud, brash, messy, awful game player that everyone will want to target ... again. [Grade: C-]
Cameron Hardin (34, stay-at-home dad) is much more likely than Jared to win both this final round of the current competition, and ultimately his way back into the game. He's also in an interesting spot in that he's not really holding any ill will toward anyone and will be available for whomever wants to make a move. The house is rooting for him to come back, so he'll be very popular if he does. [Grade: D+]
Jared Fields (25, exterminator) feels like a longshot to return, but anything is possible. We don't see a future where he would ever work with the Comerica side, so his return would just re-establish the power divide that was already in the house before this zombie week of BB. We're also not sure he has the temperament to not burn bridges and get himself booted again, despite his mother's best efforts. [Grade: D]
"All of the aches I was feeling just confirmed. None of these people are your friends. I don't have to pretend no more." --Cirie (in DR after Jared's eviction)
"If I win the Veto I can't pull you down, but I think if it's you and Cirie, you've got a really good shot." --Blue (to Jared before eviction)
"Wait, you can't pull me down?" --Jared
"I can't. Because then it would have been me and you." --Blue
"So you can't lie to him?" --Jared
"Oh yeah. I'll probably do that, But I'm just saying." --Blue
"I don't want my mom to have to go out there, feel like she's fighting for me, lose that competition and have to sit with that weight of feeling as if she's the reason I'm going home. Matt is probably my best shot out of the people I can trust." --Jared (in DR explaining his choice to play in Veto)
"If I use it on you, he's gonna get more blood on his hands. I promise you it's not you." --Matt (to Blue after Cory told him not to use Veto)
"I can't let Jared go right now. It has to be Cirie." --Blue
"They will kill me. Blue, I'm sorry. I can't go against it. If I do, I'm the target next week." --Matt
"Bro, I picked you. I locked in with you and Cirie. I picked you because I can trust you." --Jared (to Matt after Veto)
"You can, you're my boy. You, me and Cirie." --Matt (lying)
"You're fully the target this week." --Blue (to Jared)
"You know this?" --Jared
"Kind of." --Blue
"You threw me under the bus last week with that Izzy vote, it's time for me to run you over." --Felicia (in DR before vote)
"We're the majority right here." --Cirie (to Bowie, Felicia & Mecole)
"Everybody's voting Jared." --Mecole
"I take my good old sweet time watching the anticipation of idiots." --Cirie (in DR about reading Scary-verse transmission)
"This is a transmission from the Scary-verse. BB Zombies are coming after the double eviction. One will have their game resurrected. End Transmission."
"ANy easy double eviction where everything goes my way is never easy." --American (in DR after Cameron & Jared return)
"Don't look so happy." --Jared (to Houseguests after returning)
"No, we're just shocked." --Felicia
"I bet. I was too. I was too." --Jared
"You did me filthy bro. You did me filthy. You too, Mama [Felicia]. Y'all did me real wrong." --Jared (to Blue, Felicia & Cirie)
"You guys played my ass last week. Both you guys f--ked me last week." --Felicia (to Jared & Cirie about Izzy vote)
"Tell me you didn't work hard to get them to change that vote and send my ass home!" --Felicia (to Cirie)
"Please come off your high horse and come down here with us peons and see the hypocrisy." --Cirie (in DR about Felicia after she was exposed trying to make Final 2 with Jared)
"Great job, guys. Hell of a game so far. Hell of a game. I'm proud of all of you." --Cameron (to Blue, Jag & Matt)
"Jared's coming back into this house and he's starting fires. My strategy is to come in and be cool, be calm, be collected." --Cameron (in DR)
"If I had used that Veto, you would have been gone, probably, and I didn't want you going home." --Matt (to Cirie)
"I'm hoping Cameron wins this thing because he has no ability to work with any of them." --Cory (to Jag & Matt about other side of house)
Big Brother continues Thursday at 9pm ET and next Sunday at 10pm ET.