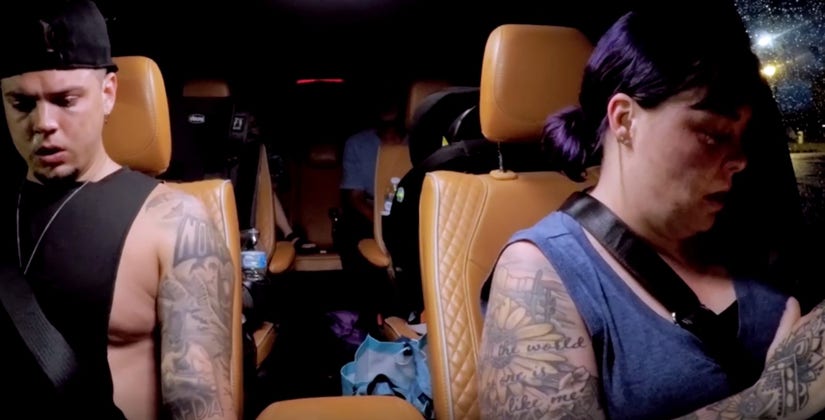 MTV
The visit marks the first time the pair have seen their daughter -- who they placed in adoption 14 years ago -- in two years.
Catelynn Lowell and her husband Tyler Baltierra's visit with their daughter Carly, was almost de-railed after Catelyn's mom, April, crossed a major boundary.
On the two-episode season finale of Teen Mom: The Next Chapter Wednesday, the reality star reveals that her mom had been drinking on the trip -- something Catelynn asked her not to do during their important visit with the now-teenager.
"Been having a great visit with Carly. We swam a lot today and we grabbed a bite to eat. All the kids had a blast," Catelynn began before sharing how her mom crossed the line. "Unfortunately, my mom broke one of my boundaries when she was hanging out with all of us and she had a few drinks."
She continued, "It just really disappoints me. I don't really know why she would do that. It hurts my feelings. Especially on a visit with Carly."
Recounting the incident with her husband, Tyler, Catelynn said her mom seemed to be in denial about breaking the boundaries she set in the first place.
"She's like, 'I didn't break any boundaries,'" Catelynn told Tyler. "But like I said, 'You're gonna believe what you want to.'"
Equally annoyed, Tyler surmised that based on April's behavior, she may have been drinking more than they realized, adding, "She probably had more drinks at the hotel."
The visit, their first with Carly in two years, comes 14 years after the pair placed Carly for adoption when they were just teens themselves. And April's drinking nearly put it in jeopardy.
"She's like, 'You should have pulled me aside.' My thing is, I shouldn't have to pull you aside," Catelynn maintained. "Especially in this environment. I'm not focused on that in the moment."
Tyler added, "You should just behave. You're so focused on yourself, that you're not even thinking about your daughter's feelings."
While Catelynn was truly exhausted by her mom's behavior, Tyler offered a gentle reminder that the pair are breaking the cycle of addiction and abuse for their daughters by raising them differently.
"The way that we raise our children and live our lives, we organically break that lineage and that cycle," Tyler said of their three girls, Nova, 8, Vaeda, 4 and Rya, 21 months. "You have your own path to follow with your mom, but I don't know... just protect your peace at all costs, whatever that cost is."
Reflecting on the incident in a confessional, Catelynn voiced her frustrations over her mom coming close to spoiling the rare and precious time they get to spend with Carly.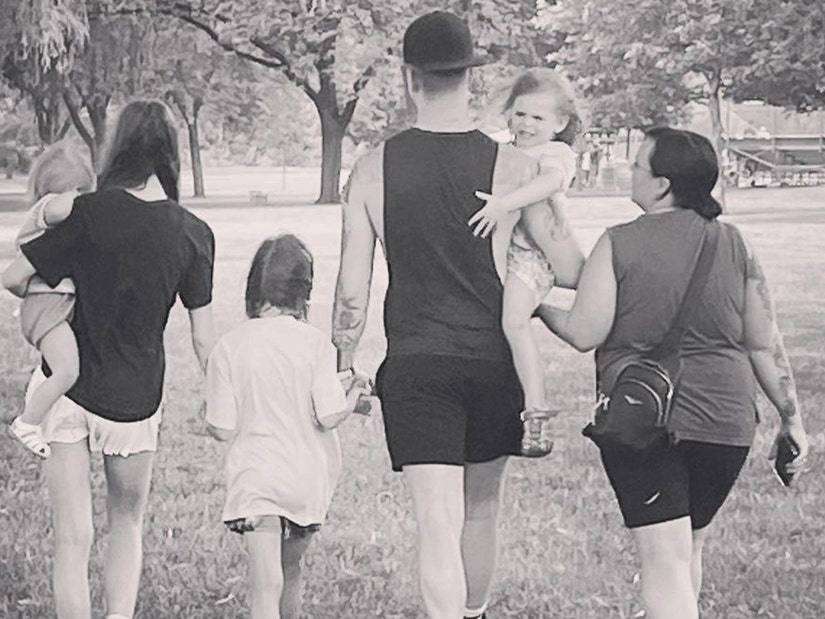 Instagram
"This is my time. All of you people are here, are lucky that you're even here," Catelynn said of the family members and friends she brought along for the visit. "I'm not taking away from my time to deal with your immature, toxic sh-t. I'll deal with that in a day or two when the visit's over. Go back to what is more important here, another day with Carly."
The second day of Catelynn's visit with Tyler was equally emotional, with the pair making the decision to say goodbye to Carly with a more intimate audience, pairing down those in attendance to them, Catelynn's dad, Dave, and their eldest daughter, Nova.
"We have to say goodbye. Which is super hard, and really emotional," Catelynn told the camera before cutting to the aftermath of their goodbye with Carly.
"Well, at least we'll see her next year," the eight-year-old offered in an attempt to comfort her mom.
"Mom, I just want to say that Carly will always be in your heart," Nova added.
Despite the sweet words from the little one, both Catelynn and Tyler were overcome with emotion as they grappled with having to wait another year see their daughter.
"It's just hard because I wish we could see her more," Catelynn said. "You never want to leave, and that's the crappy part."
Looking back on the weekend, Catelynn and her family marveled at the one-on-one time they were able to get with Carly and just how much more special the visits have gotten now that she's older.
"It's awesome seeing all of my girls together," Catelynn marveled.
The episode ended with Catelynn sharing a special message for her daughter with the cameras.
"Carly, I just want you to know that you are the biggest blessing in my life. Somebody who has pushed me to grow in so many great ways. You were meant to come into the world to literally create change. To teach me things. To teach your parents things. To teach my other family members things. I am so proud to watch you grow up," Catelynn gushed.
She continued, "I love learning about your passions and just seeing how great of a person you are. I love being able to witness your goofy and silly sides, because it reminds me so much of Ty. And to see that you have a little bit of our personalities is something that's truly amazing."
"I just want you to know that you are loved. If you weren't loved, I never would have made the decision I made for you," Catelynn added through tears. "Because I wanted to be selfish and not make it sometimes. And I know it would've been selfish to keep you in that chaos. And literally, it's all about love. I don't ever want you to think that you weren't loved or that we didn't want you."
Teen Mom: The Next Chapter airs Wednesdays on MTV.