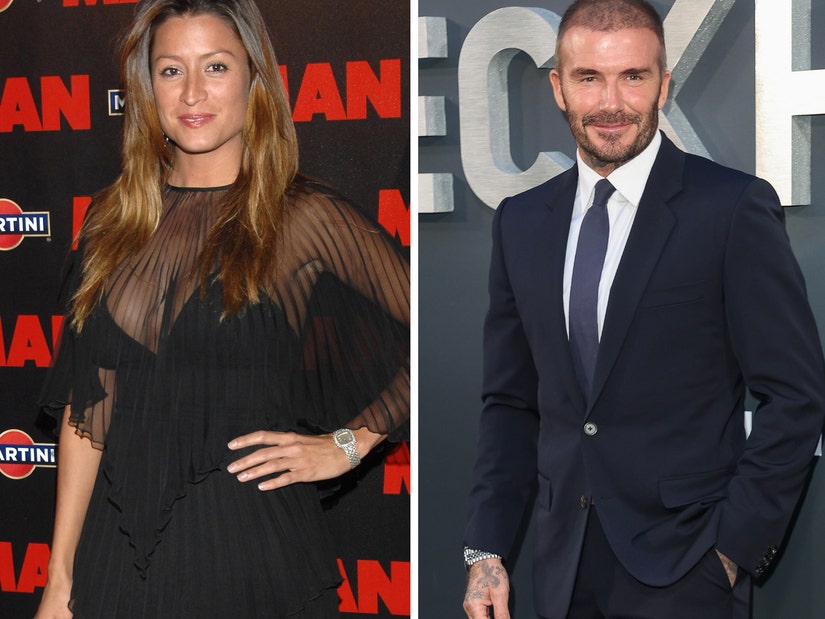 Getty
Rebecca Loos's alleged affair with David Beckham was discussed by both the retired soccer star and his wife in his new Netflix doc, 'Beckham.'
Rebecca Loos, one of the women who claimed to have an affair with David Beckham back in 2003, is reacting to backlash after the alleged dalliance was discussed in the soccer star's new Netflix documentary, Beckham.
Loos responded to an Instagram commenter who remarked on the number of "disgusting" messages Loos has received since Beckham hit the streamer earlier this month.
"Stay strong," the commenter wrote Friday. "You have a beautiful life with your gorgeous family which unlike others doesn't have to fill the gaps by getting Netflix involved!!!"
In response, Loos replied, "Thank you 🙏🏼[I] am taking in the nasty comments with as much humor as I can."
Loos claimed she had a romantic relationship with David just four years after he tied the knot with Victoria Beckham in 1999. The allegations were vehemently denied by the Manchester United alum at the time, with David calling them "ludicrous."
"During the past few months I have become accustomed to reading more and more ludicrous stories about my private life," David said in a statement at the time. "What appeared this morning is just one further example. The simple truth is that I am very happily married and have a wonderful wife and two very special kids. There is nothing any third party can do to change this."
While the rumors first came to light 20 years ago, the yoga instructor has been back in the headlines thanks to Beckham's release, which saw the professional athlete's alleged infidelities with both Loos and Sarah Marbeck discussed by Victoria and David in the four-part doc's final episode.
Labeling it the "most unhappy" she's been in her life, the Spice Girls star recalled how the rumors impacted their marriage.
"It was probably, if I'm being honest, the most unhappy I have ever been in my entire life," Victoria admitted.
While David had moved to Spain following his transfer to Real Madrid, Victoria stayed behind in the U.K. with their sons, Brooklyn and Romeo. The weight of the rumors, however, had the couple feeling like they were against each other and the world, prompting Victoria to move to Spain to be by her husband's side.
"It was the hardest period for us because it felt like the world was against us," Victoria said in the doc.
She continued, "And here's the thing, we were against each other if I'm being completely honest. You know, up until Madrid, sometimes it felt like us against everybody else, but we were together, we were connected, we had each other. But when we were in Spain, it didn't really feel like we had each other either. And that's sad."
"I can't even begin to tell you how hard it was and how it affected me," Victoria added, calling their time in Spain a "circus."
David also weighed in, acknowledging how hurtful it was for Victoria and their family as a whole.
"Victoria is everything to me, to see her hurt was incredibly difficult, but we're fighters, and at that time we needed to fight for each other, we needed to fight for our family," David said. "And what we had was worth fighting for."