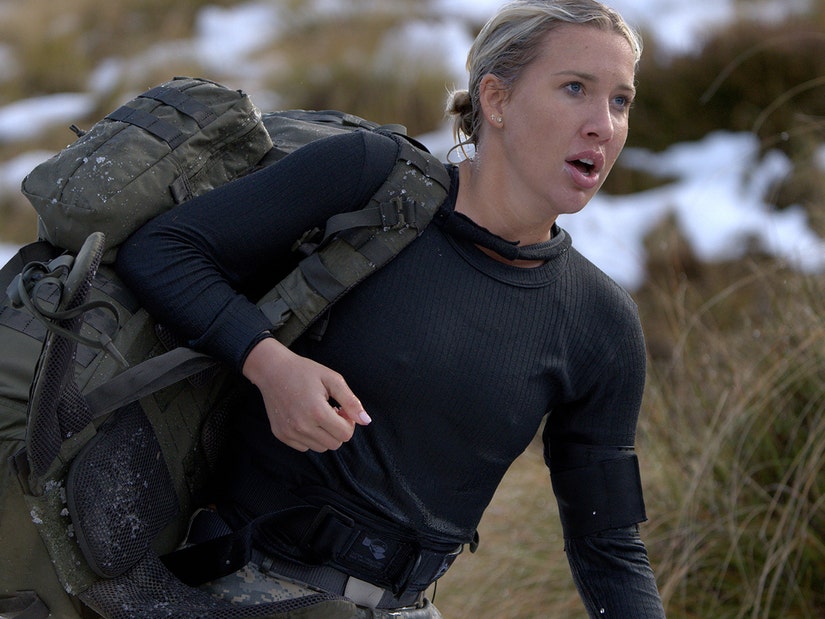 Fox
Savannah Chrisley felt physically up to the task, but the pull of family was too strong for her to overcome emotionally as she made the tough decision to walk away from Fox's Special Forces: World's Toughest Test.
She was one of three to walk away from the brutal competition series this week (Brian Austin Green and Robert Horry left at the start of the episode). She almost quit then, but powered through ... at least for a little while longer.
The 26-year-old Chrisley Knows Best star opened up about how difficult it was to leave her siblings, brother Grayson, 17, and niece Chloe, 10. With parents Todd and Julie both incarcerated, the reality star has custody of them and has been raising the pair.
She also shared how her parents reacted to her stepping away from the show, and it looks like they understood completely -- though it was pretty funny at what hardship they agreed they'd have quit over, too.
"Honestly, they were like, 'Heck, I probably would have done it way sooner.' They were like, 'I don't blame you,'" Savannah told Hollywood Life. "Especially when I told them that I was wearing wet boots in the freezing cold weather. They're like, 'Yeah, there's no way. I would have been done immediately.'"
Savannah had powered through the first challenge of the week, though she ultimately failed, but called it before she would have had to take a late-night dive into freezing cold water.
Despite their support of her exit, Savannah said that it was her parents who inspired her to take part in the first place. In particular, Julie thought she would do well on it, telling her as much when they watched the first season together.
Saying that her parents were "excited" for her to get that break from the stress of raising her siblings, Savannah told the outlet, "That's what people don't understand. I have the kids 24/7. It's challenging at 26 years old to get two children and have to keep everyday life going and work and all of their activities. It's really tough."
For Julie, there was another reason she was excited about her daughter participating on the show; she'd be able to watch her. With both parents incarcerated separately, family time has been limited to weekend visits. The Chrisley parents are serving time for tax evasion and fraud -- Todd has a 12-year sentence, while Julie is in for seven.
"That's what has been so exciting because even though we're not together, we still get the opportunity to interact through this," Savannah said. "So just for that, I will forever be grateful for the show."
While Savannah said that the competitive side of her wished she could have powered through and lasted longer, she was surprised at the emotional toll being away from her siblings would take on her.
"The biggest thing for me was just leaving Chloe and Grayson and knowing that they were with my grandparents," she explained. "My grandparents are older, so they're not giving the same amount of attention that I would have given, and they weren't getting that same amount of attention."
She also shared with Us Weekly that Chloe, in particular, had a hard time with her leaving. Savannah said that Chloe kept asking for assurance, "You're coming back?" with Savannah having to reassure her repeatedly.
"All she knows is people not coming back from such a young age," said Savannah of her niece. "So that was really challenging for me." The family adopted Chloe in 2016 after Savannah's brother Kyle lost custody due to drug addiction, and her mother Angela Johnson lost it after she was arrested. Angela told TMZ in late 2022 she was fighting to regain custody.
Savannah said that being separated from the kids actually brought back some of that loss the family has endured, with both Todd and Julie entering prison to serve years behind bars. Because of this, she realized she was ready to be done, to go home to the kids.
"I tried to keep a straight face on and play tough, but I knew I needed to get home," said Savannah, confident she could have lasted longer on the show had her home life not been so overwhelming. Savannah is also grieving the tragic death of her ex Nic Kerdiles, who died in a motorcycle accident September 23.
"I don't know when the blows are gonna stop coming," Savannah told E! News. "It's not fun playing on the defensive, it's not fun being hard-hearted. I've taken a lot of hurt, I've been scarred and I've allowed that to turn into anger. Now, I'm going to take that and try to turn it into something productive and live a life that is full and happy and where I can actually breathe."
The hyper-competitive star said that she's learned some valuable lessons from her experience, including that "it's okay to fail sometimes." She said she learned to give herself and others more grace, because you never know what all someone might be dealing with.
She hopes that the kids pick up on some of those same messages, telling ET that while she'd always been a "perfectionist" and hard on herself when things didn't work out, that's not how she wants the kids to navigate life.
"I was like, no, this can teach them that it's okay to fail," she said. "Sometimes it's okay to not be the best at everything. Sometimes it takes all that you have to just show up for the day, and that's okay, too."
"I've been able to figure out how to navigate my emotions better and just be a better person all around," she told Us Weekly. "So I'm like, 'You know what? Maybe that was what needed to come from this."
The time away also helped her to start to process her own emotions about the situation she's been thrust in, as well as the loss of her parents to prison. "I kind of had just been, like, the Energizer Bunny. Just keep going, keep going, keep going," she told the outlet. "When in reality there were still emotions I needed to process."
Savannah was able to come out of the experience with this renewed perspective on her life, which positively informed how she related to the kids and some conversations with her parents.
She said that Julie is "so happy and so proud" of her, while Todd is holding out on watching the show until he can do so with her. She also said that she'd totally be down for a reunion season, telling ET, "I want to prove to myself that i can make it to the end."