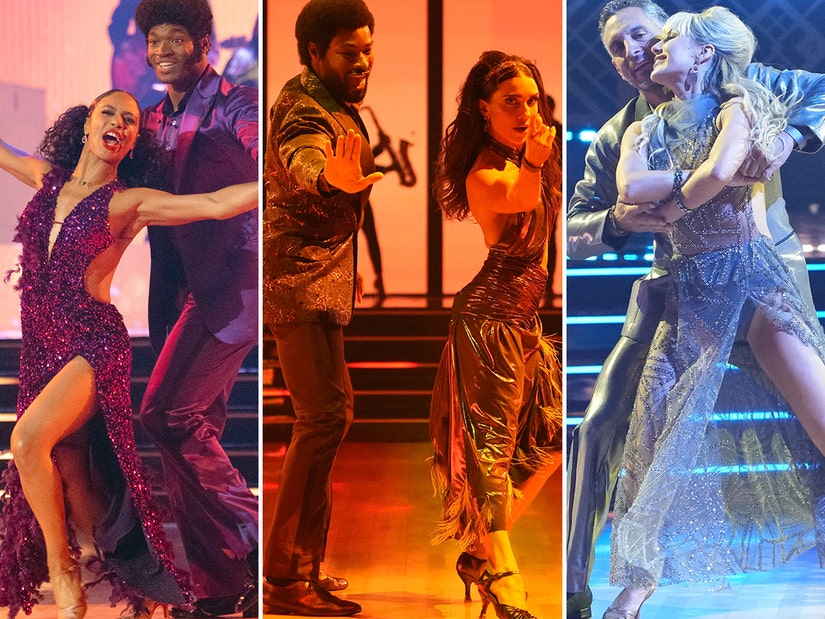 ABC
The first 9's of the season come out as some celebs shine on Dancing with the Stars, while others completely fall apart -- at least we don't disagree with America's decision!
The music was as big as the hair on a couple of the guys as Dancing with the Stars celebrated "Motown Night." They also welcomed guest judge Michael Strahan, who did a solid enough job judging for someone with zero dance background.
This was a much stronger week overall for the contestants than last week's Latin-infused showcase. There was more personality on display and definitely some challenges. Some of the stars had to dance in hold for the first time with a foxtrot. The jive came out, as did the "dreaded" quickstep, so this week was definitely no joke.
There were a few missteps around the middle of the pack, but those who have been shining continued to push themselves. Already in this third week, the judges started tossing out 9s -- and we're not just talking about Michael, though he did, too. We can't argue too much (though we did not follow suit) because a few of these stars are already nearing pro level with their overall performances. We can't wait to see what they look like in a couple months' time.
Emotions were even higher for some contestants, though, with Mauricio Umansky opening up about the emotional challenges of his marital troubles with Kyle Richards playing out on The Real Housewives of Beverly Hills while he's trying to compete here. And then there's the celeb who spent this morning on their bathroom floor -- did they make it up to compete?
This week's opening number definitely had us "Dancing in the Streets" and showed us why it's so much more fun with our new hosts Alfonso Ribeiro and Julianne Hough. With both of them having bona fide dance cred, they joined in the closing portion of the opening number and kept up the energy with the pros behind them, making for a very satisfying start to the show.
Who do I think I am? you ask. Well, I spent nearly a decade of my life sweating and bleeding to the music as a dancer. From a young boy learning a shuffle-ball-change to performing with the St. Louis Ballet Company, I experienced the ups and downs of one of the most difficult physically demanding sports on the planet. During this time, I was also a member of the St. Louis Symphony Youth Orchestra, as well as a gymnast, writer and cartoonist. I had a lot more energy in my younger years. And I've spent the last twenty years analyzing and critiquing reality competition shows for various media publications. I've got this.
Barry Williams & Peta Murgatroyd
(Tango - "Get Ready," The Temptations) Barry is such a sweetheart on the dance floor. We get that might sound a little odd, but he gives you those oogy-googy feelings when he performs. There's so much passion and want; he really is giving everything to this and loving every moment of it. His groove at the top was pretty good and we found ourselves impressed with his commitment throughout as he hit every step. He needs to work on consistent framing and striking a little harder and sharper -- and he definitely forgot about his off-hand at one point -- but he really embodied the spirit of the style in a way that was so much fun to watch.
Judges Scores: 6, 6, 7, 6
Lele Pons & Brandon Armstrong
(Cha-cha-cha - "Super Freak," Rick James) This dance had so much personality and musicality we found ourselves mesmerized by how their bodies were playing with both the rhythm and lyrical delivery. It was a very smart routine and one that Lele committed to fully. She appeared to stumble a bit on her cha-cha footing right at the jump, but quickly recovered. There was definitely a slight uncertainty within her that impacted her follow-through and attack, but this was a great piece because it was infused with so much fun. Plus, the characters they brought to life could almost be said to explain some of the more minor mishaps (clever, clever!).
Judges Scores: 7, 6, 7, 7
Mauricio Umansky & Emma Slater
(Foxtrot - "Working My Way Back to You," The Spinners) This was definitely a redemptive moment for Mauricio, who managed to get all the way through this piece without any mishaps. In fact, we'd argue that he had the choreography down pretty good, so it was all about the finesse. He wasn't quite as light on his feet as we were wanting to see, but we did see toe leads. His frame was fairly consistent, but he was always there for Emma, who was shining and kept drawing our eyes (not a bad thing for his scores, if we're honest). He's got a lot to be proud of here, and a foundation to climb back into it.
Mauricio also opened up about outside life creeping into his work on the show, with the trailer for the new season of Real Housewives of Beverly Hills dropping before last week's show with his kids in the audience. His marital troubles with Kyle Richards are definitely taking center stage this season. He also said he's feeling the impact of global events, telling Julianne, "Tonight, I stood by Israel, we danced for Israel, and we gave it our all!"
Judges Scores: 7, 5, 6, 5
Jason Mraz & Daniella Karagach
(Jive - "Do You Love Me," The Contours) Props to Jason for keeping the energy up from start to finish on this one because he's right when he said in the package that this style is like a nonstop cardio workout. We'd have liked a little more consistent dig into the floor and posture, as he would go up and down a bit at times, but we were all about the tone of the piece and the infectious fun that was emanating from both of them throughout the dance. He continues to make a strong case as a leader this season already with sharp kicks, great arms and great athleticism on display.
Judges Scores: 9, 8, 9, 8
Alyson Hannigan & Sasha Farber
(Foxtrot - "Ain't No Mountain High Enough," Marvin Gaye & Tammi Terrell) This song holds a lot of meaning for Alyson, who used to dance with her babies to it and gained a new appreciation for its lyrics as a mother. They joined rehearsal and were definitely rooting for their mom. We have to say, we think their spirit infected this dance, too, as we saw a renewed sense of purpose and life in Alyson's movement. She was filled with such joyfulness that it oozed throughout the piece. She was also delicate across the floor with a lovely hold throughout. We think we spotted a footwork issue early on, but the camera work for this was a bit odd so we can't be certain. But we were enamored with the elegance and grace of the piece. The essence of the foxtrot was there, so she's ready to work on fine-tuning. This felt like a turning point for her.
It was also an exciting night for her in that she was excited just to be there. The Buffy alum said that she spent the morning on her bathroom floor, feeling so under the weather she couldn't imagine how she might be able to compete tonight. That she recovered enough and delivered what she did is a further statement as to her commitment and continued growth.
Judges Scores: 6, 6, 6, 6
Tyson Beckford & Jenna Johnson
(Foxtrot - "Master Blaster (Jammin')," Stevie Wonder) Tyson steps into frame for the first time and it's definitely a little rough. There were moments of lightness, but this was more of a lumbering foxtrot than we'd ever want to see. His shoulders hunched up (which he knew was a problem during rehearsal), his arms were too stiff and lacking in any grace or musicality. He was where he needed to be and doing what he needed to do, but it's still not looking enough like dance for us, if that makes sense. That said, his partnering work and lifts and strength are incredible and we always enjoy what lifts and tricks he and Jenna pull off.
Judges Scores: 5, 5, 5, 5
Charity Lawson & Artem Chigvintsev
(Foxtrot - "My Girl," The Temptations) Well, that's how you come back strong. Artem returned to the dance floor this week and from the very beginning, you could see how much confidence Charity had with her partner back in her arms. Their opening section had so much pizzazz, we were on board before seeing a moment of foxtrot. Then, when she got into it, they continued that confident, winning approach with gorgeous movements. She has such intention with every part of her body, including arm and leg extensions, she enhances the totality of the dance as if she's been at this far longer than she has. This was graceful and effortlessly beautiful.
Judges Scores: 8, 8, 8, 8
Mira Sorvino & Gleb Savchenko
(Rumba - "Let's Get It On," Marvin Gaye) The biggest critique we can give Mira for this sensual piece was that she kept pausing. There were pauses between so many of the moves as if she was waiting for the director to yell "Action!" before moving on to the next. She needs to work on those transitional moments, keeping the fluidity of the dance consistent throughout. She definitely tapped into her sultrier side with this piece, but she was also visibly in her head throughout. Stepping in and out of that headspace creates a staccato presentation, which Carrie Ann took note of as well.
Judges Scores: 6, 6, 7, 7
Ariana Madix & Pasha Pashkov
(Quickstep - "You Can't Hurry Love," The Supremes) Ariana dedicated this song to her late father, and based on what she just delivered, we hope she does it every week. Her performance -- as in stage presence and acting -- was incredible throughout. On top of that, or perhaps we should say beneath that, she did a great job of keeping up with the frantic pace of the quickstep. She could smooth it out a bit, but we loved seeing her take Carrie Ann's note last week about finishing her movements and absolutely executing. She's growing leaps and bounds already, and proving she could be a real contender this season because she confidently handled a style that is no joke two weeks in a row now.
Judges Scores: 9, 8, 9, 8
Adrian Peterson & Britt Stewart
(Quickstep - "I Want You Back" The Jackson 5) The worst thing that could have happened for Adrian was following Ariana in the same style. We saw maybe about thirty percent of this as actual quickstep movement. Other than that, it was him kind of walking rapidly to where Britt told him he needed to be. There were moments he was light on his feet, but then we saw little stumbles and trips. At other times, he was heavy and stiff and just behind the beat as he tried to figure out what to do next. We could see a lack of confidence in what he's doing out there. He needs to just trust in what his body is capable of doing, trust in his partner, and let go.
Judges Scores: 5, 5, 6, 6
Harry Jowsey & Rylee Arnold
(Foxtrot - "Easy," Commodores) Slow karate chops and crooked fingers about sums up Harry's confidence level on this one. He's still focusing so hard on what he's doing and where he needs to be that what's happening with his arms and hands is an afterthought. Harry is very much in his head, and it's leaving his body very stiff on a style that wants to look graceful and liquid, and not at all on the beat and rhythm of the music. We know he's fighting and trying, but his progress is extremely slow. He's not just letting himself give into the music and the dance style. There was no character to the performance because it was him struggling to get through it, rather than present it.
Judges Scores: 6, 5, 7, 6
Xochitl Gomez & Val Chmerkovskiy
(Foxtrot - "My Guy," Mary Wells) The storytelling and musicality on this piece were so incredible, we found ourselves smiling along to the playfulness of it all. Add to that some beautiful foxtrot grace and flow across the floor and it's easy to see why producers saved this polished, clean and gorgeous piece for the last of the night. From Xochitl literally clinging to Val to their side-by-side foot grooves, every bit of this piece was feel-good and quality dance in equal measure. She did get caught up in her dress during the spin move, as Carrie Ann noted, but they recovered beautifully.
Judges Scores: 8, 8, 8, 8
Mauricio rebounded from the worst score last week, but not by much. He's still very much in the Bottom 3 based on judges' scores, coming in above Adrian and Tyson, who now has the lowest score. But we wouldn't be so quick to throw Mauricio out as he's really showing that he's putting in the work, too.
We also have to remember that Jamie Lynn Spears came from the middle of the pack to elimination, emphasizing the weight of the voters at home. That has us looking at Alyson and Harry, who are only one point ahead of Mauricio, and Barry just one point ahead of them. Of course, Barry isn't going anywhere -- did you see that response? -- and we think Alyson is safe, too.
Harry proved he's got a pretty solid fan base, as well, by skating through last week's low scores. Our fellow judges are seeing more improvement in him than we are, which could also influence votes, so we really do think it's going to come down to the Bottom 2 vote-getters this week in Tyson and Adrian.
Of the two, we'd go with Adrian for elimination because Tyson has a passion for what he's doing and a spirit to grow. Plus, we've seen some incremental growth in him across these three weeks. It seems that no matter how hard Adrian puts in the work, this just isn't coming together for him or as it has other NFL pros on this show.
But it's not up to us. It's up to America, so what did they do? We found out as Alfonso and Julianne began sending people to safety. Things got off to a no-duh start with Ariana and Mira, but then Adrian was sent to safety third … so what do we know? They were followed by Barry and Xochitl.
The only place this left us (and Britt) stunned was in Adrian not even hitting the Bottom 2 this week. He didn't rebound that much for us, but clearly someone's rallying for him out there. Now, like Harry, he needs to internalize that support and do what he can to put it into his dancing. He needs to earn that support!
Next to hear the good news were Charity, Jason, Lele, and Mauricio, which is certainly good news for the RHOBH star. He's someone you just want to root for. But it was tougher news for Harry, Alyson and Tyson. The former two beat Tyson by quite a bit in the scoring, but did that matter?
We didn't even get a Bottom 2 this week, though, as Alfonso went straight to the couple going home. But this week, there were no dropped jaws or shocked faces as America lined right up with the judges, sending Tyson Beckford home. We appreciated that he was trying but it just wasn't coming together for him.
We also liked seeing that America is mostly getting this right so far. They'll get another chance next week as Dancing with the Stars celebrates Disney100 night, Tuesday at 8 p.m. ET on ABC and Disney+.