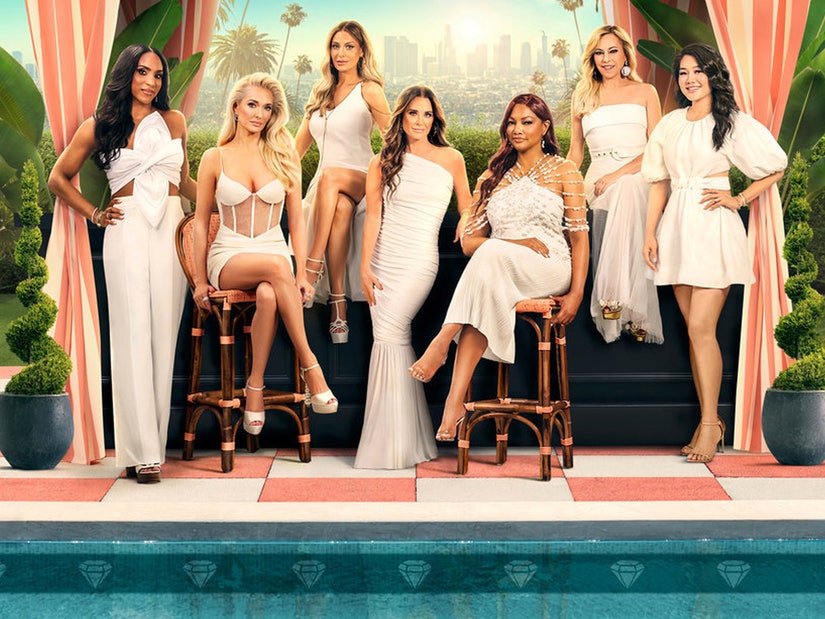 Bravo
Kyle was "really hurt" nobody supported her during her brutal reunion fight with Kathy -- accusing Sutton of social climbing -- while Dorit called Erika a "bitch" for saying her marriage to PK was in trouble.
It was Dorit Kemsley's idea for the cast members to go on a wellness retreat together at the top of the hour, with quite a few of them going into the day with some lingering resentment toward one another for their behavior both last season and BravoCon.
"My relationship changed with everyone since last year ... I was very hurt by some of the ladies last time I saw them. I am nervous about seeing them today," Kyle Richards began, referencing how she felt following the explosive and tear-filled reunion.
Erika Jayne, meanwhile, came into the retreat acknowledging she was "vicious" last season while also "protecting" herself at the same time. She was nervous to meet up with the women without good friend Lisa Rinna, who quit between seasons -- adding she felt like "a man on my own island."
When they all met up, under Camp'd Out luxury tents, they first all remarked on how skinny Erika appeared. While the singer attributed her weight loss to "hormones," Dorit wasn't buying it.
"Is hormones spelled OZEMPIC?" she said in a shady confessional, before Erika was asked by a producer whether she was on any weight loss drugs. "No I'm not," she responded, "but I'm on some really good hormones and they should be too."
As they all sat down together, Dorit explained that her hope for the day was to "move through some issues, heal and put it behind us," before directing her attention toward Erika and bringing up what was bothering her.
"I'm very happy to go first. I feel very hurt by you Erika, I'm sure you know why," she said, referring to Jayne saying Dorit and PK were the next Bravo couple heading toward a split at BravoCon. "To see you behave like that was deeply hurtful," she continued, "You delivered that answer like someone who really wanted that attention."
"Dorit, I'm a showman, I walked right down to the age of the stage and gave those people that they wanted," Erika responded.
In a confessional, Dorit reacted by quipping, "That's not a showman, that's a bitch" -- before telling Erika to her face that she was surprised she didn't "lead with an apology" instead of "defending" her behavior.
"It was a shady question and I have a shady answer," Erika continued, before asking, "Dorit, is your marriage strong?" She said it was -- with Erika saying her comment shouldn't matter then -- before Dorit added, "I think you crossed a line as a friend. You're hurting so you last out and you're mean-spirited."
In a shady confessional of her own, Sutton Stracke said she heard a rumor PK may have had another woman in his car when he got into his DUI. We'll see if she brings that up to Dorit herself later this season.
"We all hurt each other's feelings in this group," Erika then told the group, before saying she too was "getting hit from all sides, when I just needed a moment to catch my breath in this group" last season amid her split from Tom Girardi and their ongoing legal issues. She then gave Dorit what she was looking for, telling them all, "As your friend, I'd like to apologize if I was rough, if I was vicious. I've never felt so low, I've never felt so hurt. I love you all and I'm sorry."
This time, it was Garcelle Beauvais who was skeptical, saying in a confessional, "Do I trust that completely? I don't know. But I want to give Erika a chance, I want to see how she really is. Maybe I'll be surprised by her."
Then it was Kyle's turn to reveal why she was upset with the other women, saying that during the reunion she expected a little more support from them -- especially from longtime friends Sutton and Dorit. For those who forgot, the reunion ended with Kyle in tears, after Rinna accused Kathy Hilton of badmouthing the entire cast -- including her sister -- during a trip to Aspen.
"I was literally sitting there and I felt like I was drifting out to sea or something and I was so upset and I looked up and everybody was like [looking down] and it really hurt me a lot," she shared.
"I did expect more from Dorit and Sutton. I was very hurt by that," Richards continued in a confessional. "Sutton is a very social person, I get it, you want to be friends with Kathy. Do I think it's because she has a lot of parties? I do. Yeah, you want to go to Kathy Hilton's parties and all the people there."
Garcelle defended their silence by saying she was also "confused" by Kyle's behavior, wondering why she wasn't going after the cast members "coming for" her family -- i.e. Rinna.
"Why is Garcelle not getting my sister created all this by coming for my family and for me?" Richards asked in a confessional, before explaining her stance further with the group.
"There's a time where you say enough. I'm not a punching bag. I didn't feel like defending someone who's hurt me repeatedly, so I kept my mouth shut," she concluded.
The retreat ended with Sutton saying the thing she took away from it was that "we all have a lot of regrets for what we've done to each other." She added that, going forward, she would "like to see us all try to be better friends collectively."
We'll see how they do with that when new episodes of RHOBH air Wednesdays on Bravo.