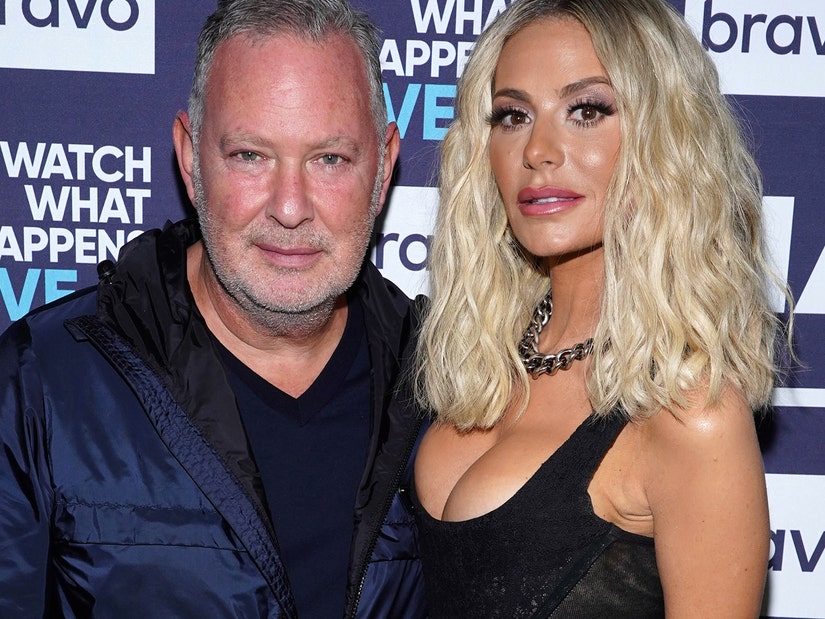 Getty
The two spoke out after headlines about a separation and speculation about their relationship from costars on the premiere of RHOBH.
On Wednesday night, the pair issued a joint statement addressing rumors they called it quits on their marriage, denying all and any speculation they're splitting.
"We have had some challenging years, which we openly discuss in the upcoming season of RHOBH," said the pair. "We remain committed to working through these issues as a united couple for our family. We have not separated nor are we planning to do so."
"Rather, we are focused on healing, making changes and doing the things that many couples have to do at some point in their marriage," they continued. "We would be grateful for everyone's understanding. We are doing what we can to focus on the best interests of our family, as opposed to spending our time contending with rumors and hearsay that are not true."
The response comes after headlines saying they split came out earlier in the day, as well as speculation about their relationship on the season premiere of RHOBH later in the evening.
In the premiere, Dorit suggest the cast to go on a wellness retreat together, where she called out costar Erika Jayne for comments she made about her marriage at BravoCon this year.
"I'm very happy to go first. I feel very hurt by you Erika, I'm sure you know why," she said, referring to Jayne saying Dorit and PK were the next Bravo couple heading toward a split at the fan event. "To see you behave like that was deeply hurtful," she continued, "You delivered that answer like someone who really wanted that attention."
"Dorit, I'm a showman, I walked right down to the age of the stage and gave those people that they wanted," Erika responded.
In a confessional, Dorit reacted by quipping, "That's not a showman, that's a bitch" -- before telling Erika to her face that she was surprised she didn't "lead with an apology" instead of "defending" her behavior.
"It was a shady question and I have a shady answer," Erika continued, before asking, "Dorit, is your marriage strong?" She said it was -- with Erika saying her comment shouldn't matter then -- before Dorit added, "I think you crossed a line as a friend. You're hurting so you last out and you're mean-spirited."
"We all hurt each other's feelings in this group," Erika then told the group, before saying she too was "getting hit from all sides, when I just needed a moment to catch my breath in this group" last season amid her split from Tom Girardi and their ongoing legal issues. She then gave Dorit what she was looking for, telling them all, "As your friend, I'd like to apologize if I was rough, if I was vicious. I've never felt so low, I've never felt so hurt. I love you all and I'm sorry."
In a shady confessional of her own, Sutton Stracke said she heard a rumor PK may have had another woman in his car when he got into his DUI.
We'll see if she brings that up to Dorit herself later this season.
RHOBH airs Wednesdays on Bravo.