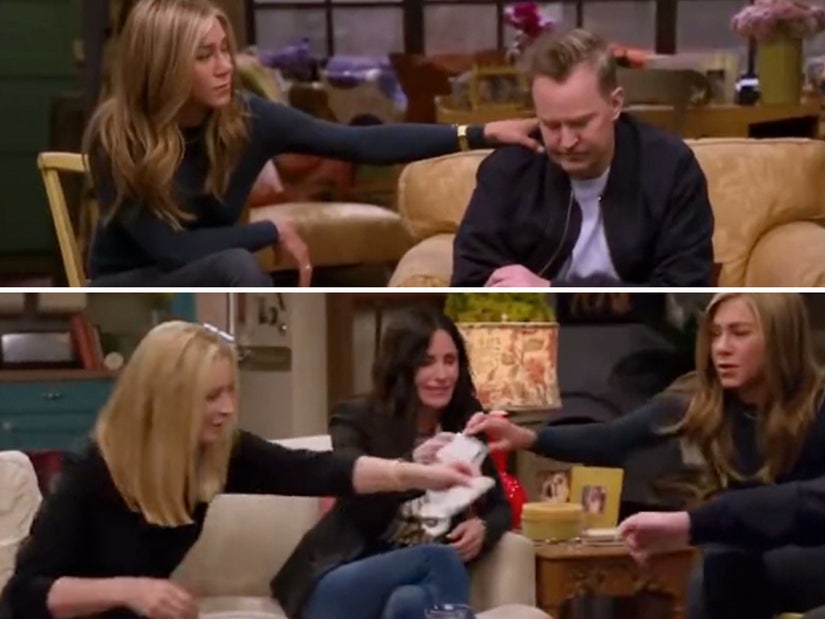 MAX
Nearly everyone in the cast, including Perry, teared up as he spoke about their incredible bond -- as that moment and more Chandler clips from Friends go viral in the wake of his tragic death.
Friends fans the world over are in mourning today following the death of star Matthew Perry at the age of 54.
The actor was found dead after an apparent drowning on Saturday evening and it didn't take long until social media was flooded with videos of his performance as Chandler Bing as fans paid tribute to the late star and his incredible talent on the classic sitcom.
Along with memorable moments from the show itself, one video which went viral in the wake of his passing was an emotional one from the 2021 Friends: The Reunion special on MAX -- during which he reflected on the cast's close bond while on one of the show's apartment sets with costars Jennifer Aniston, Courteney Cox, Lisa Kudrow, Matt LeBlanc and David Schwimmer.
"The best way I can describe it is after the show was over, at a party or any other social gathering, if one of us bumped into each other, that was it, that was the end of the night. We just sat with the person all night long," said Perry.
"And that was it. You apologized to the people that you were with, but they had to understand you had met somebody special to you, and you were going to talk to that person for the rest of the night," he continued, as Cox and Aniston shared a knowing glance before Courteney commented on how she was both crying and laughing because what he was saying was so true.
"And that's the way it worked," he concluded. "It's certainly the way it worked with all of us. It's just the way it is."
"I'm gonna cry now,' he said, before Kudrow shared a tissue with him.
Elsewhere in the reunion special, Perry revealed he felt immense pressure just to get the audience to laugh -- and how he would react if they didn't.
"To me, I felt like I was going to die if they didn't laugh. And it's not healthy, for sure," he told his castmates. "But I would sometimes say a line and they wouldn't laugh and I would sweat and just go into convulsions. If I didn't get the laugh I was supposed to get, I would freak out."
"You didn't tell us that, though. I don't remember you ever saying that," replied Kudrow, 57.
"Oh, yeah," Perry admitted. "I felt like that every single night."
In an interview with TODAY last year, Aniston shared her thoughts on Perry's heartbreaking confession, saying that she didn't know about the "devastation that he felt" at the time.
"I didn't understand the level of anxiety and self-torture (that) was put on Matthew Perry, if he didn't get that laugh, and the devastation that he felt," explained Aniston, who played Rachel Green. "Which makes a lot of sense."
Perry has detailed the struggles he went through during his time on "Friends." The actor -- who has been open with his battle with substance abuse -- revealed to BBC Radio 2 back in 2016 that he doesn't "remember" filming Seasons 3 through 6 of "Friends," sharing that he was sometimes "a little out of it."
In an interview with Diane Sawyer almost a year ago to do the day, Perry spoke about the cast's connection and praised Aniston especially for checking in on him throughout the years with his sobriety struggles. It's another interview tidbit of his involving the Friends cast that has popped up all over social media overnight.
"She was the one that reached out the most. You know, I'm really grateful to her for that," he told Sawyer.
The pair also recounted a moment from his book where she confronted him about his addiction. "Jennifer, she says, 'We know you're drinking,'" Sawyer said, prompting Perry to reply, "Yeah, imagine how scary a moment that was."
Friends videos are all over the timeline on X now, with many fans sharing their favorite Chandler moments to celebrate Perry's life and performance.
Among them is the very last scene of the series, from its finale, in which Perry gets the final line of dialogue to the long-running hit sitcom. After the group all says goodbye and before Chandler and Cox's Monica move out of the city, Aniston's Rachel notes they still have some time to grab some coffee.
His final quip for the Central Perk-loving crew: "Where?"
One more: I loved the Cheesecake episode bc it was one of the few Chandler/Rachel plots, and given what we now know behind the scenes (Jennifer Aniston reaching out during Matthew Perry's addiction troubles), it makes the episode especially poignant, but still hilarious. pic.twitter.com/fvp7sVCaas

— Brandon Lewis @ NYFF (@blewis1103) October 29, 2023 @blewis1103