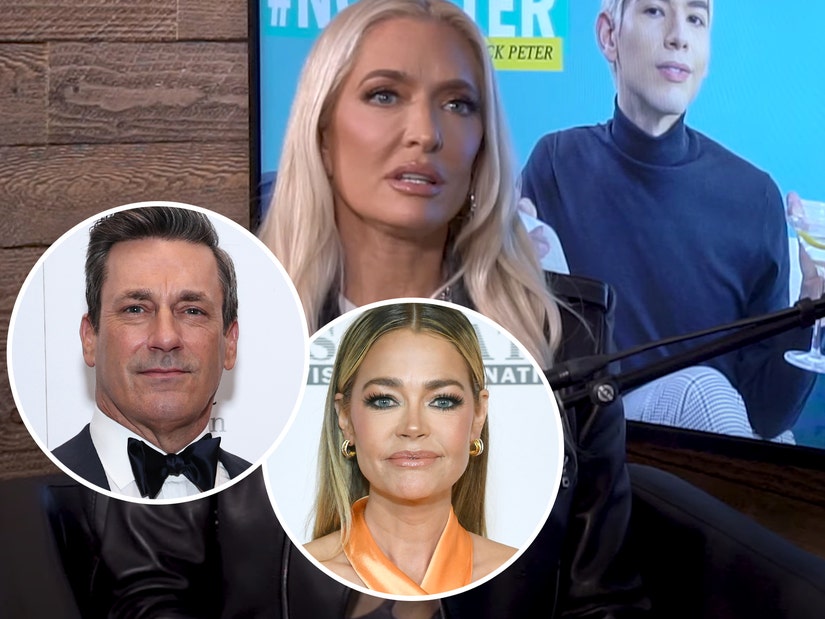 Getty
Erika Jayne shared her response to Jon Hamm's commentary about her $750,000 earrings and teased her upcoming fight with Denise Richards on RHOBH.
In May, a judge ruled that the trustee overseeing the disgraced attorney's estate "failed to show" that the earrings were a part of his estate property, which was being examined as Girardi's assets were frozen and seized amid an investigation over whether or not the 84-year-old misappropriated at least $2 million in client funds that were due to the families of those killed in the crash of a Boeing jet in Indonesia.
While Jayne scored a legal victory in the case of the earrings, many believed she should give them to the victims, including Bravo fan, Jon Hamm, who during a September 2022 appearance on Howard Stern's radio show said she should do just that.
"You just want to shake her and go, 'Honey, they were never yours -- give them back,'" Hamm said at the time.
Jayne, who ultimately had to turn the earrings in amid the court proceedings, discussed the "mess" surrounding them, telling Peter, "Even with the earrings, they can't tell if these funds were co-mingled, where the money is -- they still can't figure it out. So, I'm supposed to know?"
She continued, "Like, are you f--king kidding me? No one can figure it out, so how was I supposed to?"
The reality star said she despite her legal victory over the summer, she's glad she didn't keep the earrings, adding, "It's OK. You know what I love? I won on appeal. So, the earrings are gone, but I have my appeal."
Addressing Hamm's comment directly, the "Pretty Mess" singer had some harsh words for the actor, who she said had no skin in the matter.
"Like Jon Hamm -- 'They never were yours.' F--k you. I won on appeal. You don't know what you're talking about. 'Those were never yours.' Really?," Jayne said. "Appellate judge said they were. Or at least said you can't prove that they weren't. So that made me happy."
Elsewhere in the interview, Jayne teased another battle -- this one between her and RHOBH alum, Denise Richards.
Richards returns for a cameo on the show's 13th season, which is currently airing, and from viewers have been able to see so far, a fight ensues between the two, with Richards calling Jayne an "evil woman."
"Denise picked a fight. She called me names. She called me a f--king bot monster, she got in my face. She said that I did these things to Garcelle's son," Jayne said of her spat with Richards, which is set to air later on this season. "She picked a massive fight. And I was very gracious at the party. I was also confused, said I think she needs to save this energy for Brandi, Teddi, Lisa -- but I just happened to be the one here."
Jayne doubled down on being unaware of what Richards was picking a fight about, adding that the actress and model was "slurring" her words during the RHOBH event.
She continued, "She was very inarticulate at the dinner party. Jacket on upside down. She was slurring. I had not idea what this was all about."
Jayne said it's not a fight she wanted to have either, adding that she moved past much of the anger and toxicity that plagued her in season 12, as she continued to struggle with the legal battle surrounding her.
"You can hear me say, 'I do not want to do this.' I'm not there. I don't want to be there. I've moved on. I'm working really hard on myself. I'm really putting my best foot forward," Jayne explained.
She continued, "Just know that she came to Kyle's to pick a fight. I would not engage with her. I apologized, I said, 'I'm very sorry...' it's not OK. She came there with an agenda and I apologized, and then, the next time, I didn't."
"I didn't start with Denise," she added. "F--k you if you want to fight. We'll go there."
See all the drama unfold on The Real Housewives of Beverly Hills, airing Wednesdays on Bravo.