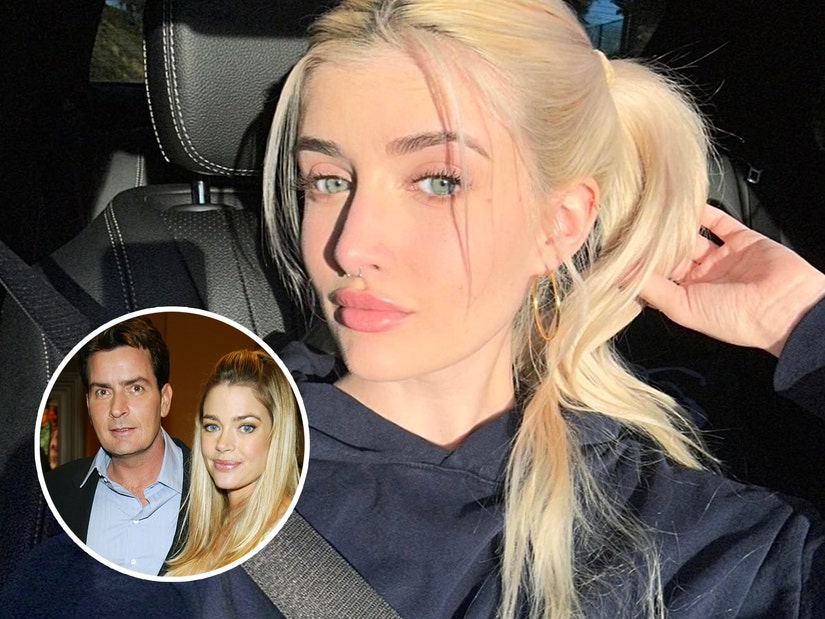 Instagram / Getty
"She did a really good job making sure we weren't fully exposed to everything so young," Sami Sheen said of mom, Denise Richards, shielding her daughters from some of the very public drama between her and their father, Charlie Sheen.
Despite the chaos surrounding her famous family, Sami Sheen has lived a largely sheltered life.
"My mom kept me very shielded my whole life," Sami said. "She always had little distractions for us and if I asked her a question about something [about my dad], she would kind of sugarcoat it."
Charlie and Denise divorced in 2005, when Sami was just a year old. The couple would face a myriad of issues that often played out in the headlines, with Denise seeking a restraining order and being awarded primary physical custody of the kids, and Charlie facing a firing from Two and a Half Men that led to a now-viral meltdown of sorts.
In a 2011 interview, seemingly fueled by drugs and alcohol, Charlie claimed he was a "warlock" with "tiger blood" and "Adonis DNA," who was "winning."
Denise shielded Sami and her sister, Lola, from that, with the young model telling the outlet, "She did a really good job making sure we weren't fully exposed to everything so young."
It's something Sami said she's only recently found out about.
"Just recently, these past couple years, I've found out a bunch of stuff [about them], but it doesn't really affect me that much [because] it's all in the past," she said.
While she was largely kept away from the darker parts of her father's past, she got the chance to repair her relationship with him when she moved in with Charlie after dropping out of high school at 17.
Though it was a tough time for Denise, who admittedly was butting heads with her teenage daughter over the decision, it turned out to be a cathartic experience for Sami and Charlie.
"What she had the benefit of, and I had the uber benefit of, was she was there towards the end of my drinking," Charlie, who has been open about his substance abuse issues, told Bustle. "She got to see up close and personal that journey."
He continued, "I'm not a guy that preaches [or] that needs constant attention or support of what I'm doing. But she got to see the benefits of just how a life together in that domestic reality can improve so completely and stay that way. She got to see an inconsistent me become the most reliable person in her life. Of course, it wasn't a plan. The universe had us together when it did, which is pretty amazing."
The experience came with some growing pains, however, with Sami's decision to join the adult content platform, OnlyFans, coming under fire from the actor, who initially slammed her foray into sex work.
The media also began weighing in, making comparisons to Charlie's own very public involvement with a group of sex workers back in 2011.
"I had a knee-jerk reaction to it because of the reputation that preceded it. I was just like, 'Oh, this can only go bad.' That flies in the face of my approach to things normally, but I think when your child is involved, it presents as just a whole different alternative set of circumstances," Charlie said.
Ultimately, the proud father realized that having the support of her family would only make the experience "much more successful" for Sami.
He continued, "She's doing this and it can only be a much more successful and pleasant experience with the support of myself, her mom, and others. I have to have confidence and just know in my heart that all of her virtues and all the wonderfulness that makes her, her, come with her."
"I believe her to be incorruptible," Charlie added.
Denise was quicker to hop on the band wagon, joining OnlyFans alongside her daughter in a show of support. Now, a year-and-a-half since joining the platform, Sami said she's the most sure of herself she's ever been.
"I've never felt more confident in my body. I think it's because my subscribers, they're the best," Sami gushed.
The experience has brought them closer as a family, as well, with Sami telling Bustle that she has an open dialogue with her parents now.
"I've just started asking my parents random questions [about their past] and they're now more honest with me. It's really nice that they're able to have an adult conversation with me, and we can just laugh about mistakes they've made or funny stories that I wasn't aware of," Sami said.
She added, "It'd be different if my parents were both lawyers, or a little bit more conservative. But they get it -- so they can't be mad!"