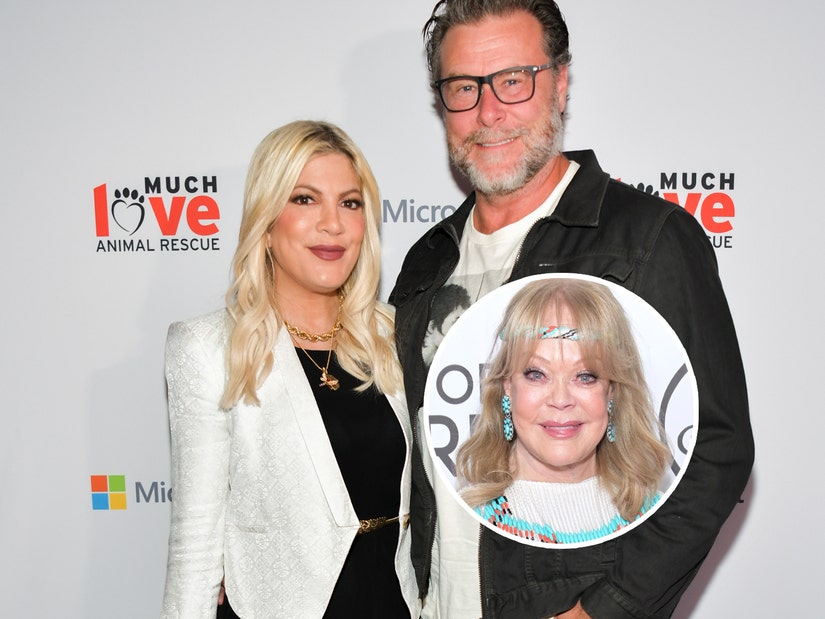 Getty
Dean says the distance between him and Candy "was difficult for Tori," claiming Spelling's mom hasn't done much to help her kids and hasn't bonded with her grandchildren either.
While Dean McDermott admits his substance abuse issues are what really contributed to his split from Tori Spelling, he believes her mother Candy Spelling's frosty feelings toward him also caused strain in their marriage.
As part of a lengthy interview with the DailyMail in which he copped to his role in the end of his relationship with Tori, he also detailed his alleged relationship with his mother-in-law -- telling the publication he felt it was "unfortunate she never tried to get to know me."
Tori's roller coaster relationship with her mother is well-documented, so it shouldn't come as much of a surprise she allegedly had issues with Dean as well.
'I haven't spent a lot of time with her, and we didn't from the beginning," he said. "It wasn't for lack of an effort on my part – she just didn't want to know and brushed off everything I tried to do."
He said that strain "was difficult for Tori," adding he felt it "would hurt anybody" to see "the man that she loves and married" have "no relationship with the mother-in-law."
According to Dean, things didn't get any better between them all after he and Tori welcomed their five children.
"I think the real shame is for her to miss out on these wonderful children because they are really beautiful children. They're very gifted and special," he said, before claiming Tori and the kids weren't given any help from Candy while living out of an RV during the summer.
He also addressed the lack of financial support Aaron Spelling's children received following his death, after she was left only $800,000 of his estimated $500 million estate. The bulk of the money went to Candy, who has been accused of withholding it from her kids in the years since his 2006 death.
"It's your daughter. It's your flesh and blood and it's your grand babies. And for someone who is so blessed to have so much, it would be really nice for her to share with her daughter," said Dean, who was adamant he didn't "want any of it" for himself. "I'm not interested. I would just like it if as a mother you would reach out and help your daughter and your son, Randy, who is a beautiful guy, he's such an amazing man."
He said there was a lot of "financial pressure" on them around the time of her father's death and the inheritance didn't help things. "
We were starting out in our relationship and neither one of us brought a lot to the table," said Dean. "But with that said, Tori wasn't expecting anything. She's always looked at it as it's her father's money and he can do with it as he wishes – she's always maintained that."
He went on to praise Tori's resourcefulness, calling her a "survivor" who "always lands on her feet" and is "one of the hardest working people I've ever met."
In the full interview, McDermott said it was a combination of the pair growing apart, coupled with his addiction to prescription drugs and alcohol that ultimately put the final nail in the coffin for him and Spelling. Read more about that at the link below.