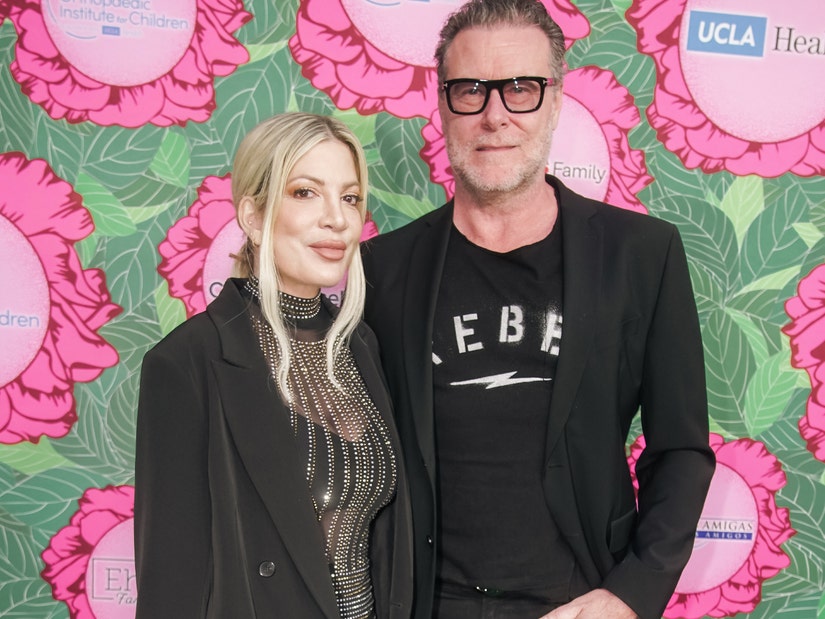 Getty
McDermott says having to share a bed with a pig, chicken and a handful of dogs with Tori ruined their sex life -- and divulges how his addiction to prescription drugs and alcohol helped lead to split.
Dean McDermott is reflecting on his turbulent relationship with Tori Spelling, and what led to their split after almost two decades of marriage.
While their relationship has often played out for the public to see, both on reality TV and online, McDermott said it was a combination of the pair growing apart, coupled with his addiction to prescription drugs and alcohol that ultimately put the nail in the coffin for him and Spelling.
"All Tori's ever done to this day is want me to be happy and healthy and I inflicted a lot of damage and pain on that woman," McDermott told DailyMail.com.
He continued, 'I'm taking accountability for that today. And it's the biggest amend that I'm ever going to have to make."
"Alcohol made me feel good enough. I started feeling good enough until it got to a point where it didn't – it ended up in isolation. It ended up with me drinking a fifth of tequila every night, seven days a week, and a handful of narcos by myself with a beautiful family in the other room," McDermott, who is now sober after a summer spent in rehab, explained. "That's what it led to and that's what led to the brokenness and to what happened between me and Tori. I couldn't do it anymore. I couldn't live that life anymore. I was tired of the anger and the yelling."
McDermott's struggles with addiction coupled with the family's many, many pets, led to a breakdown in intimacy that transformed the pair from husband and wife, to roommates.
"We'd been having problems and it just got worse because we stopped sleeping in the same room," He explained, sharing that a pig, chicken and a handful of dogs were all sleeping in their bed.
He continued, "And we know dogs have accidents and our particular dogs were having a lot. And I just couldn't deal with that anymore. So, I created a healthy boundary for myself and I said, 'I can't do this. I can't live and sleep in this kind of condition.' I drew that boundary for myself and moved to another room and things just progressed from there. There were no efforts to sort of remedy the problem to get back into the room."
McDermott began drinking more while she was with their five children -- Liam, Stella, Hattie, Finn and Beauas -- a feeling of isolation and loneliness setting in for the actor, who is also dad to son, Jack, from his first marriage to Mary Jo Eustace.
"We were roommates," he added. "I believe that the marital bed is the docking station for your relationship. Where you connected each other. It's where you download information. It's where you spend time together."
McDermott continued, "It's where you're intimate, it's where you love. You laugh and you cry. So that's gone. The relationship suffers greatly, greatly. I've never been so lonely in the same house with six other people, never been so lonely in my life. I didn't know how to get out of the situation I was in. I was hurting. I was heartbroken. I was depressed. I hated myself. I didn't want to live."
The couple admittedly had their ups and downs over the years, with McDermott having an affair with a co-star, which he said was "fueled by my alcoholism and drug addiction," prompting him to enter rehab for the first time.
"The shame was so great with that because it was everywhere -- everybody knew and everybody knew what a piece of s--t I was," he said.
The couple then examined their relationship on the reality TV series, True Tori, which he called "a horrible idea."
"I thought it would help people. I was too fresh out of treatment to even think straight that that would be a bad idea," McDermott said of the short-lived series, which documented the fallout from his affair.
The breaking point for the pair came this June, after a drug and alcohol-fueled binge led the 56-year-old actor to post about their divorce on social media, which Spelling ultimately made him take down, urging him to give treatment another go.
"She helped find Harmony Place and got me in here," McDermott shared, now in a sober living home, almost ready to move out.
McDermott, who has not seen Tori since he moved her and the children out of their rented home due to a mold problem at the end of that same month, said he is beginning to communicate with his wife again via text and is desperate to see his children.
"'It's going to be living the rest of my life making amends because I took something that was really beautiful and I just tore it down year after year, day after day," McDermott said of the part he played in the couple's eventual downfall.
Despite still very much loving Spelling, calling their marriage a "fairytale," both McDermott and the Beverly Hills, 90210 alum have moved on -- McDermott with Lily Calo, 33, who he met through a charity, and Spelling with advertising agency CEO Ryan Cramera.
"She's given it to me for 18 years and I've been so hard and brutal on her that I just want her to be loved and happy," McDermott said of seeing his estranged wife with someone new. "She deserves it. It's just really tough. I'm not making excuses. I certainly had my hand in it in the dissolution of the relationship. But yeah, hasn't been easy. Nothing in life is easy."
Neither McDermott nor Spelling have officially filed for divorce.