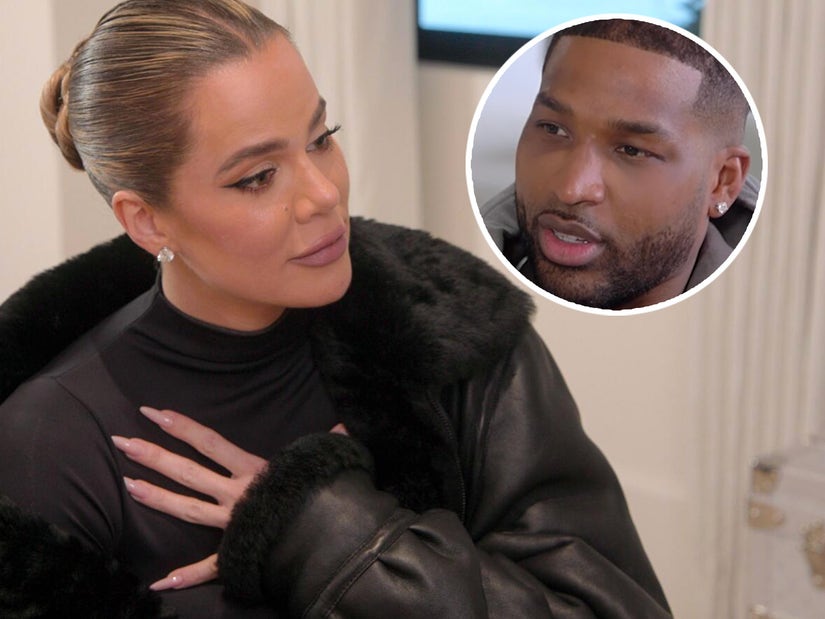 Hulu
While she didn't mention Theo by name, she did refer to him in the new hour while she and Tristan discussed him making apologies for his past misdeeds.
The basketball star welcomed son Theo with Maralee Nichols in December 2021, with Tristan keeping the entire ordeal from Khloe until the lawsuit Nichols filed against Thompson became public knowledge. All this was happening as he and Khloe were preparing to welcome their second child together, something they had kept from the press.
Since then, Khloe and Tristan have gotten to a much better place when it comes to co-parenting their two children together, with Thompson even moving in with with Kardashian for a bit while his own home underwent roof repairs. She's been adamant there's no romantic spark between them anymore, despite him appearing to want more out of their relationship.
On Thursday's new hour, Tristan acknowledged that while he had previously apologized (off-camera) to Kris Jenner, Kim Kardashian and Rob Kardashian for how he mistreated Khloe by repeatedly cheating on her and keeping a paternity scandal from her, he hadn't yet gotten closure with either Kourtney Kardashian or Kylie Jenner. With Kylie, there was another level of complication, as one of his scandals also involved her close friend Jordyn Woods.
Before he sat down one on one with both Kourtney and Kylie, he and Khloe discussed the situation.
"In this family, if you do something to one of us, it affects every one. And they're entitled to their feelings," Khloe warned him. "It's not some small thing that happened, but time has gone by. It's done. My son is here, your other son [Theo] is here and some of their emotions have settled down. Not forgotten, not forgiven, but settled down."
Worth mentioning: Thompson also shares son Prince Oliver, 6 1/2, with ex Jordan Craig, who was pregnant when he began dating Khloe.
He also told Khloe he felt "bad" for helping drive a wedge between Kylie and Jordyn, who he made a move on at a Valentine's Day party back in 2020.
"Especially me being the older one, I should have handled it differently, I should have handled it more like the older person, the elder statesman," he then said, as Khloe reminded him one can be "old and not wise." Khloe went on to say that she has "forgiven Jordyn," saying the two have "moved on" and there's "no bad blood" between them anymore.
To see how his conversations with both Kourt and Kylie went, check out the articles below. New episodes of The Kardashians air Thursdays on Hulu.