The company teases exclusive Disney, Pixar, Marvel, 'Star Wars' and NatGeo content including 'WandaVision,' 'High School Musical' and the exclusive streaming home of 'The Simpsons.'
Disney launched a major offensive onto the crowded streaming content field with their announcement of extremely aggressive pricing for its Disney+ service, set to launch on November 12, 2019.
In a shot surely heard all the way over at Netflix HQ, Disney is undercutting the streaming leader's lowest-tiered cost by launching at $6.99/mo. or $69.99/yr. Netflix pricing ranges from $9.00 to $13.00 per month depending on level of service.
On top of that, Disney has already committed $1 billion to original programming in 2020 alone, according to CFO Christine McCarthy, with another $1.5 billion earmarked through 2024. And they're doing it with some of the largest properties on the planet, including their own name, Pixar, Marvel, NatGeo, "Star Wars" and now (much of) Fox.
"The fact that we have the brands that matter is the single biggest differentiator of our service," said Kevin Mayer, chairman of Disney's direct-to-consumer division, to investors on Thursday, as reported by Variety.
Another featured touted by Disney CEO Bob Iger is the fact that all content -- new and old -- available for streaming on Disney+ will also be available for offline viewing for anyone with an active account.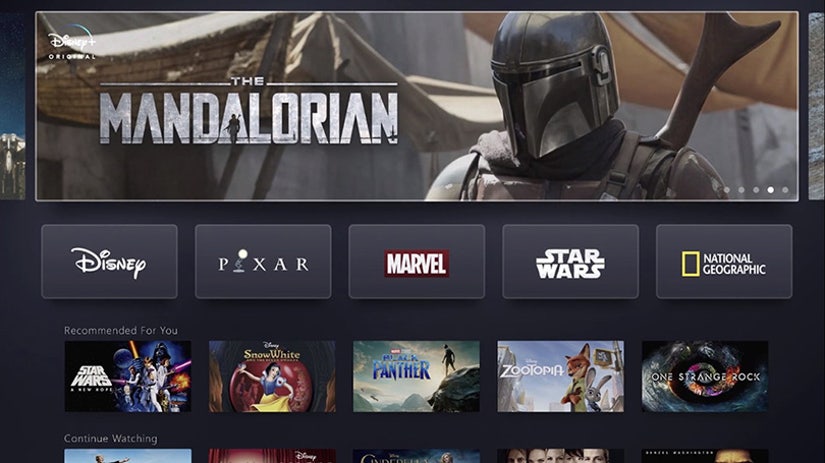 Disney
"The Mandalorian": The highly-anticipated and first-ever live-action "Star Wars" series is expected within the first year of launch. Starring Pedro Pascal and helmed by Jon Favreau, the series takes place three years after "Return of the Jedi" and features a western-inspired "gunfighter," per Favreau. The most famous Mandalorians, of course, are Jango and Boba Fett.
"High School Musical: The Musical: The Series": The venerable franchise returns as an original series exclusive to the streaming platform. Taking place at the real-life high school where the original was filmed, this scripted series follows a new group of students as they prepare to put on a production of "High School Musical." Meta much?
"Lady and the Tramp": The next live-action Disney adaptation is coming directly to their streaming service, rather than going the traditional theatrical route. That might be a better option for older properties like this (pre-"Little Mermaid") if the poor box office of "Dumbo" is any indication. This one stars Tessa Thompson and Justin Theroux as the titular dogs.
"Captain Marvel": The marquee Marvel Cinematic Universe get for launch day is the billion-dollar blockbuster "Captain Marvel," but she isn't alone. While all of the MCU films will not be immediately available, most are expected to make their way to the platform within the first year (once deals at other services expire).
"Marvel's Hero Project": A reality series that takes off the superhero costumes to look at real-life young heroes who are making a difference in their communities with no superpowers other than grit and determination.
"Forky Asks a Question": Spinning out of "Toy Story 4," the spork-based toy is getting his own series of shorts best summed up by its title.
"SparkShorts": Another entry from Pixar, this one spotlights the studio's award-winning and brilliant animated shorts that have become as popular as their feature films.
"Encore!": Kristen Bell helms this bizarre reality series that serves as one part musical theater and two parts high school reunion. The premise sees Bell reuniting the casts of high school musical productions to stage an encore production as adults with the assistance of some of Broadway's best. Promised shows include "The Sound of Music," "Beauty and the Beast," "Annie" and more.
"The World According to Jeff Goldblum": A NatGeo original, this exclusive streaming series will allow the actor to explore mysteries of the world that intrigue him. This includes things like ice cream and sneakers. Yes, these will be deep dives into things as mundane as that and it's sure to be brilliantly entertaining.
"Magic of the Animal Kingdom": Another NatGeo series, this one takes viewers behind the habitats and aquariums of Disney's Animal Kingdom and Epcot's aquarium to look at how these popular attractions are curated and managed on a day-to-day basis.
(Untitled Disney Imagineering Series): This documentary series takes an unprecedented look at the 65+ year history of the Disney division, including extensive interviews and looks at Disney's theme parks around the world.
Disney Vault: The well-known "Disney Vault" will be opened and stay that way with Disney's entire library of classic films from "Snow White and the Seven Dwarves" to today's classics like "Moana" all available all the time. And all new Disney films, like the upcoming "Frozen 2," will become exclusive to the platform as well.
Disney Channel: A tremendous volume of content from the full library of Disney Channel's original movies to entire runs of its popular series will be available from launch. The platform is expected to host approximately 5,000 episodes of programming.
21st Century Fox Films: While it's not entirely clear how many or which Fox films will make the cut, it is telling that "Avatar" was visible as one of the films available on the scroll bars of the streaming service. It is surely just the tip of the Fox-sized iceberg of content that will make its way onto the platform at some point.
"The Simpsons": All 30 existing seasons of the Fox classic will be making their new exclusive streaming home on Disney+ and the first family of Fox was more than excited about their new "Disney overlords," as evidenced by their donning the traditional Mickey Mouse ears in the below promotional video: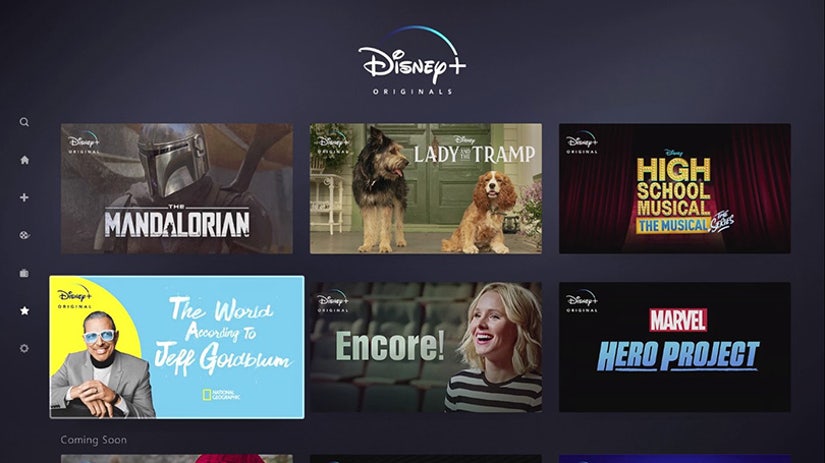 Disney
"Star Wars: The Clone Wars": The popular animated series finally marks its triumphant return with 12 new episodes featuring the continuing adventures of Anakin Skywalker, Padme Admidala, Obi-Wan Kenobi and Asohka Tano.
"Monsters at Work": John Goodman and Billy Crystal return to voice their iconic characters in this new series based on the classic "Monsters Inc." film series. The action picks up six months after the first film with the power plant transitioning into harvesting the laughter of children instead of their fear.
"Lamp Life": Also spinning out of the "Toy Story" franchise, this short film tells the story of what happened to Bo Peep between the events of "Toy Story 2" and her triumphant return in "Toy Story 4."
"The Phineas and Ferb Movie": The popular animated series is coming to Disney+ with its entire 127-episode library, but also a new, original film. The new story, which will also be a musical, follows the titular duo as they attempt to save their sister from aliens.
"The Falcon & the Winter Soldier": Anthony Mackie and Sebastian Stan are on board this limited series starring Captain America's most iconic sidekicks. Is the existence of this series some kind of clue as to what happens to the good Captain during "Endgame," or will this take place at another point in the timeline?
"Marvel's What If...?": The popular comic franchise takes a look at key moments in Marvel history and asks a simple question: what if somemething else had happened. Coming to Disney+ as an animated series, Feige teased the plot of one episode. What if Peggy Carter (Hayley Atwell) was the World War II super soldier and Steve Rogers (Chris Evans) had to join the fight in a suit of armor designed by Howard Stark?
"Marvel's 616": Named after the multiversal number for the comic book Marvel Universe, this anthology reality series explores how the Marvel Universe has intersected, interacted with and impacted the real world through its many decades.
"Noelle": This is a holiday movie starring Bill Hader and Anna Kendrick and will likely hit the platform pretty quickly in time for Christmas 2019. The fantasy film features Hader as the reluctant heir to the Santa title and Kendrick as his enthusiastic younger sister. It was expected to hit theaters in November 2019, but it looks like the company might be thinking it would work better as a tool to try and boost holiday subscriptions.
"Diary of a Female President": Gina Rodriguez ("Jane the Virgin") is behind this series which follows the trials and tribulations of a future American president from the vantage point of when she was a 12-year-old Cuban-American girl just trying to survive middle school.
"Stargirl": Based on the popular young adult novel and not to be confused with the upcoming DC Universe superhero series, this film tells the story of how an unconventional new student named Stargirl turns the world of a typical sixteen-year-old upside down -- as well as everyone around him.
"Timmy Failure": Based on the book series by the creator of newspaper strip "Pearls Before Swine," this animated film is the story of a boy and his polar bear and the world-class detective agency they run ... in Timmy's imagination.
"Togo": Starring Willem Dafoe and based on a true story, this film relives a 1925 epidemic of diphtheria in a remote Alaskan town and one man's harrowing journey across hundreds of miles of treacherous terrain to retrieve an antitoxin.
"Into the Unknown: Making 'Frozen 2'": A one-of-a-kind documentary experience, this limited series will take fans behind the scenes to look at the production of the highly-anticipated animated sequel. There have been many behind-the-scenes documentaries for live-action films, but an animated exploration is rare indeed.
"Be Our Chef": A culinary reality series starring Angela Kinsey, this one is all about families competing with one another to create a dish that represents both their family and Disney that could be served at one of Disney's myriad theme parks.
"Cinema Relics": This reality series pulls back the curtain on classic films and looks at them through a new lens, that of the costumes and props that brought them to life. The first season explores such films as "Pirates of the Caribbean: The Curse of the Black Pearl," "Mary Poppins," "The Muppet Movie," "Tron" and "Who Framed Roger Rabbit?"
"(Re)Connect": This reality series takes a look at this wired world and strives to help a family that's struggling reconnect with one another by disconnecting from the devices and outside influences that distract them.
"Rogue Trip": Renowned journalist Bob Woodruff takes off with his 27-year-old son to explore all the parts of the world you'd never take your family in a travel series unlike any other.
"(Shop Class)": A reality competition series that follows groups of students as they are tasked with inventing and building unique contraptions toward being named "Shop Class Champs."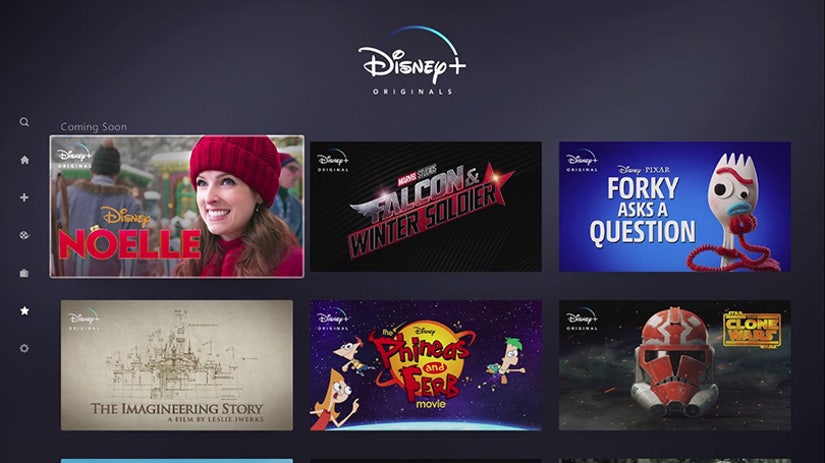 Disney
"WandaVision": The bizarrely-titled new series will feature "Avengers" stars Elizabeth Olsen and Paul Bettany reprising their roles as Scarlet Witch and Vision. Kevin Feige indicated that these new series on Disney+ are a huge part of the next phase of the Marvel Cinematic Universe as it forges into an unknown future beyond "Avengers: Endgame."
"Loki": This series stars Tom Hiddleston and is expected to take place across a variety of times as the God of Mischief inserts himself into various points in history.
(Untitled Cassian Andor Series): While the series has already been confirmed and will feature Diego Luna reprising his "Rogue One: A Star Wars Story" character, Lucasfilm CEO Kathleen Kennedy confirmed that Alan Tudyk will also be returning as the voice of K-2SO for the new exclusive series.
"Earthkeepers": While most documentaries about conservation focus on conservation efforts or the animal kingdom, this series explores the conservationists themselves, as well as the causes they're so passionate about.
"Ink & Paint": Based on the book of the same name, this documentary series shines a lens on the women of Disney Animation who blazed the trail in creating some of the greatest animated films of all time.
"The Sandlot": A sequel to the classic film featuring the original cast, but set more than 20 years later in 1984, this exclusive series will focus on the children of the original characters ... and totally tap into that 1980s nostalgia vibe championed by "Stranger Things" and "It." David Mickey Evans, who co-wrote and directed the film, is back as writer and executive producer of this sequel series, so you know it's going to be authentic.
(Untitled Hawkeye Series): Unconfirmed but heavily reported is this new series that's set to focus on the next generation of Hawkeye -- Kate Bishop in the comics -- but still starring Jeremy Renner alongside the yet-to-be-cast newcomer. Another hint about "Endgame" fallout?
(Untitled Disney Villains Series): Everyone knows the most popular characters in most Disney films are those memorable villains, and so the Mouse is leaning into this with a new series set to focus on them. How and why and when remain unclear at this time, but it's sure to be at least as popular as the recent "Descendants" film series for Disney Channel which explored the next generation of classic Disney villains.
"Love, Simon: A series sequel to the popular LGBTQ+ film is reportedly in development with "This Is Us" showrunners (and "Love, Simon" screenwriters) Isaac Aptaker and Elizabeth Berger, according to Variety. The new project is expected to fully recast characters from the film as it follows Becky Albertalli's book sequel, "Leah on the Offbeat," positioning Simon's best friend in the lead.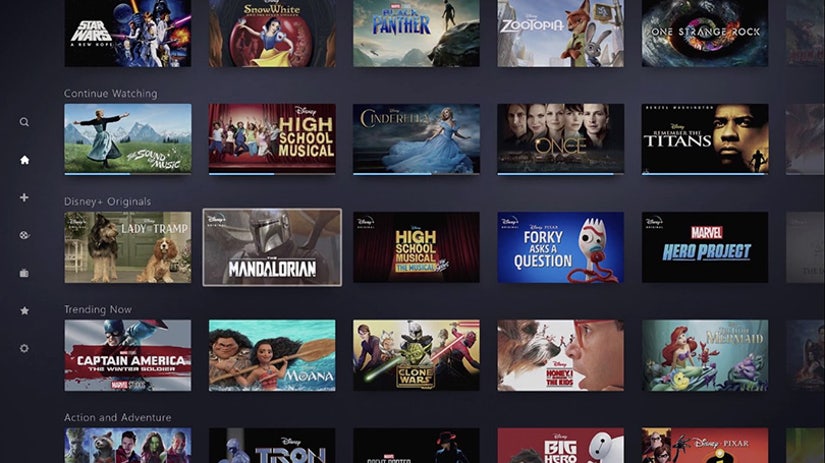 Disney